Doc Johnson Hot motion lotion kit - Lubricant from Doc Johnson

Product Details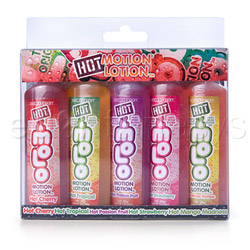 Summary:
I like this motion lotion a lot, as an oral sex lube. It falls flat for most other applications though. I also really like how it heats up when you rub it or blow on it! Very cool.
Pros:
Tastes great, Smells great, Works wonderfully as an oral sex lube.
Cons:
Glycerin, Gets sticky after a bit, Leaked during shipping,
Best use:
I recently tried a warming lubricant which is very similar to this one (and even by the same company!). The ingredients are almost identical, with this one having just a couple extra things - but this motion lotion totally surprised me. This set is great for oral sex, and reasonably good for massage applications. It does get a bit sticky being out in the air though, so I really think this is best suited as a flavored oral sex lube.
Texture / Consistency / Thickness / Viscosity:

The smoothness of this warming lotion really surprised me. It comes out of the bottle feeling a bit like gel, but as you apply it, it softens and becomes more like a massage oil. The hole in the bottle to let it out is VERY big, so be careful when you're applying it. When I tried to apply it directly to my partner's penis, I found that it ALWAYS came out too fast. I had to apply it (very slowly and carefully) to my fingers, and smooth it on.

When you apply it initially it just feels smooth, but if you're using it as a massage lotion it will get sticky and dry up fairly quickly. As an oral sex lube, it increases salivary production, and stickiness was not a problem.

Base:

Water

Ingredients:

Glycerin, Flavor (Aroma), Mangifera Indica (Mango) Fruit Extract, Carica Papaya (Papaya) Fruit Extract, Ananas Sativus (Pineapple) Fruit Extract, Butylene Glycol, Alcohol Denatured, Citric Acid, and Water (Aqua). May contain Caramel.

Color:

Orange / Pink / Purple / Red / Yellow

Taste / Aroma:

This kit comes with five flavors: Hot passion fruit, hot strawberry, hot mango, hot cherry, and hot tropical. I found that they all tasted nice, and they all smell like their intended flavors. The strawberry was my favorite and I thought it tasted the closest to its actual flavor. All the other flavors were nice, but tasted more like jolly ranchers (very sugary and candy sort of taste). The taste itself is pretty strong, so a little will go a long way with these.

The ingredients for these are as follows: Glycerin, Flavor (aroma), Mango fruit extract, Papaya fruit extract, Pineapple fruit extract, Butylene Glycol, Alcohol denatured, Citric acid, Water. May also contain: Caramel, Red 33, Red 40, Yellow 5, Yellow 6.

Users who are sensitive to glycerin, beware. This formula has glycerin as the main ingredient.

Flavor:

Hot cherry / Mango / Passion fruit / Strawberry / Tropical fruit

Performance:

If you're using this as a massage lotion, you'll need to wash it off. It doesn't absorb into skin at all, so you'll be left feeling sticky until you do.

As an oral sex lubricant this stuff is great. I enjoyed the flavors, and you're still going to need to be sure to shower after, but it left my partner a lot less sticky than using it as a massage lotion did. Just a little bit goes a very long way. I've tried all five flavors a few times each, and it barely looks like I touched any of them.

The motion lotion heats up when you use it. All you have to do is rub it between your fingers and it heats up wonderfully. You can also blow on it mid use and it'll reactivate the heating element. It feels great during massage, but we found that during oral sex blowing on it didn't work because the saliva in my mouth would break down the lube too soon. Blowing on the lube would then just feel cold. If you want your partner to experience the warm sensations when you blow on them, you'll need to blow on it immediately after you apply it.

The set includes:

Special features:

Edible
Moisturizer
Warming

Packaging:

The Hot Motion Lotion comes in a small plastic package which is technically reusable. I had to throw mine away because it was leaking when it arrived! I managed to get the lotion bottles cleaned up and tighten the caps to the bottles, but it was a complete mess at first.

If yours didn't leak during shipping then you still would probably not want to travel with this stuff. The box is clear plastic, so you can see exactly what is in it so it isn't very discreet. The packaging itself doesn't have any instructions on it, aside from saying "Hot Motion Lotion" in a few places and listing the ingredients. The packaging is colorful and fun, so it is a shame I had to get rid of mine.

Volume:

5 fl.oz.

Weight:

9.7 oz

Special Features:

The Hot Motion Lotion heats up when you blow on it, and heats up just from rubbing! I think this is a fun feature which adds to the tastiness of the lotion. I have tried similar products which claim to heat up and didn't really, so I was very pleased that this one actually did.