System JO JO 2 to Tango pack - Lubricant from System JO

Product Details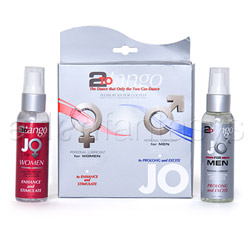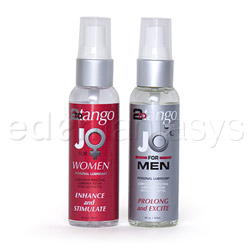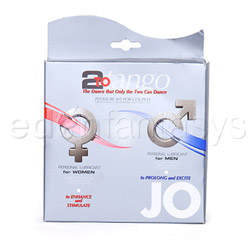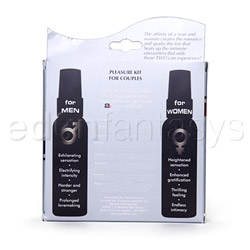 Summary:
Tango is the ultimate lube for heart pounding, long lasting, sex. Never fear if you have a tendency to explode with passion a little early. Tango will mellow you out and make the night oh so long. So come on, jump in the sheets and tango.
Pros:
Decreases sensitivity in men, increases sensitivity in women, super slick.
Cons:
Decrease in sensitivity leads to less intense orgasms in men, does not warm.
Best use:
System JO 2 to Tango is a couples lube meant to prolong and enhance stimulation. It is one of the slickest lubes on the market and will not, I repeat, will not,dry out, even if intercourse lasts 40 minutes. Two bottles of lubricant are provided. The first, for men, desensitizes the penis and prolongs the erection. This is perfect for men who ejaculate within the first minute or two of intercourse. The lube for women enhances sensitivity by adding a coolness to the skin which lasts and lasts.

The ingredients include: Methyl Paraben, Propyl Paraben, Sodium Carboxymethyl Cellulose, Propylene Glycol, Benzocaine, Mentha Piperita, Peg-8, Water Cyclopentasiloxane, Dimethiconol, Dimethicone, Menthol.

The lube does not stain sheets and is clear. The lube itself is both water and silicone based so take it into the shower with you. Although it won't wash right off like a water based lube will, it will stay on much longer, but not as long as a silicone based lube. In addition, do not use this lube with silicone toys as it will break down the material. As always, check with Eden product pages regarding safe lubes to use.

This lube has been known to cause irritation in some individuals so always stop use if this happens. If the product spills it will be extremely slippery so clean up all spills immediately. Finally, keep out of the reach of children and pets and do not ingest.
Texture / Consistency / Thickness / Viscosity:

Tango is quite possibly the slickest lube on the market today. It's medium consistency keeps it in place without dripping but also allows it to be easily manipulated. It's smooth as butter and never sticky or tacky.

To apply, simply push down on the plunger to receive a tiny amount. You will need to push the plunger about five times to receive a proper amount for lubrication.

Base:

Silicone / Water

Ingredients:

For Men: Methyl Paraben, Propyl Paraben, Sodium Carboxymethyl Cellulose, Propylene Glycol, Benzocaine, Mentha Piperita, Peg-8, Water. For Women: Cyclopentasiloxane, Cyclotetrasiloxane, Dimethiconol, Dimethicone, Menthol.

Color:

Clear

Taste / Aroma:

Tango has a very flat taste but should not be ingested. The lube for him does not have an aroma at all. The lube for her has a very, very, slight mint aroma to it but is not noticeable during sex at all.

Performance:

Tango is a super lube when it comes to friction free, pounding, intercourse. Get rid of the friction and have a wonderful ride. For him, the lube claims to have a warming sensation although it falls extremely short in this department. The sensation is hardly noticeable if it is there at all. Even so, it does desensitize the penis allowing for longer penetration time yet this will make orgasm not as strong.

For her, the lube is mildly tingling and leaves a clean, cool, feel throughout intercourse and beyond. The coolness of the lube enhances sensitivity but not to an extreme level.

Generally both lubes are an all around good choice if you want a long, romping ride, without any friction what so ever. Reapplication is a thing of the past with Tango.

Cleanup is simple. Simply wash off the skin with soap and water.

The set includes:

One 2oz bottle of personal lubricant for women. One 2oz bottle of personal lubricant for men.

Safety features:

Glycerin free / L-Arginine free

Special features:

Cooling
Desensitizing
Moisturizer
Tingling sensation
Warming

Packaging:

Tango arrives in a silver, cardboard box with the male arrow and female cross signs on the front. The back claims that the lube for him causes increased sensation and high intensity. In this department it falls short. It goes on to say it prolongs which it does beautifully. For women information regarding better sensation, more gratification, thrilling feeling, and endless intimacy take center stage. Endless sex and heightened sensation are the only true players in this equation. Next, there is a nice long list of precautions and directions for proper use.

Each bottle of lube is 2 fl oz. For him is adorned in the same silver whereas for her is adorned in burgundy. Each bottle contains a spill proof cap so travel is perfectly fine.

Special Features:

This lube also doubles as a moisturizer. Leave it on for silky smooth skin.