System JO JO for women premium warming lubricant - Lubricant from System JO

Product Details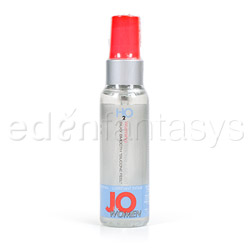 Summary:
JO for Women is a great lube for the use of enhanced arousal and explosive orgasms which seemingly come out of nowhere. Although it does not do everything it says it does on the bottle, it still has some fireworks to it. Use it to excite you or your partner and have a night of explosive fun.
Pros:
Enhances sensation, smells wonderful.
Cons:
Does not warm, is not fragrance free as stated on bottle.
Best use:
System JO Premium Women Lubricant is specifically designed for the female genitalia. Applied to the vaginal and clit area, the lube enhances sensation and provides a friction free experience. Because it is specially designed for women, it is perfect for female/female couples or masturbation. It is also suitable for use with a male partner although it really works better when mixed with vaginal juices. Alone, it will dry up quickly and will need reapplication.

The ingredients include: Cyclopentasiloxane, Cyclotetrasiloxane, Dimethiconol, Dimethicone.

The lube is silicone based and can therefore be used in the shower without fear of it washing right off the body. Do not use this lube with silicone toys as it will cause the toy to break down. As always, check with Eden regarding lube compatibility with all your toys.

The lube does not contain L-Arginines, Petro-chemicals,or Parabens.
Texture / Consistency / Thickness / Viscosity:

The lube is of a medium consistency and even though the bottle states that it's not tacky, it can be without the addition of vaginal juices. Even so, it feels silky on the skin when mixed with juices and stays in place. In addition, reapplication is not necessary which is always a plus.

To dispense, simply push down on the plunger to receive a tiny amount of lube. You will need to repeat this about five times to receive enough lube for one application.

Base:

Water

Ingredients:

Cyclopentasiloxane, Cyclotetrasiloxane, Dimethiconol, Dimethicone, Capsicum Olearesin, Mentha, Piperta

Color:

Clear

Taste / Aroma:

JO is not supposed to have a fragrance but even though the bottle says it is fragrance free, don't be fooled. The lube is perfumed with peppermint oils which create a nice smell and excite the nerve endings on the clit and vaginal area.

This lube tastes very bitter and should not be ingested.

Performance:

JO is an all around good lubricant for arousal, masturbation, and sex. Although the bottle claims the lube is warming, the warming sensation failed to activate. Instead, it was rather dull in the warming department. Who can have a warming lube with peppermint oils? The peppermint oils do their magic and tingle on the clit and vagina, gently enhancing pleasure. Having an orgasm from out of the blue is to be expected with this lube. In addition, the orgasms it produces will knock your socks off. They're strong, deeply intense, and come from out of nowhere.

Cleanup is simple. Simply wash with soap and water to remove. The lube does not stain fabrics.

Safety features:

Glycerin free / L-Arginine free / Paraben free / Petro-chemicals free

Special features:

Moisturizer
Tingling sensation
Warming

Packaging:

JO comes in a pretty 4 fl oz bottle adorned in light pink and smokey white. A hot pink cap sets the bottle off. The back contains information regarding the lube itself, how it enhances sensation, is fragrance free (it really isn't) and is latex safe. In addition there are safety precautions stating to discontinue use if irritation occurs, to avoid spilling on the floor because it will make the surface extremely slippery, to clean up any spills immediately, and to keep out of the reach of children.

The bottle itself is spill proof when the protective hot pink cap is applied and is travel friendly.

Special Features:

The lube doubles as a vaginal moisturizer. When used, it sinks into the skin, leaving the area silky soft and smooth.