System JO JO H2O for women warming lubricant - Lubricant from System JO

JO H2O for women warming lubricant videos
Product Details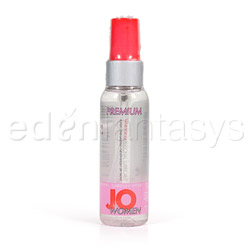 Summary:
H2O Women Warming lubricant combines the easy washability of a water based lube with the silky feel of a silicone lube. Now you can emulate the thin, slippery feel of a silicone lube on your silicone toys without worry although it doesn't have the longevity of a silicone lube. It is meant as a warming lube, but you may or may not notice a warming effect.
Pros:
feels like silicone, washes off easily, attractive bottle
Cons:
contains glycerin, contains parabens
Best use:
H2O Women Warming Lube is a good lubricant choice for those seeking a water based lube with the viscosity of a silicone lube. You can even simulate the feel of a silicone lube as you use this with silicone toys.

It is intended to be a warming lube although it contains mentha piperata, an ingredient typically used in cooling lubricants.

It does contain glycerin, so it may not be the best choice for those prone to yeast infections.
Texture / Consistency / Thickness / Viscosity:

H2O Women Warming lube is thinner than most water based lubricants, but slightly thicker than Pink and Moist silicone lubes.

Squeeze the pump once and a small pearl-sized drop of lube comes out. Tip the surface where the drop was applied and the lube will run, almost like water. Rub it in with your fingers and this is where it will resemble a silicone lube. It has a silky feel and easily spreads thinly and evenly.

Where it remains true to its water-based roots is that it washes off easily with water and that it becomes slightly sticky as it dries. It also lasts only as long as a typical water-based lube.

Base:

Water

Ingredients:

Propyl Paraben, Methyl Paraben, Sodium Carboxy Methyl Cellulose, Pure Natural Vegetable Glycerin, Mentha Piperita, Purified Water

Color:

Clear

Taste / Aroma:

H2O Women Warming Lube has a very mild almost fruity scent. You won't notice this unless you try to smell it.

Its taste is mild and reminiscent of medicated chapstick or other menthol-containing products. Clearly, mentha-piperata is the ingredient that gives it its flavor. Its not objectionable, but sensitive tasters may not wish to use this product where oral sex may be taking place.

Performance:

H20 Women Warming lube washes off easily, leaving no trace or scent behind.

This lube appears to absorb into skin and tissues during use, a quality all water-based lubes share.

Each pump gives you only a small amount of lube. If you press multiple times to obtain the amount of lube you might think you need, you'll discover that each of those small drops spreads farther than expected. Perhaps a small amount is delivered because that's all that is needed.

In an unscientific performance test where equal sized drops of Maximus and H2O Women Warming lube were rubbed into skin, both appeared to last approximately the same length of time. Both left skin feeling moisturized but slightly tacky.

In a side by side test with Moist silicone lube, H2O Warming Lube was thicker, but still thinner than most water-based lubes. In a blind test of rubbing each of these lubes into skin, I don't believe you could easily tell one from the other. This is what System JO was striving for with this lube and in this respect they succeeded.

H2O Women Warming lube is labeled as a warming lube, but no warming or cooling effect was noticed by this reviewer. It may provide a subtle warming sensation for some users.

Safety features:

L-Arginine free / Petro-chemicals free

Special features:

Personal comments:

H2O Women Warming lube contains parabens, which while generally considered to be safe can be irritating to those with sensitive skin. Note that parabens are present in a wide assortment of beauty and healthcare products that you are probably already using. But if you find that some lubricants irritate you, this and other paraben containing lubes may not be the best choice.

It also contains glycerin, which can be a concern for women who are prone to yeast infections.

This lube also contains mentha piperata from which peppermint oil is extracted. Its intended to be the warming agent. Mentha piperata used on skin is known to relieve skin irritation and reduce redness and itchiness.