K-Y Brand K-Y jelly - Lubricant from K-Y Brand

Product Details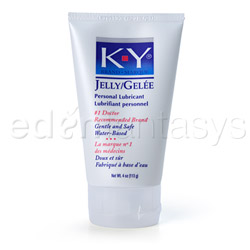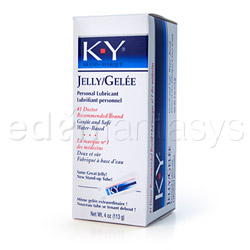 Summary:
This lube works for simple things as vaginal ball insertion or butt plug insertion but it completely fails when it comes to using toys for thrusting or during and penetrative sex. The lube becomes quite gross and dries up quickly when used in this manner. There are better options available.
Cons:
Glycerin, Parabens, sticky, dries quickly, formation of gross texture
Best use:
This lube is a simple lube that can be used vaginally or anally. This lube could be used by a novice or a connoisseur. It is not likely to work out well when used in areas where water is involved, such as a shower/bath, spa, or pool. Ideally this is best for inserting vaginal balls or a plug, something that won't be thrusted in and out.

It is waterbased therefore it will not react to any toys per say. It does contain ingredients that can be irritating to some women.

The ingredients are: Purified water, Glycerin, Hydroxyethylcellulose, Chlorhexidine Gluconate, Gluconolactone, Methylparaben, and Sodium Hydroxide.

It contains glycerin and parabens, so it can be irritating for some and cause yeast infections for those who are more sensitive to them.
Texture / Consistency / Thickness / Viscosity:

It is jelly-like in texture. Basically, thicker than regular waterbased lube. It is smooth when rubbed in. It holds its shape very well and will stay put where ever it is applied.

The bottle makes it so that the lube is easily dispensable. Simply open the cap and squeeze. For one session you can re-apply a few times but a dime size dollop is enough to cover a shaft/toy.

The lube is quite smooth, it looks thick but when rubbed in, it thins out quite well without losing its lubricating texture. It does not feel sticky on initial application, it does get stickier over time and needs to be re-hydrated by saliva, water, or a reapplication of lube.

Base:

Water

Ingredients:

Purified water, Glycerin, Hydroxyethylcellulose, Chlorhexidine Gluconate, Gluconolactone, Methylparaben, Sodium Hydroxide

Color:

Clear

Taste / Aroma:

It sort of has a synthetic smell but it is very minimal. It is quite light and barely noticeable. It has a slight sweet taste but it's barely there also. Therefore, those who don't like flavored lube this might work out better for you compared to other lubes which are flavored.

Performance:

This lube is not the best I have tried.

It stays wet pretty long during solo use (lasted a little over 30 mins for me) but when a toy is used for thrusting or when it is applied for PIV sex, things go downhill. The lube becomes lumpy. It gathers up into sticky balls reminiscent of glue that you would rub off your hands as a child. It dries up quickly and gets all sticky and full of little sticky lumpy balls. It is not good for anal sex. Although it did not cause any irritation or burning sensations it just dries up quickly and gets gross. It isn't good either for manual stimulation of the penis.

It needed to be washed off every time it had been used for thrusting. When using it for inserting vaginal balls it hasn't lumped together so I would just wipe off the excess lube after use.

It's easy to clean up since it is water based but its not appealing to be lumpy in your sexy areas!

Safety features:

Hypoallergenic

Special features:

Packaging:

It came in a small cardboard bx with the identical information provided on the tube of lube itself.

Experience:

I am such a skeptic when it comes to KY. I have tried their products before and they have always failed for me but I thought I'd give this one a try hoping perhaps their formula had changed.

It hasn't! It just made me feel so uncomfortable and so self-conscious to have the lube all sticky and creating those gross little lube balls all over my nether region. It was not a fun experience and I don't recommend this lube to anyone.