Doc Johnson Lick me licker tasty gel kit - Lubricant from Doc Johnson

Lick me licker tasty gel kit videos
Product Details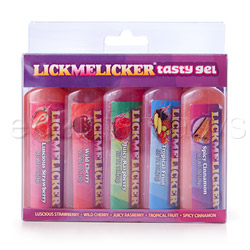 Summary:
For the most part, I love the idea of this product. I love the idea of having a reason to lick my partner or have him lick me. But, I wish they had put more effort into making the gel enjoyable because neither my partner or me liked the smell and the taste was mediocre. I found that all the flavors and smells had a chemical/plastic undertone that made it taste like Chapstick or shower curtains.
Pros:
Adorable Packaging, Mess-free bottles, Easy clean-up
Cons:
Taste/Smell is unpleasant
Best use:
Although Eden Fantasy's classifies this as a lubricant, I could never recommend it for that. Mostly because this is pretty much just flavored sugar gel, but also because I doubt it would last long enough to be effective. Rubbing it with my fingers it lasts about two minutes, but there's more on this later on in the review.

I believe this gel should mainly be used as a foreplay tool. Rub it on your body and let your partner lick it off or you can rub it on their body for your own oral enjoyment. Spread it any where that you enjoy being licked, but avoid using this around or in your vagina because that can lead to a yeast infection.

Put on your sensitive areas. A few of mine are inner arms, back of knees, lower back, neck region. Where do you like to be kissed? Try some on there.

One game you could consider playing is rub a different flavor on different area's of your body and ask your partner which flavor is where. Now, I really didn't enjoy the flavors or scents, but I know some people might.

Considering the main ingredient is water, these gels would probably not last long in the shower before washing off. However, that makes clean up super easy!

Texture / Consistency / Thickness / Viscosity:

The texture is pretty nice. You squeeze out as much as you need from the bottle and smooth it out into a layer. Not greasy or sticky at all; it glides on with a texture similar to petroleum jelly or lotion.

If you leave it in a glob on your skin it doesn't slip or slide down; even at an incline. This also means it won't get anywhere on you unless you put it there.

When I first spread it on, it felt really cold and wet, kinda slimy. I recommend turning off fans before you put any of the gel on; fans will dry it faster and keep it cold.

Base:

Water

Ingredients:

Water (Aqua), Glycerin,Flavor (Aroma), Potassium Acesulfame, Carbomer, Sodium Hydroxide, Diazolidinyl rea, Sodium Benzoate, Potassium Sorbate, May Contain Caramel.

Color:

Orange / Pink / Red

Taste / Aroma:

This kit comes with 5 different flavors, each in 1 oz tubes. Luscious Strawberry, Wild Cherry, Juicy Raspberry, Tropical Fruit, and Spicy Cinnamon.

When I first opened the box, I was hit with a strong scent of waxy strawberry, very similar to strawberry chapstick. Big turn off for me. But, for the sake of the review, I went ahead and tried everything. The smell was a little too much for my boyfriend so he wasn't quite so willing.

Every one of these has that chemically/plastic undertone taste that I really do not enjoy. It may not bother some people but it gives me migraines. I honestly don't understand where this taste is coming from because I believe these are mostly sugar and water. I'll cover the full ingredient list later in the review.

Out of all of them, I believe the strawberry is the best. To try a flavor before you put it on yourself/partner, hold the opening of the bottle flush against your finger and squeeze hard enough to get a tiny bit on your fingertip. Lightly spread against the skin of your hand and smell/lick it.

Flavor:

Cherry / Cinnamon / Raspberry / Strawberry / Tropical fruit

Performance:

Again, this shouldn't be used as a lubricant by any means. As a gel for the rest of your body though, it can be kinda fun, if you enjoy the taste.

Once you put the product on your skin, it will stay there, moist for quite a while. If you rub it, it takes about 2 minutes to dry. If you leave it on your skin, it takes about 10-15 minutes to dry.

Either way, it doesn't leave any kind of sticky residue. One neat side feature is that it makes your skin softer after it dries. You can still smell it slightly until you wash it off. It's best to wash off with soap and water but a wet wipe or wet wash cloth would work.

Once it dries, you can try to re-wet it with some water (or saliva), otherwise you can reapply a layer when needed.


The set includes:

Special features:

Packaging:

I love the packaging. It's cute and it doesn't take any more space than it requires to hold the product. It's perfect for storage or traveling and fairly good for gifts among friends. It's not too naughty looking but it isn't exactly innocent.

The bottles themselves aren't too bad. I've had this package sitting sideways and upside down for days in row without any incident. No leaking or spilling. It's easy to squeeze out the amount you want without accidentally dispensing too much.

No instructions were included but they aren't really needed. Just be creative.

Volume:

1 fl.oz.

Weight:

8.5 oz

Personal comments:

Every bottle has the exact same ingredient list, which makes me a little wary. Because I couldn't decide a better place in theto put this, I'll list it all here here.

The full ingredient list: Water, Glycerin, Flavor (aroma), Potassium Acesulfame, Carbomer, Sodium Hydroxide, Diazolidinyl Urea, Sodium Benzoate, Potassium Sorbate, May contain: Caramel, Red 40 (CI 16035) Red 33(CI 17200)

Briefly, what some of these ingredients are:

Glycerin: A type of sugar
Potassium Acesulfame: A calorie free sweetener, also known as Aspartame (gives me headaches)
Carbomer: A thickening agent
Sodium Hydroxide: AKA Lye, corrosive in large amounts, generally used in soaps (I think this may be the stinky factor)
Diazolidinyl Urea: An antimicrobial preservative, some people may be allergic to this, and there's some discussion on whether it is a carcinogen or not
Sodium Benzoate: A preservative typically found in acidic foods
Potassium Sorbate: A preservative typically found in dried and baked goods