California Exotic Lube it up waterbased lubricant - Lubricant from California Exotic

Product Details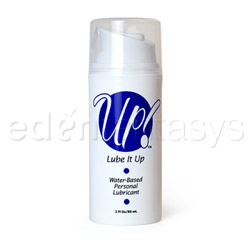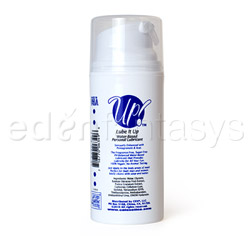 Summary:
Lube It Up is an overall awesome water-based lube which is fragrance-free, sugar-free, and 100% vegan (wow I had no clue all these things play a role in the components of a product). I have no doubt that my husband, and myself on the solo runs, will enjoy using this lube as long as the bottle lasts and beyond. Right ON CalExotics, you got a winner here!
Pros:
Non-sticky, silky, smooth, non-irritating, great moisture
Cons:
Not great for anal play
Best use:
My husband and I are honestly lube virgins (this pains me to say), but with age and changes in hormones I find more and more that a little extra moisture would sure be a good thing! Lube It Up was like a dream come true for us! It can be applied directly to the areas of need, both male and female, and it provides the right amount of moisture barrier to protect that sensitive skin.
Texture / Consistency / Thickness / Viscosity:

The feel of Lube It Up is slippery and perhaps a little thicker than other water-based lubes I have used (during my solo play - again my husband and I are lube newbies). A very small dab is all that you need and that goes a long way. The product is clear and not runny at all - I can put some on the tip of my finger and hold my finger upside-down and it doesn't move! Non-greasy going on, non-sticky afterwards, just silky and smooth.

Base:

Water

Ingredients:

Glycerin, water, euterpe oleracea fruit extract, punica granatum extract, carbomer, cellulose gum, sorbitol, tetrasoduim EDTA, triethanolamine, methylparaben, imidazolidinyl urea, DMDM hydantoin

Color:

Clear

Taste / Aroma:

As for the taste of Lube It Up, I wouldn't recommend putting this in your mouth as it had a bit of a strange taste to it - nothing foul so if you were giving a blow-job after a hand-job or if he was giving you oral after clitoral stimulation it wouldn't kill the mood. The smell is light to almost none, but there is a slight hint to the acai and pomegranate that the product is enhanced with even though it says "Fragrance-Free" on the bottle.

Performance:

Lube It Up did exactly what it says it's going to do - "Lubricant that provides lubricity for all your fun." The small dab that's needed lasted our entire session with no reapplication required, however if you are extremely dry or play rough you might want to reapply periodically to suit your personal experience. There's no gender specific for this lube so it can be used on male/female body parts equally, which is so nice, with no irritation. Solo use and partner use makes this lube versatile and well worth the investment - keep it bedside folks you'll want it all the time! And clean-up was a breeze because there was none - it was completely dry when we were done with no residue and no oder, the shower took care of the rest.

Safety features:

L-Arginine free / Petro-chemicals free

Special features:

Packaging:

Lube It Up comes in a white bottle with clear cap and can easily be worked with one hand (what a turn on). Simply pop the cap off with your thumb and give a little pump onto the desired location and you are in business. I got so good with this handy little bottle I can get the lid back on with one hand too (total Goddess I know).

And everything you need to know about this lube is right on the back of the bottle! Where it can be applied, that there's no animal testing, it's PH balanced, etc. Plus, of course, the *ingredients (important bits of info there): Water, glycerin, euterpe oleracea fruit extract, punica granatum extract, carbomer, cellulose gum, sorbitol, tetrasodium EDTA, triethanolamine, methylparaben, imidazolidinyl urea, DMDM hydantoin

*Quick note - if you have a sensitivity to glycerin or are prone to yeast infections, you might want to avoid this specific lube*

Volume:

3 fl.oz.

Weight:

0.2 lb

Experience:

During masturbation for me it was silky and just wet enough for me to really enjoy my time alone. On my vaginal toys a small dab was all that was needed and I was off to the races, plus there was no stickiness as my play went on - it just seem to work off of my natural moisture to continuously provide a wetter experience.

Now my husband really had a good time with Lube It Up! He got probably the best hand job in our marriage (no joke) and the lube held up really well. I put a tiny dab on the tips of my fingers on each hand and then worked it into my palms and then onto his cock. The look in his eyes when that light wet feeling hit him was priceless! It didn't die out quickly so I was able to spend some quality time stroking him and there was never any sticky feeling. Once I was finished the lube dried and there was no residue on him or me - I was pleasantly surprised!

Our last test was vaginal intercourse and it was like ride'm cowgirl. All I needed was a little dime-sized amount to work onto his cock and then on top I slid. He went into me like never before - just like a Popsicle into your mouth on a hot summer day. There was no friction (which normally we do experience as I am super sensitive on the inside) and Lube It Up helped me create enough moisture to last our entire session. And neither him or I had any sticky residue afterwards - the product completely dried and left no traces!

We are happy campers!