Intimate Organics Melt warming lubricant - Lubricant from Intimate Organics

Product Details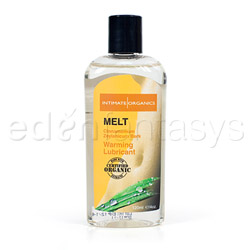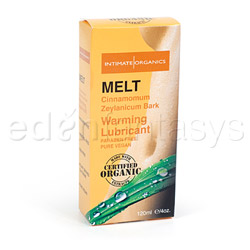 Summary:
Intimate Organic's warming lube might be right up your alley if you've used other warming products and found them too intense, of if you experience reactions to lubes that are full of chemicals like parabens. Stay far away if glycerin wreaks havoc on your body, however! The gentle warming works well during sex, but the oil base and flavor makes this an ideal product for massage--intimate or otherwise.
Pros:
Sweet taste, slight warming, great for massage.
Cons:
Glycerin is main ingredient, misleading smell.
Best use:
Although labeled as a warming lubricant, Melt really shines as a warming massage product. Its sweet flavor invites you to run your tongue along your partner's body, while the oil base provides both the lubrication and grip you need for an effective massage.
Texture / Consistency / Thickness / Viscosity:

This lube is a thin gel. It's not as liquidy as some you may have tried, but it's also going to run down a hand or toy if you hold it vertically. It's definitely not anything like actual honey, which can be quite thick.

Melt is also much less sticky than honey. Its oil base means that it feels slightly greasy, especially after you've rubbed it over your body. However, this washes right off with soap and water. You can slather this lube all over your glass toys without fear, but you should stick to water-based lubes with reactive materials.

Base:

Water

Ingredients:

Glycerine (Naturally Plant Derived), Propylene Glycol, Phenethyl Alcohol, PPG-2 Methyl Ether, Methylisothiazolinone, Aqua (Water), Zingiber Officinale (Ginger) Root Extract, Cinnamomum Zeylanicum Bark Extract, Certified Organic (GojiBerry) Fruit Extract (and) Certified Organic Cymbopogon Schoenanthus (Lemon Grass) Leaf/Stem Extract (and) Certified Organic Aloe Barbadensis (Aloe) Leaf Extract.

Color:

Clear

Taste / Aroma:

Intimate Organics (IO) describes this as honey scented, but I disagree. When I think of honey, it's usually quite sweet. That isn't the case with the warming lube. I only detected a faint whiff of honey after I knew that I should be able to smell it. This isn't necessarily a problem, but if you buy it hoping for a sweet honey aroma, you'll probably find yourself disappointed. The scent of this lube is reminiscent of IO's other products. It's something that you might describe as herbal cosmetic.

On the other hand, this warming lube tastes surprisingly sweet. There's a definite aftertaste that I don't find especially pleasant, but Melt tastes sweet on the tip of your tongue. You may not want to drink it by the gallon, but if you're happened to use it on your partner and want to lick him or her later, it won't make the experience unpleasant.

Performance:

As a lubricant, Melt might come up short. It isn't as slick as your average silicone-based lube. You'll likely find yourself using more to keep things slick, especially in a long session. However, it's not sticky like water-based lubes.

I personally find the texture to be pretty good for a massage. It's not so slippery that your hands will fly off your partner. It's slick with a grip. This makes sense as many massage products are oil-based. Your skin will feel warm and moisturized after use, but you may prefer to wash hands with soap and water to remove the slightly-greasy feel that Melt leaves.

The warming properties are incredibly gentle. If you like intense, pass this right up. If you've ever used a warming lube and wound up crying, Melt might be the reintroduction you've been waiting for. Always test it on an inconspicuous place, however. The top of your hand is perfect. During tests, the lube itself wasn't warming. The act of penetration or rubbing it on the skin did provide the warming sensation, however. Unlike some massage oils, blowing and licking don't appear to increase the warming sensation of Melt.

Furthermore, Intimate Organics declares this an oil-based lube that won't harm condoms, which is great for anyone who's into safe sex and oil lubes!

Safety features:

L-Arginine free / Paraben free / Petro-chemicals free

Special features:

Edible
Moisturizer
Tingling sensation
Vegan
Warming

Packaging:

Melt comes in a small, paperboard box. The bottle itself features IO's standard label--a picture of a woman's abdomen. There's no reason to keep this after opening, and you can recycle it with your other papers. This specific product uses a yellow hued label, while other IO products focus on other colors.

The bottle is small enough to slip into a purse or bag, but TSA would find it too big to fit in your carry-on luggage. The push-top cap would make this secure for a quick run to your partner's house, but you might want to stuff it in a plastic zipping bag for longer trips.

The push-top design means you only need a single hand to use it, and then you can flip it upside down and squeeze to administer the product.

Volume:

4 fl.oz.

Weight:

0.5 lb

Special Features:

IO describes this product as vegan, moisturizing, and free of petro-chemicals. Melt has no silicones, l-arginine or parabens.

Personal comments:

I would skip this as a lube and use it as a massage oil.

This is especially true because the main ingredient in Melt is glycerin, which causes many people to have reactions or develop infections.