Doc Johnson Mood lube 5 pack - Lubricant from Doc Johnson

Product Details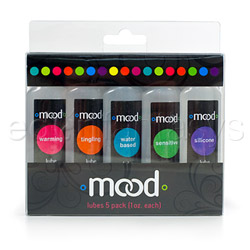 Summary:
The Mood Lube 5 Pack is worth it for the four that are wonderful, but just take a pass on the sensitive skin lube.
Pros:
Most of them work wonderfully.
Cons:
The sensitive lube is a total wash
Best use:
Mood Lube 5 Pack is a variety of lubes that give a different feel and has different use with each kind. There is a silicone based lube, a water based lube, a warming lube, a tingling/cooling lube and a lube for sensitive skin.

As with most lubes, it is used to make any kind of penetration easier and with less friction.

The warming does warm up and makes things much easier on cooler days and nights, and the tingling does the opposite for warm/hot days and nights.

The sensitive is for those that have trouble with most lubes due to allergies.
Texture / Consistency / Thickness / Viscosity:

The sensitive one is very thin and dries very quickly, while the silicone is thick and only takes a little bit to go a long way. The water based one is a typical water based lube in feel. The warming only warms a little bit to the touch and when using it for sex, and the tingling/cooling really does cool down after a little while of use.

Base:

Silicone / Water

Ingredients:

Warming: Glycerin Tingling: Water (Aqua), Propanediol, PEG-8, Polyquarternium-7, Menthyl Lactate, PPG-26 Buteth-26, PEG-40 Hydrogenated Castor oil, Hydroxyethylcellulose, Diazolidinyl Urea, Sodium Benzoate, Potassium Sorbate Water based: Water (Aqua), Propanediol, PEG-8, Polyquaternium-7, Hydroxyethylcellulose, Diazolidinyl Urea, Sodium Benzoate, Potassium Sorbate Sensitive: Water (Aqua), Propylene Glycol, Polyquaternium-7, Hydroxyethylcellulose, Panthenol, Chamomilla Recutitia (Matricaria) Flower Extract, Ale Barbadensis Leaf Juice, Panthenol, Sucralose, Diazolidinyl Urea, Methylparaben, Propylparaben Silicone: Dimethicone

Color:

Clear

Taste / Aroma:

None of the Mood Lube 5 Pack has much of a scent to them at all. They are all clear looking, too. As for taste, there is a light silicone lube taste to the silicone lube and not much taste at all to the others; however, the tingling one has a slightly mint scent to it. You can only smell it if you have a very clear nose and no other scents in the room or on you.

Performance:

The sensitive lube really was a fail. I had to use it over and over again. It absorbed way too fast to even have sex for a few minutes.

The others worked wonderfully. The warming does get warm after a little while and, once the tingling/cooling really kicks in, gods does it ever kick in.

The set includes:

Five 1oz. bottles - Warming
Tingling
Water based
Sensitive
and Silicone lube

Safety features:

L-Arginine free

Special features:

Cooling
Moisturizer
Tingling sensation
Warming

Packaging:

Volume:

1 fl.oz.

Weight:

0.5 lb