California Exotic Premium lube - Lubricant from California Exotic

Product Details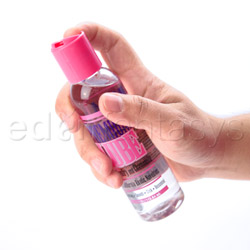 Summary:
Premium Lube is now my lube of choice. Its thick consistency stands up to the test of time, allowing the user to engage in play for up to 30 minutes at a time without reapplication. Perfect for intercourse, nipple sucker play, and anal.
Pros:
Long lasting, easy cleanup, soothes the skin.
Cons:
Runs all over toys.
Best use:
Premium Lube with Comfrey and Chamomile is a thin, water based lube, which is suitable for intercourse, toy play, and anal sex. While the lube does not reduce sensation in the anus it won't irritate the sensitive skin. I also tried it with nipple suckers and had more success with the lube than without it. Hey, you always want a new way to use lube.

Both beginners and advanced users alike will appreciate the long lasting properties of the lube. One application will last around 30 minutes! Be forewarned though, if you use this lube in the shower or bath, its lasting properties will run down to nil.

While Premium is unscented and completely clear, it does contain comfrey, chamomile, aloe, and glycerin which might cause allergic reactions in some people.
Texture / Consistency / Thickness / Viscosity:

Premium is one of the thinnest lubes I have found on the market. It's about the consistency of pure maple syrup which is extremely thin. Even so, don't let this fool you, the lube lasts and lasts and doesn't necessarily drip everywhere. While it does not stay exactly where you put it, it won't roam far, meaning that sheets and other linens should not get too moist. Also, the lube does not stain fabrics which is a plus. When applied the lube feels like a woman's natural moisture which, as of yet, is something I have found only with Premium. Because the lube is so thin, watch out when you pour it, you'll receive a lot. Just be prepared and you should do fine.

Base:

Water

Ingredients:

Water(Aqua),Propylene Glycol,Glycerin,Cellulose Gum,Alone Barbadensis Leaf Juice,Chamomilla Rectita(Matricaria)Flower Extract,Symphytum Officinale Leaf Extract,Tetrasodium EDTA,Methylparaben,Propylparaben,Diazolidinyl Urea.

Color:

Clear

Taste / Aroma:

Premium smells slightly fruity and has a tangy fruity aftertaste which is not foul but also not pleasant. Because the lube is not meant for ingestion, it does not carry any bells and whistles in the department of taste and aroma.

Performance:

For the first time ever, I ended up waiting a few days before I tried this lube out. My boyfriend and I decided to use it in conjunction with my nipple suckers which have not always been able to stay in place. I got the idea to add a drop of lube to each nipple and what do you know, the suckers stayed in place! Yeah!

Now down to the serious stuff. The lube went on COLD and didn't warm up very quickly. Even so, I liked the fact that it did not run off me easily and was extremely slippery. In fact, this is one of my slipperiest lubes. My boyfriend lubed up his penis and penetrated me. While the initial penetration was a little painful (maybe that was just me?) the lube made intercourse extremely slick. In fact, we never had to reapply.

For toy use the lube works just as well but be forewarned, the lube will slip and slide on plastic toys. I used one of my realistic dildos and to my dismay, discovered that the base was so slippery I could hardly hold it. I had to stop what I was doing and wipe it off before continuing. Even so, the lube lasted 30 minutes which is amazing.

Finally, the lube worked very well for anal. It provided me with enough lubrication to get rid of all friction and was gentle enough so as not to irritate my anus.

Cleanup was the normal routine. The lube comes off easily with soap and water and left my skin feeling soft and comforted.

Safety features:

L-Arginine free

Special features:

Packaging:

Premium Lube is contained in a 4 oz, round,clear,flip top bottle. Really nothing fancy here. Sadly, one wrong push of the cap and you will get leaks, meaning that the bottle is not suitable to travel. The words PREMIUM LUBE are written in bold bright purple and pink right on the front of the bottle making this lube not at all discreet. Underneath is a description of the lube which states that it's soothing, smooth, slick, and unscented.

The back of the bottle contains a list of ingredients which are as follows:
Water,Propylene Glycol,Glycerin,Cellulose Gum,Alone Barbadensis Leaf Juice,Chamomilla Rectita(Matricaria)Flower Extract,Symphytum Officinale Leaf Extract,Tetrasodium EDTA,Methylparaben,Propylparaben,Diazolidinyl Urea.

Special Features:

Premium contains comfrey which is a healing agent. Chamomile extract is a healing agent to wounds and irritated skin. Finally, aloe soothes the skin. Used together, the extracts soak into the skin and increase sensitivity while at the same time soothing sensitive skin.