Sliquid LLC Ride dude lube sampler pack - Lubricant from Sliquid LLC

Product Details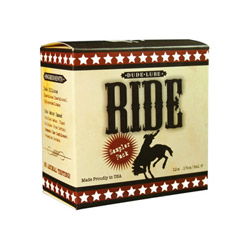 Summary:
The Ride Dude Lube Sampler Pack is a great pack of lube that is great for travel, or a visit to your lover's house. The silicone and water based lubes work great with compatible toys and stayed put. They cleaned up easily and felt great on the skin when they were rubbed in. All I can come up with to say against this lube is that it has a slight chemical taste being that it is unflavored. Also, I wished it had more of this premium lube in each box.
Pros:
Travel friendly, very discreet, feels nice, stays put, premium lube
Cons:
Slight chemical taste in the lube
Best use:
This sampler pack is a great compact collection of both silicone and water based lubes that are great for anyone. Being that it is lube, it works great for anyone needing some quick small packages of lube. It works great as a toy, anal, or male masturbator lube. The water lube does tend to be used up quickly, but it doesn't have the nasty stickiness that most other lubes have. Beyond traveling, this is a great thing to take to your lovers house without being overly bulky like a bottle, which is not discreet like these packages are. There are plenty of safety features in this lube too. It is glycerin free, hypoallergenic, and paraben free, non-toxic, and it is latex and rubber friendly. Be careful to make sure you are using the proper kind of lube with a compatible toy. Water based lubes work on pretty much anything, but silicone based is not compatible with all toys.
Texture / Consistency / Thickness / Viscosity:

The texture is nice and velvety like a good lube should be. Creamy would be a good description. Both of the lubes consistency's are not watery or thin, so it stays put well and lubricates very well. They are thick enough to where it is almost like a very milky lotion, but not thick to where it would be inconvenient. They pour easily from the packets, just grab a corner and tear it and it comes out nice and smooth. When the lubes do dry, they do not feel greasy, nasty, or sticky. I would go so far to say it feels moisturized like I was rubbing in lotion to my skin.

Base:

Silicone / Water

Ingredients:

Water based: Purified Water, Plant Cellulose (from Cotton), Cyamposis (Guar Conditioners), Potassium Sorbate. Silicone based: Dimethicone, Dimethiconol, Cyclopentasiloxane.

Color:

Clear

Taste / Aroma:

There is absolutely no smell or aroma whatsoever from the lubes. I went so far as to touch a bit of each type to below my nose and I could not detect a smell from them. The taste is understandable. It is not flavored, so getting any in your mouth has the very lightest chemical taste to it, but you expect that from an unflavored lube.

Performance:

Each packet of this actually goes pretty far, and from the testing me and my boyfriend did on these, a single packet will get you through whatever you are doing and then some. There is a lot that comes in one packet (.17oz) and by the time we were done, individually as well as with our own toys, we both were still really lubed with extra on each other and our toys. Cleanup wasn't bad at all since most stayed on the toys. As for our bodies, a quick wipe down and the leftover lube absorbed into our skin which made it feel very nice. Overall, what we liked best was the performance of the lube. It is a premium lube and it definitely performs like one. The only thing we could find bad about it was that it had the slightest chemical taste to it. That was expected though, so it's not losing points there.

The set includes:

Six 0.17fl oz packets of silicone lubricant
Six 0.17fl oz packets of water based lubricant

Safety features:

Glycerin free / Hypoallergenic / L-Arginine free / Paraben free

Special features:

Packaging:

I don't normally write in this part but I have some thoughts. This packaging is discreet and very compact but it reminds me of two things. It reminds me of chewing tobacco and beef jerky, I'm not totally sure why. It is very discreet though. Unless you looked very closely at it, you would think it's something else like I did. The box it comes in has six .17oz packs of both water and silicone based lubes.

Volume:

0.17 fl.oz.

Weight:

0.2 lb