Sliquid LLC Sea - Lubricant from Sliquid LLC

Product Details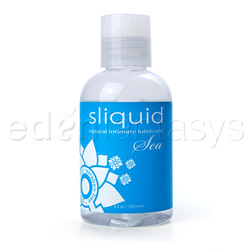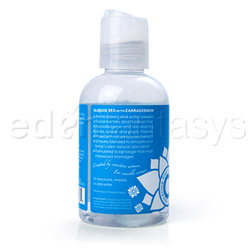 Summary:
I love this water-based lube because it doesn't have glycerin, it lasts a long time, and it feels great. Because it has a light texture, and is free of those tacky chemical smells, it feels more like a natural lube.
Pros:
Feels natural, doesn't stain, odorless and tasteless.
Best use:
Lube always makes sex better; it just does. This particular lube is a good option for people with sensitive skin to try out because it has a relatively short ingredient list. Furthermore, it is free of DEA, gluten, glycerine, glycerol, parabens, PEG, propylene glycol, sorbitol, and sulphates. It is also vegan friendly.

It contains seaweed and carrageenan, two ingredients that are advertised as mimicking your body's natural lubricant, an assessment I agree with. This product does not taste, smell, or feel like all those, cheap, artificially scented, sticky tacky lubes out there.

It is water-based and water-soluble so it's safe for use with latex and silicone, but won't hold up as well as silicone does for anal sex or sex in the shower.
Texture / Consistency / Thickness / Viscosity:

It's on the thin side in terms of texture, and it holds up well when I rub it against the back of my hand, never getting sticky, even after several rotations. After a while, it just gets very light and seems to have almost absorbed into the skin. If you wet it again when it seems like it's been absorbed, it reactivates the lube.

Base:

Water

Ingredients:

Purified water, Plant Cellulose (from cotton), Cyamopsis (Guar Conditioners), Carrageegan, Nori & Wakame (Seaweed Extracts), Potassium Sorbate

Color:

Clear

Taste / Aroma:

It is completely odorless, a feature that I really appreciate. In addition, it has no strong taste, and definitely no chemical taste. It's not really edible, but it won't taste horrible if you accidentally lick some.

Performance:

A water-based lube like this one will never last as long as a silicone one, but unlike silicone-based lubes, it is safe to use with all of your silicone toys. It also washes off easily since it's water soluble, but this also makes it not ideal for shower sex.

I really enjoy using this lube for vaginal sex, especially when toys are involved. I like that it's light and non-staining of my sheets--a major plus. If you really go at it for a while with this lube, you might need to re-wet or reapply if you didn't put it on real thick the first time.

Overall, in terms of its performance and odor, it reminds me of [another carrageenan- and water-based lube I reviewed | https://www.edenfantasys.com/sex-lubricants/water-based/carrageenan-all-natural], which you might also be interested in. It feels natural, gets the job done, and it's a great replacement for my previous favorite lube, which is running low.

Safety features:

Glycerin free / Hypoallergenic / Paraben free

Special features:

All natural
Moisturizer
Vegan

Packaging:

It comes in a nice plastic bottle with a pop-up spout, with all the ingredients listed on the outside.

Special Features:

Seaweed is one of its ingredients.