Shunga Erotic Art Toko organica lubricant - Lubricant from Shunga Erotic Art

Product Details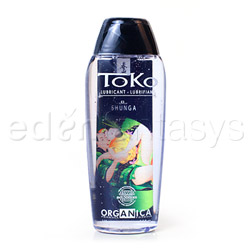 Summary:
We're all going organic so why shouldn't our lube? Now we can use a lube which is 100% organic! Shunga Toko performs better than the other lubes on the market and will soon become the mainstay for all the people who love sex out there. So come on and go organic.
Pros:
100% organic, super long lasting.
Best use:
Be Earth friendly while you're having sex and use Toko Organica lube! Toko is a water based lube which is 100% organic. Perfect for boob sex, intercourse, and of course masturbation!

Ingredients include: Water (aqua), Glycerin, Proanediol, Hydroxyethyl Cellulose, and Na4 EDTA.

The lube is extremely long lasting and condom safe.
Texture / Consistency / Thickness / Viscosity:

Toko is a thick lube and a little greasy on the skin but its super long lasting properties make up for that. It stays exactly where you put it and rubs into the skin after 30 minutes of play!

The bottle is a flip top making the lube extremely easy to pour but be careful, the lube will pour out with just a tip of the bottle.

Base:

Water

Ingredients:

Water (aqua), Glycerin, Proanediol, Hydroxyethyl Cellulose, Na4 EDTA

Color:

Clear

Taste / Aroma:

Toko has no smell whatsoever and tastes just a little sweet. Although it is not meant to be ingested there are no warnings so I suppose going from intercourse to oral really won't be much of a problem.

Performance:

We used Toko for boob sex and for a hand job. For boob sex the lube worked great. My boyfriend was able to slide right between my breasts without any friction or pressure, which is something that other lubes have not been able to provide.

For a hand job the lube did even better. It made him slippery and allowed my hand to glide without friction up and down his shaft. What was better is that it lasted longer than he did! Over 30 minutes!

To clean up, simply use soap and water.

Safety features:

Hypoallergenic / L-Arginine free / Paraben free / Petro-chemicals free

Special features:

Packaging:

Toko arrived in a clear 5.5 fl oz plastic bottle with a picture of an Asian couple having intercourse peering through. The bottle is leaky and not suitable for travel. Make sure that you store the bottle upright at all times. Also, the product is not discreet and will need to be hidden from prying eyes. There are no instructions.

Volume:

5.5 fl.oz.

Weight:

0.4 lb