Wet International Wet Synergy cool tingle - Lubricant from Wet International

Wet Synergy cool tingle videos
Product Details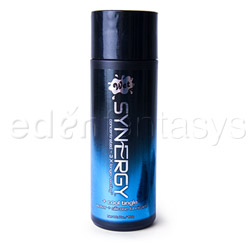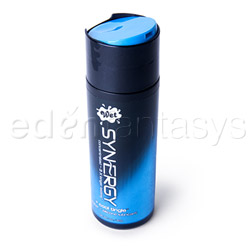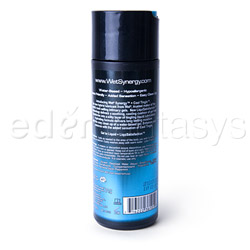 Summary:
This lubricant will not disappoint you. While there may be others that do better in specific applications or uses, this is an overall good lubricant. It sacrifices in some areas to be good in others but overall is usable in almost all uses. Its tingling is a pleasant surprise that will help add that extra little spice as well.
Pros:
Pleasant scent, lasts a long time, tingling feels good.
Cons:
Glycerin contents may cause issues for anal use, not the best for use in water.
Best use:
The Wet Synergy cool tingle lubricant is both a silicone and water based lubricant. This makes it easier to clean up than a silicone lube but longer lasting than most water based lubricants. The packaging states that the lubricant can be used for all your lubrication needs and even mentions using it for massages. While there are probably better choices for massage, it can be used in this way. It can also be used for most other uses as well. It can be used vaginally or anally as well as on the penis during masturbation, intercourse or toy play. One warning though is since this lubricant does contain silicone it should not be used with silicone toys. Also since it's not a pure silicone lube, it is not the best choice for use in water such as trying to have sex in the shower or pool as it tends to wash off fairly easily. This also means it's fairly easy to clean off with water as well though which is nice. Other than these two limitations it's a fairly capable lube that should work well for most uses.
Texture / Consistency / Thickness / Viscosity:

This lubricant is very thick and a little sticky when it first comes out. This is nice as it helps avoid some of the messiness and makes applying a thicker coating easier. Once rubbed on it becomes a little thinner and is easy to spread around but stays where you put it fairly well. A fair amount of lube is needed to get going but it does not dry out easily and lasts for a while. Even after the water based lube has dried out you can still feel the silicone lubricant working which still provides some level of lubrication. If you only wash with water you will more than likely still feel some of the silicone lubricant on your skin which feels kind of oily. A more thorough washing will get this off if it bothers you though.

Base:

Silicone / Water

Ingredients:

Glycerin, Deionized Water, Dimethiconol, Sodium Polyacrylate, Dimethicone,Cyclopentasiloxane, Trideceth-6, PEG/PPG Dimethicone, Pentylene Glycol, Peppermint

Color:

Clear

Taste / Aroma:

The peppermint which provides the tingling effect is also what provides the major scent of this lube. It is fairly strong at first but tends to become a lighter fragrance after a while. It is a nice scent. Not overpowering and is a pleasant scent. I did not directly taste this lubricant but I see nothing in the ingredient list that would make me hesitant about getting it in your mouth.

Performance:

Overall this a fairly nice lubricant. The tingling provided a nice sensation and the lubricant does not need to be reapplied often. It is paraben free which, if a lube does does have it, can cause discomfort for some. It does contain glycerin though so it may cause some to feel like they need to use the bathroom when used anally. The glycerin also tends to form into little balls and fall off when it drys. It is easily washed off with water however and these slight negatives are not a big issue. The silicone base portion of the lube does not absorb into the skin and stays on the surface for some time. This is nice as it makes the lube last for a long time but also means it's not the nicest lube for giving a massage.

Safety features:

Hypoallergenic / L-Arginine free / Paraben free

Special features:

Cooling
Moisturizer
Tingling sensation

Packaging:

This lube comes in a nice easy to use bottle that has a simple but effective popup cap that can be opened or closed with one hand. It has a seal between the cap and the bottle that lets you know it has been messed with and assures your safety. There are not any real directions on use but it does have a list of ingredients found in the lubricant. The bottle is easy to open with one hand however it does take a fair amount of pressure to get the lube to come out since it's so thick.

Special Features:

This lubricant contains peppermint which provides a tingling effect. This tingling effect is strong but feels nice unlike some that are so strong they become uncomfortable. The tingling lasts for a long time and is enhanced by by air contact or blowing on it. The peppermint provides mostly a tingling effect but when blown on feels cool and when left alone feels like your skins being warmed.

Personal comments:

This lubricant was a pleasant surprise. I didn't expect it to be as good as it was and will definitely be getting it out when I want to spice things up a bit.

Experience:

My wife and I were quite happy with this lube. Used by myself both anally and on my penis I really enjoyed the tingling sensation that gave a nice feeling that brought something new. I liked how thick it was and so did my wife. It's a shame it can't be used with silicone toys as I'd use it a lot more if this was the case. Used during vaginal intercourse my wife really enjoyed it as well and describe the tingling as on the verge of being painful but feeling very good. The lubricant lasted a long time and we both enjoyed trying something new with this lubricant.