Wet International Wet Together - Lubricant from Wet International

Product Details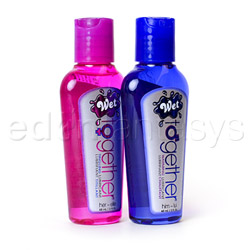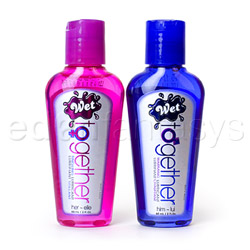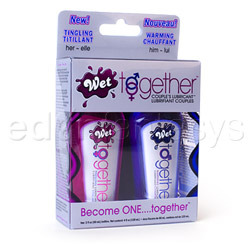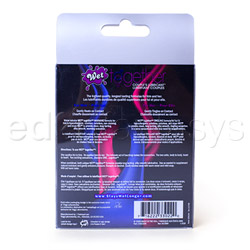 Summary:
Wet Together is an interesting couples' lube system that provides unique and effective sensations. However, it seems like Wet let the primary purpose of the lube (lubrication) slip to the wayside. As more and more couples are adding toys to their play (and silicone is becoming the material of choice) the use of a silicone lube for Her isn't ideal. Overall, Wet Together makes an interesting addition to the lotions/potions collection, but won't replace your primary lube of choice.
Pros:
Effective warming and cooling sensations, small bottles for easy application, travel friendly.
Cons:
His lube isn't very slick, her lube is hard to remove, neither lube is very multi-purpose.
Best use:
Wet Together is designed as a couples' product with a lube each for Him and Her. The blue bottle (For Him) is a glycerin lubricant that heats on contact with skin. The pink bottle (For Her) is a silicone lubricant that contains menthol to provide a cooling sensation. When His lube is applied to the penis and Her lube to the vulva, the two different lubricants together provide an enhanced degree of lubrication for PIV (penis in vagina) sex.

Though it is not immediately apparent on the product packaging, users should be aware that Her lube is silicone-based, so it should not be used with silicone toys or if you are planning to play with silicone toys during or following intercourse with the Her lube. Furthermore, users should be aware that His lubricant is 100% glycerin, which can be metabolized by microorganisms and may lead to yeast infections in some women. However, compared to some other warming lubes (such as by KY) Wet's lube does not contain honey or other sugars. Users should also be aware that glycerin is less appropriate for anal sex, due to a laxative effect it may have for some people. Though for intercourse, His lube might be limited in functionality, its warming effect can be useful in other ways, such as for a hot sensual massage.
Texture / Consistency / Thickness / Viscosity:

As a 100% glycerin lube, His lube doesn't have a particularly smooth texture. Most glycerin lubes contain other ingredients that improve the feel of the lube, but as a warming lubricant pure glycerin provides the most warmth. The source of heat is actually due to a process that takes place as the glycerin mixes with water on the skin, producing an increase in temperature as the two liquids combine on the molecular level. Due to the lack of modifiers (which would reduce the heat of the reaction), His lube is somewhat thin in viscosity: it will run off where you applied the lube if you're not quick to spread it. Also, due to the lack of modifiers, the lube doesn't spread well and will bead up to some extent on the skin. Fortunately, the lube is in a small flip-top bottle that makes it easy to apply and quickly spread.

As a silicone lube, Her lube is much more smooth in texture. It's about the same as His in terms of viscosity (about medium-thin) but spreads much more easily into an even layer on the skin. Her lube is also in the same style of bottle that makes application easy. Please note that silicone lubes are much different that water-based or glycerin lubes in that they require soap and water to remove. Some people love the long-lasting soft feeling on the skin from the residual silicone (a reason that silicone is found in most cosmetics) but some may be annoyed by having to shower to completely remove the silicone lubricant.

Base:

Water

Ingredients:

Elle: Diamethicone, Cyclopentasiloxane, Dimethiconol, Phenyl Trimethicone, Tocopheryl Acetate, Pepperment Extract. Lui: Gycerin

Color:

Clear

Taste / Aroma:

Because Wet Together was intended as a couples' intercourse lubricant system, it is not flavored. His lube is odorless. Her lube smells minty due to the menthol content (from peppermint extract). The mint aroma is moderate in intensity and not overwhelming. The bottles are both labeled "for cosmetic use only" so I did not taste them.

Performance:

In the Wet Together system, most of the lubrication factor comes from Her lube. His lube doesn't work particularly well in terms of lubrication; used for a handjob, His lube did provide lasting warmth, but the slipperiness faded quickly and became uncomfortable. Her lube, on the other hand, stays slippery indefinitely due to its silicone content. His lube will mostly wipe up with a towel or tissue, and can be removed completely with just water. Her lube requires soap and water to remove completely. Just tissues and/or just water will not remove Her lube.

The set includes:

Two 2 fl. oz lubes - for Her and for Him

Safety features:

Hypoallergenic / L-Arginine free / Paraben free / Petro-chemicals free

Special features:

Moisturizer
Tingling sensation
Warming

Packaging:

Wet Together came packaged in a small plastic box that shows both the His and Her lubes through a clear window on the front of the box. The package is dominated by a blue and pink/purple motif. The bottles are safely tucked inside with reinforcements to keep them from bouncing around in the package. Furthermore, underneath the flip-top cap, each bottle is sealed from the factory, preventing leaks during shipping and providing evidence that the lubes have not been opened or tampered with.

The packaging includes directions for applying and removing each lube as well as a statement that the lubes are latex compatible. The ingredients of each lube are listed on the package.

Though the packaging makes it obvious that it is a sexual lubricant, it doesn't have any nude models or raunchy descriptions; overall the packaging is tasteful. A nice feature for travel is that His and Her bottles are small and are easily packable individually.

Volume:

4 fl.oz.

Weight:

7 oz

Special Features:

His lube is warming. When applied to the skin, the glycerin mixes with the water on the skin to produce heat.

Her lube is cooling/tingling. The menthol from the added peppermint extract causes a cooling and tingling sensation in area its applied to, much like the sensation you get from chewing gum that contains menthol.

Experience:

My partner did not wish to try the Her lube on her parts, so I applied a bit to my outer anus (which experiences similar sensations to the vulva). The cooling sensation has a slight delay and then increased to a maximum sensation in about 30 seconds. Be careful not to apply too much, give time for the sensation to build before adding more of Her lube.

His lube was not very slick. When used for a handjob it became uncomfortable after a few minutes due to the drag; I also felt like it was drying out my penis (which makes sense because the glycerin draws out moisture from the skin to produce heat). The warming sensation was pleasant though.

Overall, I think I prefer a more natural-feeling lube, both for intercourse and outercourse. The glycerin His lube was not quite slippery enough to feel good and the silicone Her lube required an inconvenient trip to the shower to remove.