Phone Sex Anyone?
At over $20 I would only recommend this film to those who have a crush on Cassidey and are into squirting or hardcore phone sex fans and dirty talking aficionados. There are moments, even whole scenes in the film that you will likely want to skip forward through so keep the remote nearby if you venture a purchase. It delivers on plenty of straight and lesbian sex with a touch of squirting, toy action, and innocent fetishes, but it is not well filmed or executed.
Published:
Pros:
A few scenes are great, the leads are sexy, variety of sex acts, squirting
Cons:
Bad acting and some awkward/fake scenes, cast attraction deteriorates, DVD cover models not in film
From Vivid studios comes "Heavy Breathing" a hardcore porn film featuring phone sex with actress Cassidey (aka Paizley Adams) who is being simultaneously investigated and pursued by a police officer relating to the anonymous sex calls she has received. Our lead officer Morrelli (Derrick) falls into the addiction of making these possibly illegal calls to a willing Cassidey and our hard-to-follow story begins.
This is not a great film if you are interested in plot, so even though it seems to be a great fit for anyone into dirty talking or anonymous sex it simply doesn't succeed in telling a convincing or interesting story despite many lame attempts. What the bad acting wont kill, the poor sound quality for these little scene set ups will get. On the bright side there are six sex scenes and if you are willing to skip the several minutes of transitions this film has plenty of sex to offer.
This is a two hour long single disk DVD that features six sex scenes varying from solo, lesbian and toy play, to group sex, phone sex and couples.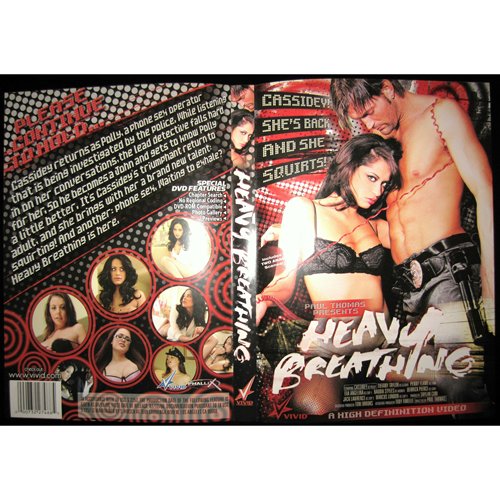 It was produced in 2006 and the visual quality is high, but the audio quality is sometimes poor such as when they film outside or by running water. You can't judge this porno by the front cover because those models are never featured in this film so look on the back in the face bubbles if you want to see the talent that is included.
If you are interested in this film for the sake of dirty talking and phone sex here is some monologue you will have to look forward to:
Cassidey: "It feels so good when it's going in and out, in and out… of my pussy. I like putting spit all over, making it nice and wet. It's so fucking hard. I'm gonna make myself cum all over the fucking place. Oh yeah. I like fucking myself hard and fast. Oh yeah. I go from fast to slow. I'm putting it in there deeper. I'm gonna fuck myself with this. I'm gonna make myself fucking cum."
Penny: "Oh God. That shit is perfect. Fuck fuck fuck. Fuck me baby please please. Oh God baby. Don't stop, oh please don't stop. Oh Fuck yes. I'll pull my ass open, pull myself open for you to pound. Oh God, deep baby."
Experience
There are six sex scenes on the disk, each has a brief, but usually atrocious story-related opening before the sex begins, these range from a 3 minute debate on the ethics of making anonymous sex calls to a couples spat where our lead officer yells at his girlfriend to talk dirty and gets her to cry. The action scenes often makes up for these god-awful transitions but they are enough to distract before you get used to them.

Scenes

1. Opening: An anonymous sex call is made to Polly (Cassidey).

2. Cassidey Solo: Polly masturbates on her couch while talking to her anonymous caller. Polly later masturbates again in the tub thinking about the call.

3. Penny & Derrick: Sex between our police officer and his girlfriend includes oral, riding, dirty talk, straight sex, and orgasms.

4. Cassidey & Penny: Fantasy scene, our police officer imagines his girlfriend having sex with Polly. Lesbian sex begins in the bedroom and then goes poolside, finishing in the bathroom featuring toy play and squirting, 69ing and strap on sex.

5. Cop Shop: Fantasy scene where our officer imagines an orgy happening at work with three women and two policemen featuring oral sex, straight sex, anal sex, strap-on play, squirting and cumshots.

6. Cassidey & Tiffany: Lesbian scene with Polly and a girl she picked up at a club. Features striptease, more dirty talking, kissing, cunnilingus, analingus, anal play and glass dildo insertion.

7. The Passenger Seat: Polly and her anonymous caller meet and then go to his car where Cassidey dildos herself with her famous toy while her officer talks dirty to her.

In Brief
I don't know why the police are listening to anonymous sex calls all day, nor do I care, the sex that goes on is enough to satisfy if you are looking for sex in your porno, so if you don't mind working around a disappointing plot you should be able to enjoy some lesbian and straight sex scenes in this film.
This product was provided free of charge to the reviewer. This review is in compliance with the FTC guidelines.

Thank you for viewing
Heavy Breathing
review page!