Juicer
The juicer offers a different type of sensation than that of glass dildo's. I found that I didn't like this sensation. The glass is easy to care for and you can use any type of lubes with it.
Published:
Pros:
Temperature play
textures
wide base
Cons:
Juicer sensations not for me
odd design
can get scratched
Blue Swirl from SSA glass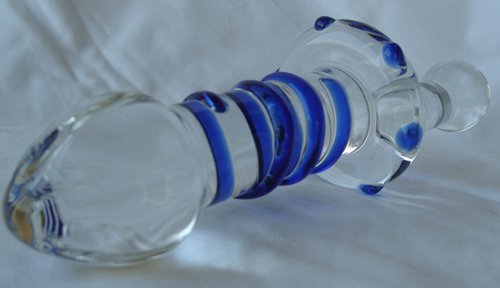 The blue swirl juicer from SSA is for anal or vaginal use, it has a large base to stop it from going missing. It is made from the glass which is wonderful for temperature play. You can place it in a cup of hot water to warm it up or place it in a glass of ice water or the refrigerator. Be sure to check your temperature on your inner wrist before inserting this into your self or your partner.
Glass toys are made from a borosilicate glass contains boron to change the density of the glass so that it resists breakage and it to break into large pieces with out shards or splinters. Be very careful not to get scratches on the toy. The scratches can actually cause tissue damage. Be sure to inspect your glass before you use it. The glass is a food safe, hypoallergenic, non porous, latex and phthalates free material It has an Eden safety scale rating of 10. The blue swirl juicer has a head that has indentations in it and then the shaft area has a raised swirl up the shaft. On the base there are raised bumps and then you have the "handle" area with a bulbous end.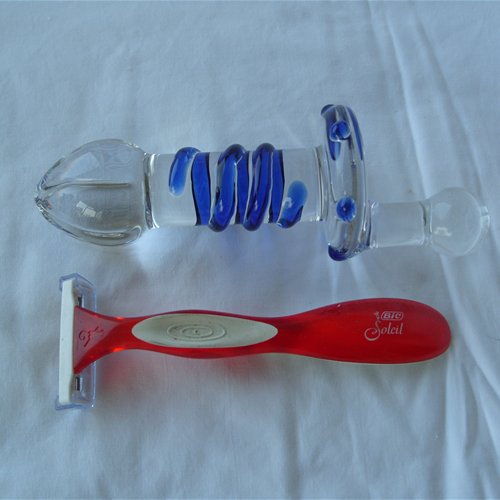 The juicer is a total length of 6 1/4 inches with 4 1/4 inches insertable. The head area is 1 1/2 inches long with a diameter of 1 inch and the shaft area is 2 ¼ inches long with a diameter of 1 1/4 inches. The end portion of the juicer is the handle which is 2 inches long with a bulbous end. The end base is 2 inches across.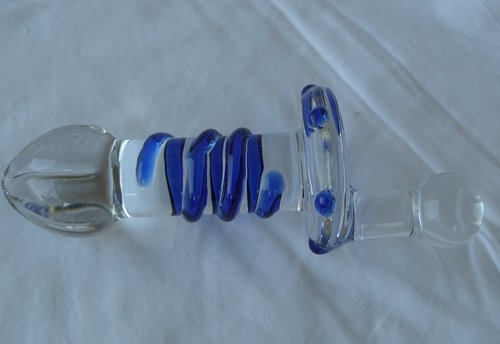 You can use any type of lubes with glass. Oils, hybrids, silicones and water based. The glass get's slick with lubricants so be careful not to drop it when it is slicked up with lube or when you clean it. Glass is easy to clean, you can use your toy sprays, wipes or with antibacterial soaps and water. Use Eden Wipes or clean with a 10% bleach solution. You can place in a dishwasher or boil it.
The juicer does not come with a storage pouch you can purchase an after market pouch for storage. Be sure to keep it safe from scratches and prevent it from banging into to other glass toys. It does come wrapped in bubble wrap.
This toy really isn't for me, I didn't like the "juicing" turning sensations like I had thought that I would, I do love glass and glass with textures but this is a totally different type of sensation. I used it vaginally and then tried anally with n success. The shape just didn't fit with my anatomy. I think that I will stick with straight or curved type of glass with some length to them.
This content is the opinion of the submitting contributor and is not endorsed by EdenFantasys.com

Thank you for viewing
Blue spiral
– glass juicer review page!