The hand spanker - paddle by Ruff doggie styles - reviews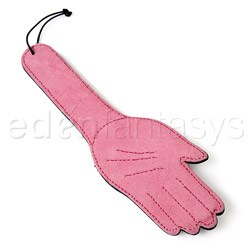 The hand spanker
Paddle by Ruff doggie styles
Please, let me know via email when the new review on this product is available.
The hand spanker reviews
I would buy this product again. Initially I was worried it would hurt too much since I'm just starting out with this kind of play. But, I really enjoyed using this product. I would also buy more products from this company in the future.
A great spanker that is well made and inexpensive? Finally found it. For those with bdsm experience and knowledge behind them, this is a great addition to your collection. Definitely not for beginners or those with a weak bottom.
A high-quality, heavy paddle, the Hand Spanker has a very loud and intense hitting power and contrasting smooth leather and suede for sensation play. This a great paddle for someone already versed in BDSM and looking for a spanker with the ability to leave their sub squirming and their bottom very red.