Midnight pal - slimline vibrator by Aphrodisia - reviews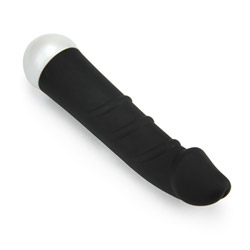 Midnight pal
Slimline vibrator by Aphrodisia
Please, let me know via email when the new review on this product is available.
Midnight pal reviews
A great toy that is quiet, manages to be powerful despite that, has multiple vibration speeds and settings, but sadly suffers odd power button placement.
This product is worth the price every time. I wouldn't dare be without this one. It can go through a lot of AA batteries, but I use the lithium ones so they will last a little longer and it is not a problem as often. Advanced users might overlook this item due to its size, but they should give it a chance. It is great for starting out with and then moving on to more advanced items. It works well in conjunction with other toys, and it can also work great as an arouser by your partner.
In short, this toy is small and so an anal beginner could have a lot of fun with it, similarly a woman unused to toys can use it as a starting point. Yet the vibrations are powerful enough to stimulate advanced users as well.