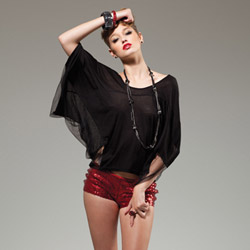 Stanley oversized top
Blouse
by Forplay Lingerie
The 80s make a comeback!
I've loved this shirt since the second I set eyes on it. It's very well-made and comfortable, which is just what you'd expect for the price. It a versatile shirt, too; you can use it with many different types of clothing from jeans to tanktops to corsets to shorts and anything in-between. It's definitely become one of my favorite clothing-items in a very short period of time. If I ever need to, I'll be getting another one.
Published:
Pros
Very airy fabric, sturdy, looks good, can be used in a number of situations, classy
Cons
Netting seems too thin, bottom of the shirt isn't as loose as the rest
Packaging
When I received this item, it was in a nondescript see-through plastic baggie. It's not something you could store the shirt in, so I threw it out after opening it. The shirt itself had a tag with a woman on it and the text "Born in Hollywood". I don't know if the packaging was recyclable or not, since there wasn't anything that indicated such.
Material/Care & Maintenance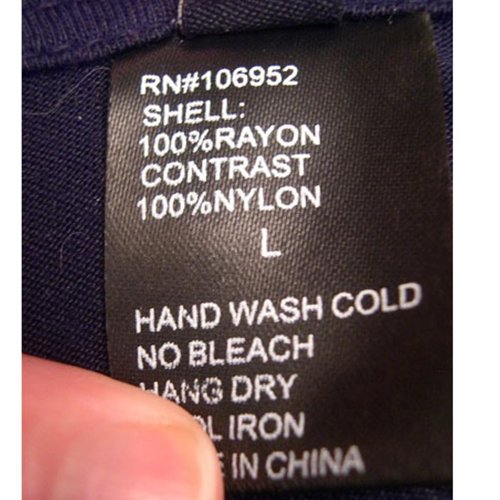 As the tag says, this is two fabrics: rayon and nylon. The solid black portion of the shirt is the rayon and the netting is the nylon. The reason the tag doesn't say 50% rayon and 50% nylon is because the fabric isn't blended; it's two separate panels of two separate materials.
I really suggest hanging this shirt up in your closet because it's kind of wrinkle-prone; admittedly, the wrinkles will smooth out as you wear it, but why go out in a crinkly-looking shirt when you can just stick it on a hanger?
I went the reccommended path and hand-washed this one day while I was showering. It was hot enough to steam the room, but it didn't shrink it which was nice. It did, however, leak a ton of black dye all over and I had to rinse it several times to get it to cut it out. I wouldn't really suggest washing this in with other non-black pieces of clothing because of this; it would probably leech dye onto your other clothes. If you really want to put this through a wash-cycle, I'd toss it in a lingerie bag and wash it on a cold delicates cycle and then let it hang-dry. If you've got problems with wrinkles, it says to cool-iron it, but I'm no pro with an iron so I haven't tried it.
Specific Measurements
Collar to edge of sleeve : 15 inches
Width of end of sleeve : 16 inches
Underside edge of sleeve ( netting portion ) to bottom hem of shirt ( netting portion ) : 30 inches
Bottom hem from side to side ( netting & solid ) : 22 inches
Collar ( side to side ) : 13 inches
Front of the collar to the bottom hem : 19 inches
Back of collar to bottom hem : 22 inches
Construction
This shirt was made VERY well. From what I can tell, the stitching is solid ( though I don't know what kind of stitch it is ) and can withstand a decent amount of tugging. The fabric doesn't really seem prone to deformation even if it's pulled on ( you know, when you push a finger into fabric and it 'pooches' where it got stretched out ) which is a plus, and the netting is stretchy enough that it won't rip first-thing if something catches on it.
The top panel of the shirt molds down into the sleeves which partially contributes to this 'flowing' look it has going on; the netting does the same thing but under the sleeves - which aren't directly connected like a conventional sleeve on a shirt would be. It molds smoothly into the shirt rather than being attached at the shoulder. The front panel of the shirt comes down in kind of a \_/ manner.
Sizing & fit
I had to do a little hunting for the sizing chart since I couldn't find it on the Stanley's page, but I found it elsewhere: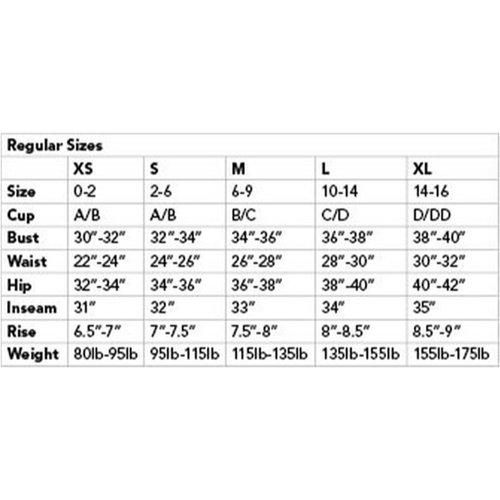 I got the Large, which is a size 10-14. Bust size says it's 36-38, waist is 28-30, and hip is 38-40. However, due to the over-sized nature to this shirt, I'm fairly sure conventional sizing charts don't apply; I'm 5'3 and 163lbs with 42 inches at the bust, 36 inches at the waist and 39 inches at the hip and this shirt has MANY inches to spare on my frame.
I've had no issues with it being unflattering to someone of my weight/shape. In fact, it's done well to compliment it due to how it falls. It hides the worst problem areas like my stomach and arms and accentuates nicer places, like my neck/collarbones area or my shoulders... and yes, also my breasts.
Now, since some of the people here were requesting pictures from various angles, here we go: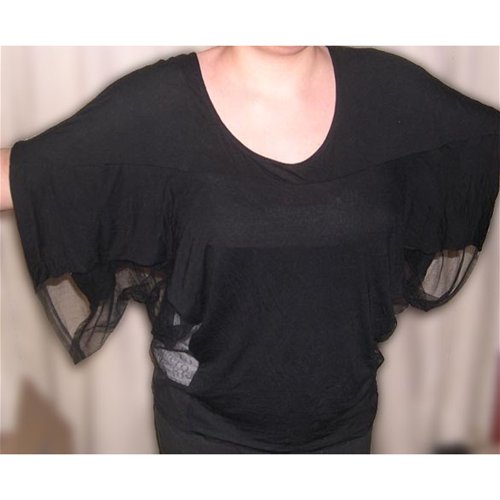 From the front.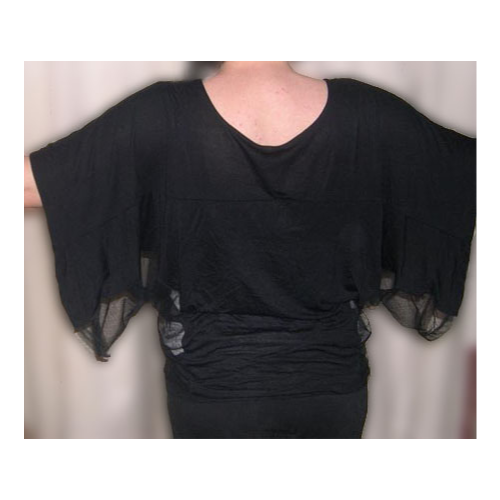 From the back.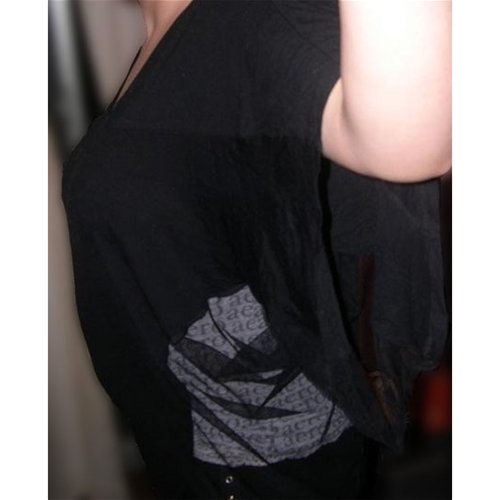 Netting on the side.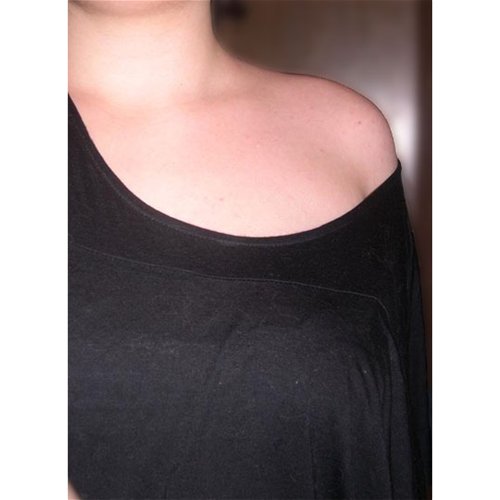 Off-the-shoulder.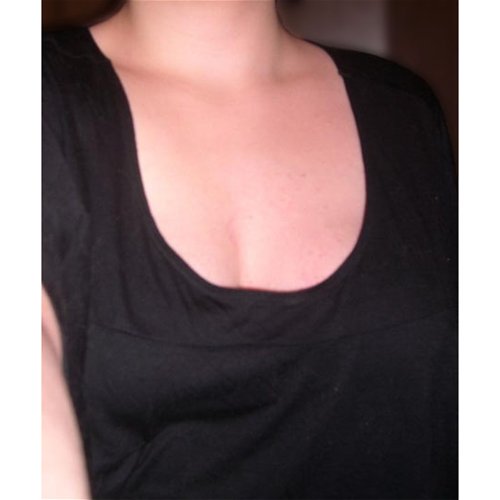 How far the neck can dip down in front if worn regularly.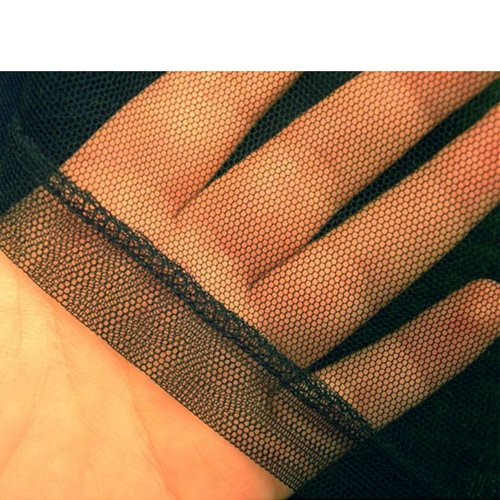 And finally, a close-up of the netting.
All in all I just absolutely
love
this shirt. It's one of my favorites in my wardrobe now; I just wish it came in other colors like red or white or blue. A girl can dream, eh?
Experience
When I saw this shirt come up, I knew I had to have it. I've pretty much always been in love with the fashion from the 80's, but it's hard to find - so when I was allowed to get this shirt to review, I was ecstatic. Talk about lucky!

It took about a week to get to my house because of the shipping I chose, but that's okay - when I cracked that box open this shirt shone forth like some beautiful cache of treasure...

Okay, maybe it wasn't that glorious, but it was still really nice. When I hauled it out of the packaging it looked almost exactly like I thought it would; airy and nicely constructed. The one thing I didn't expect was the netting panels to be so... wide. But that's a minor fret over it and not something that really bothered me after pulling it on; in fact, almost nothing about it bothered me when I started wearing it.

This thing is COMFY. And I mean really comfy. It's soft and breathes well so I don't overheat in it ( something I'm prone to ) and you can pretty much wear it with anything else so I didn't really worry about what else I had on. I really like pulling it on over stuff like tanktops, camisols or other things like that because the undershirts cover my sides and the netting on this wonderful shirt lets the under-material peek through and it just gives off a really nice playful look over-all.

The one gripe I have about it is that the bottom hem is kind of tight - if you pull it down too far, it makes the whole thing look kind of awkward in a way. I prefer to let it bunch up around my waistline where my pants usually come up to; that way, it retains its flowing attitude and stays comfortable.
Follow-up commentary
4 months after original review
I still love this. It did shrink a little and it's not as flowy as it was, but it still falls off the shoulder rather nicely. It hasn't suffered any wear because of washing it by hand and I still stand by my original conviction that this is a pretty high-quality item. I'd definitely suggest it to anyone who wants club-wear that can be used pretty much anywhere if you coordinate right.
This product was provided free of charge to the reviewer. This review is in compliance with the FTC guidelines.
Thank you for viewing
Stanley oversized top
– blouse review page!