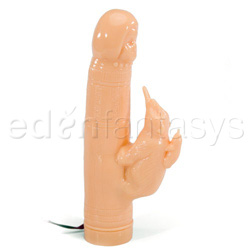 Beaver
Rabbit vibrator
by Vibratex
Need more opinions?
Please, let me know via email when the new review on this product is available.
Beaver reviews
The Beaver may not be as pretty or as sophisticated as newer toys, but it was a perfect first sex toy. Not intimidating, easy to use, and it gave me multiple orgasms every time. Also, if cared for properly, the Beaver can last for many, many years.
Overall, very disappointing for me, but I am hoping this was just an isolated occasion, and I got a bad vibe, no pun intended, from the factory. I was excited when I saw this the first time, so I might venture and try it again and see if I have a different experience this time.
This product has a working rotating shaft that stimulates the G-Spot, Clitoral stimulator was efficient. Loud buzz with a remote control device hooked to the dildo. Rubber/Silicone deteriorated over time and the strong plastic smell made me want to gag.