Liberator Bedroom Adventure Gear Fascinator posh throe - Throw from Liberator Bedroom Adventure Gear

Fascinator posh throe videos
Product Details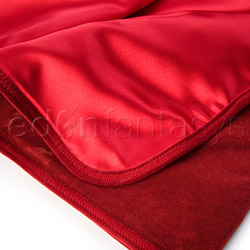 Do you love passionate spontaneous sex but hate doing laundry afterwards? Keep your bed, couch and other surfaces safe and dry while giving yourself a luxurious sexual staging ground.
The Fascinator™ posh throe is composed of an indulgent black microfiber plush on one side and a sensuous satin on the other. Large 54" by 60" surface area is roomy enough to stretch out on.
Beauty isn't the only thing the Fascinator™ posh throe has to offer, however. Hidden in the center is a moisture-proof barrier; this means that lubricants, massage oils, and other fluids won't damage or stain your sheets or furniture. The barrier does not crinkle or stiffen the fabric at all; in fact, the Fascinator™ throe simply resembles a luxury blanket and gives no hint to its true purpose.
Whether expanding your play area throughout the house, outdoors, or simply enhancing worry-free pleasure in the bedroom, simply toss in the washing machine to clean and never struggle with stained sheets again.
Design / Craftsmanship / Material:

Material:

Plush

/

Satin

Length:

60"

Width:

54"

Weight:

3 lb

Other

Texture:

Smooth

Special Features: