Liberator Bedroom Adventure Gear Liberator Jaz - Position pillow from Liberator Bedroom Adventure Gear

Product Details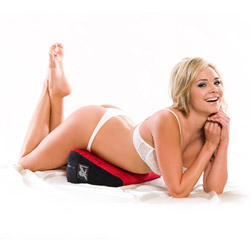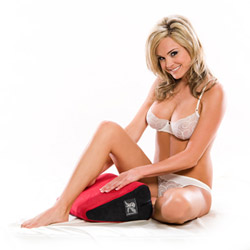 Summary:
One of the more petite offerings from the Liberator line, the Jaz offers the same firm support for sexual positioning in a size that's easy to move and store. It features high quality construction with a water-resistant inner lining and a zippered micro-suede outer cover that can be tossed in the washing machine. There's no wrong way to use the Jaz, so let your imagination be your guide.
Pros:
Firm foam support, water resistant, machine washable cover.
Cons:
May not be suitable for supporting the hips of larger people.
Best use:
The Liberator Jaz is a firm, water-resistant cushion designed to support and angle the pelvic region up for easier penetration during sex and to elevate the hips for better access during prostate play or cunnilingus. It would also be useful for women who are trying to conceive, in that they could lie with their hips elevated comfortably for a prolonged period after sex, keeping the semen closer to their cervix.

Compared to other Liberator products, the narrower 18" width of the Jaz might not make it the ideal choice for users with wider hips to be able to maintain comfort and stability, but the support remains firm regardless of weight.
Design / Craftsmanship / Material:

Rounded on the high end so that from the side it looks like an elongated teardrop, it's obvious from the first touch that the Liberator Jaz is a high quality product. It has a very firm furniture-grade foam core that gives just enough to be comfortable, and even when a considerable amount of weight is put on it the foam maintains its shape very well, with no indentations left behind. The foam is protected by a smooth polyester water-resistant liner, which in turn is topped by a zippered removable micro-suede cover. The micro-suede is nothing short of luxurious, with a super soft texture that feels great against the skin. It too has a certain degree of water-resistant capability, and the material is strong and holds its color after washing.

There is no latex in any part of the Liberator Jaz.

Material:

Foam

/

Micro-suede

/

Polyester

Length:

14 1/2"

Width:

18"

Height:

6"

Weight:

1 lb

Performance:

The angle makes positions easier to perform that would otherwise not be very comfortable to maintain, such as missionary with the legs drawn up to the chest. Unlike its straight-sided counterparts, the Liberator Jaz does lend a slight rocking motion during thrusting which enhances the position even more.

Another area where the Jaz excelled was for deep-throat oral sex. The rounded design comfortably supports the neck when you hang your head back over it, letting you relax and concentrate on what you're doing.

In a spooning position, propping one bent knee on the corner of it while keeping the lower leg straight makes it very easy for a partner to reach around and play with your clitoris. There is no wrong way to use the Liberator Jaz, so a little creativity is all you need to use it, whether alone or with a partner.

No matter how vigorous you get with it, the cushion's covers don't shift, and the micro-suede seems to help it find traction anywhere besides tile or hardwood floors. Additionally, minor splotches of lube or body fluid can be scrubbed away with a cloth, so you don't necessarily have to wash the cover every time you use it.

Love pillow special features:

Moisture-proof / Washable

Care and Maintenance:

Cleaning the Jaz is as easy as unzipping the Microfiber cover and tossing it in the washing machine on a cold water cycle with no bleach. It can be tumbled dry on a low heat setting or laid out to dry... drying doesn't take long either way.

If anything has gotten down as far as the water-resistant liner, a damp cloth will take care of it. If it's really grungy, you can put a spot of mild soap or toy cleaner on the cloth before wiping.

We do suggest keeping the plastic bag that the Liberator Jaz comes in for storage, because the microfiber will pick up dust and lint. Because of its smaller size, the Jaz doesn't take up much space under a bed or in a closet, but there isn't any reason why it couldn't be left out in plain sight and used as a backrest or pillow during non-sexual activities.

Experience:

Alan says:
So far we've only tried two Liberator products, and I have to say that it doesn't take a lot of effort to find and adjust the right angle with them, particularly for hitting her G-spot. This is a 5-star product in terms of quality and workmanship, but my personal preference for resting my own bod on for prostate play is the Liberator Wedge. I tend to enjoy spreading out a bit more than the width of the Jaz allows me to do comfortably.

Michele says:
Even though there's only an inch difference in height between this and the Wedge (6" vs. 7"), the Jaz is much more comfortable for me for positioning when I'm on my back. It's not a huge difference in feeling, but enough so that I'm able to relax my back and neck more. The lighter weight makes it easier for me to shift one-handed when we need an adjustment too, and it's easier to find somewhere to stash the Jaz than our Wedges. I do think that larger men and women would probably be more comfortable with a Liberator Wedge though, because even with my narrow hips there wasn't a lot of room for wiggling.