Lover's Choice Inc. 52 weeks of naughty nights - Adult game from Lover's Choice Inc.

Product Details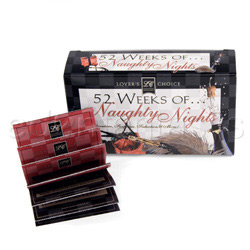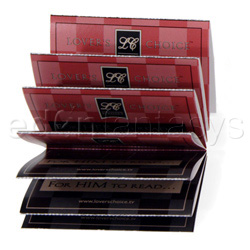 "With over a hundred naughty ways to spice up your love life, the 52 weeks of naughty nights™ from Lover's choice™ will enhance even the most fulfilling of sex lives.
Simply pull a card from the black satin pouch for a sexy surprise to start off a playful game of seduction.
This kit includes a ""years supply of scratch & win cards with naughty i.o.u.'s, suggestions, coupons, role plays [(our favorite chance card,)] gestures & more..."" So even couples with perfectly healthy sex lives can enjoy and benefit from this playful kit that inspires creativity and experimentation--two surefire ways to improve any love life.
"