Lover's Choice Inc. 52 weeks of romance 2nd edition - Adult game from Lover's Choice Inc.

Product Details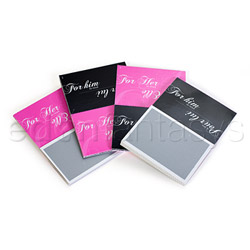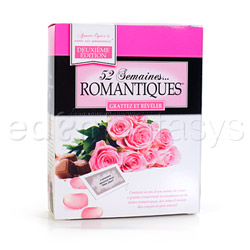 Summary:
52 Nights of Romance the 2nd edition is a great way to spend time together and to treat your partner to something romantic. It is geared toward heterosexuals, but any couple could enjoy this game. Those with latex allergies may want to skip this game. The cards give you a task, once you scratch away the latex paint, for a romantic way to treat your partner; however, you can easily do your own spin on that task. This is a game that will allow you to open up and help your relationship grow.
Pros:
Allows for time together, affordable, exciting.
Cons:
Geared towards heterosexuals, latex for those with allergies, and tasks may not be for every couple.
Best use:
Purpose / Audience:

52 Weeks of Romance the 2nd edition is geared towards heterosexual couples who can read English and French. The cards are labeled his and her, which indicates that is it designed for hetero couples. Any sexual orientation couple could use these cards, but they would have to keep in mind that the game was geared towards hetero couples.

The goal of this game is to give the couple a task to do once a week in order to spend time together, appreciate each other, or do something for each other. This is a great game for couples who find it hard to find something to do together or for each other, but also a good game for those who want to have couple time.

Rules / Content:

The rules come on a single card and are very clear, but they can be adjusted as well. You can both pull a card and each do a task for each other every week: the game would be shorter lasting only 26 weeks, but you can also throw the scratched cards back in and reuse them.

All you have to do is pull apart all the cards, since they come attached - there is a proof line for easy tearing. Then put them all in the pouch and decide who gets to pick the first card. You will want to alternate who draws the card to keep the game fair. The rules recommend drawing the card the same day and time each week. Once the card is drawn, get a coin and scratch away the latex cover (those with latex allergies will want to avoid scratching or touching these cards). Now that the latex has been removed, read the card to yourself and begin your task or the planning of your task. Some of the tasks require some planning and organization, but once your task is well put out together, you will also want to plan out the day to reveal your task.

Design:

You get 53 2" by 3" cards total, inside of a black silk draw string pouch that comes inside a cute box. The cards are one rule card: 26 his cards, and 26 her cards. The rule card is black with white font on it: one side is English and the opposite side is French. The her cards are pink with white font on one side saying "For Her to read" and "A lire Pour Elle", but the opposite side has the silver latex paint. Once the paint is removed it has black font in English and French revealing your tasks. The him cards are black on ones side with white font saying "For him to read" and "A Lire Pour lui", but the opposite side has the silver latex paint. Once this is removed, the revealed task in English and French is in black font.

The cards are slightly smaller than business cards. They are made out of a coated paper that easily collects fingerprints. This paper is easy to rip and bend, but it is not meant to last forever. However, if you are careful, they will last long enough for their purpose. You can rip the cards from just tearing at the proof, so you will want to be delicate with them. The draw string pouch is really handy for keeping the cards in, but should you find this game is not your cup of tea it can be used for storage too.

Weight:

0.2 lb

Kit includes:

26 stretch and win cards.

Experience:

So far we only drew two cards out of the bag, one his and one hers.

His card is titled "Fantasy Island" and says "Create a paradise at home. Artificial leis, music from the islands and umbrella drinks. Draw a bath and use a coconut shell to shower your love with scented bath water."

Results: My husband decided to do his own take on this card. He knew flowers, island music, and coconut are not my thing, so he decided to draw a bath and light candles for the bathroom. Then told me to slip into the tub while he got us drinks. Instead of an umbrella drink, I got a nice glass of red wine, which is my favorite.

Her card is titled "Time in a Bottle" and says "Create a time capsule with photos of each other, something from your surroundings and a play list of tunes. Put it all in a container and 'bury' it somewhere in the house. Make a note on the calendar for one year from now to 'unearth' your memories.

Results: I am in the process of throwing together a small 5 page scrap book and writing a few songs down to go with it. I plan on putting the scrap book into the basement, so it won't be disturbed. And I have programmed in my cell phone one year from now to get the book. However, since my idea was more for the future, I did not allow him to know that this is what my card is, since it can be a surprise a year from now. Instead what I did for him, after having such a lovely experience with the bath, was turned on some music (The Doors) and turned off all the lights except for the computer, which was being used for music, and I gave him a nice back massage with some massage oil.

Overall I think 52 weeks of romance the 2nd addition is a great game for couples to come up with ideas to appreciate one another. Having a game like this can really help strengthen your relationship and give you ideas to show your feeling to your partner. You don't have to do exactly what the card says, but it can help give you an idea. It is up to you to find what would work out best in your relationship.