Classic Erotica Dirty dice with bag - Adult game from Classic Erotica

Product Details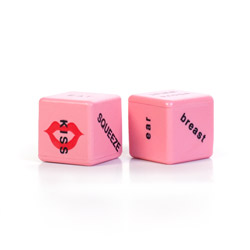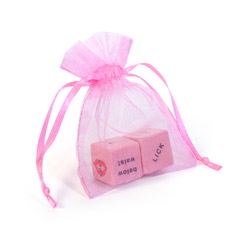 Summary:
This set of dice from Classic Erotica is a great way for new couples to have some fun while exploring their new partner's body, or for some fun at a party. One die has body areas and the other has actions to perform; you simply toss the dice and do what they tell you to do. While some might find them to be silly, I think it is a great way to spice things up, even in a long term relationship.
Pros:
Great for shy or new couples, will fit in a pocket or hand bag, storage bag included.
Cons:
Storage bag is not discreet, might be better suited as a gag gift, very vanilla.
Purpose / Audience:

Remember those days of youth when "Spin the Bottle" and "Truth or Dare" games were so much fun? This set of dice from Classic Erotica brings back those days with the Dirty Dice in a Bag love game. Even though most people will consider these as vanilla as it gets, they would be a great party game with friends or a fun game to bring back all those memories of youth. There is nothing overly kinky, so they would be a great first game with a new partner to really get to know them. They are not gender specific, so as long as both partners have a body, you can play dice with this set.

Rules / Content:

As you may have guessed, you simply toss both die and perform what is said on the dice to your partner. This makes them very easy to use, and they can be played anywhere you happen to be. They even float, so you might also be able to play in the pool or bath tub (if both of you fit in there).

The first die has the following body areas: below waist, above waist, breast, lips, ear, and ?. The other die has the following actions: kiss, blow, suck, eat, lick and squeeze.

You could always use some masking tape and make up you own body parts and actions to better suit you. The dice are 3/4" cubed, so it might be hard to write that small, though.

Design:



As you can see in the picture, the dice come with a pink, see through storage bag with a draw string top. It will fit just about anywhere such as a pocket, hand bag, or night stand drawer. Remember that the pouch is see through if you have children or others that you do not want to see them.

The dice are 3/4" cubed and are made of plastic. The design is a box with a lid glued to the top, with the words and images (lips) printed on. I would say the words are silk-screened on; if you should need to wash them, use a mild hand soap and warm water.

This picture will show the size compared to a standard die.


Weight:

0.1 lb

Kit includes:

Set of dirty dice and pink storage bag

Personal comments:

I have to go back many, many years to those days when the wife and I first met. Back then we played lots of games like spin the bottle and truth or dare. These were games we usually played while drunk or at parties with friends. So these dice, while funny to us, were a great way to relive the days of youth long gone. We had so much fun playing with these, even more so when I added different actions and places with the masking tape.

I am sure that most will pass these by, but I recommend that folks look at these anyway. Sometimes we need to be reminded that it's games like these that bring back those memories of youth, whether we are talking age or time of the relationship.

Besides, they are just fun.