Sportsheets Do it sexting kit: male - Adult game from Sportsheets

Product Details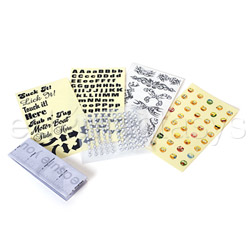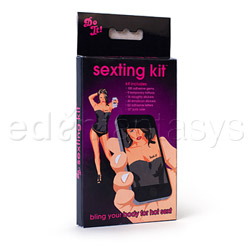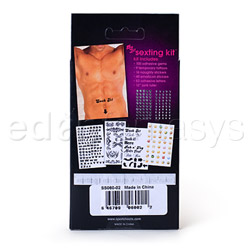 Summary:
This kit isn't a game, but rather provides some inexpensive body tools to add to your playtime. While the temporary tattoos and gems are fun to use, the stickers are fairly useless and more silly than sexy.
Pros:
Inexpensive, includes temporary tattoos, can try out body gems.
Cons:
Stickers silly, junk ruler not amusing, doesn't really pertain to sexting.
Best use:
Purpose / Audience:

This isn't a game in any real sense of the word. It's a kit composed of gems, temporary tattoos, and stickers, as well as a "junk ruler" that can be used to decorate your or your lover's body for a bit of playful fun. This kit is meant for those who enjoy a bit of silliness, as well as those who like to use temporary tattoos and body jewelry.

Rules / Content:

The only real rule for this kit is to have fun. If you and your partner enjoy being silly with each other, you'll have fun with the stickers and arrows. If you've ever wanted to try vagazzing or body crystals, this can be a great way to try it out inexpensively. Since this is the male kit, the ruler is meant to measure your man's penis, but it's probably the least entertaining part of the kit unless your man is porn-star sized.

No instructions are included, but the use of all of the items is self-explanatory.


Design:

The items in the kit are disposable, and with the possible exception of the gems can be thrown away after use.

The kit includes:

Temporary tattoos These are quite small, and all are black. They can be used anywhere on the body. Cut out the tattoo you wish to apply, remove the cellophane front, and press the tattoo on your skin. Wet a washcloth and press it over the tattoo for about 30 seconds or until it releases from the backing. The tattoo can be removed with alcohol or vigorous scrubbing, and will last up to 7 days.

Adhesive Gems The gems come in two shapes: teardrop and circle. Fifty of each shape are included. The gems are clear, and somewhat shiny. To use, simply peel from the plastic sheet and apply to your body. The adhesive is fairly strong, and the gems should stay in place for a night of "dazzling" fun. The gems can be attached in any pattern you can think of. After use, they can be returned to the sheet (if the backing still feels sticky) or they can be thrown away. It might be possible to get a skin-safe adhesive so that the gems can be reused.

Stickers Three sheets of stickers are included: One sheet of upper and lower case letters (2 of each in each case), one sheet of emoticons like you'd find on Skype or Yahoo, and one sheet containing phrases (e.g. "Suck it!" "Here", and "Motor Boat") as well as arrows. The stickers are on clear film. To use, simply cut out the desired sticker, peel it from the backing, and apply to the skin. The stickers stick fairly well and come off easily, although they will pull on hair.


Junk Ruler A piece of cardboard, folded in thirds to fit in the box, and laminated. It has ruler markings in inches on both sides and can be used to measure your man's "junk". Each inch has a "cute" saying, like "not bad" or "keep hoping".


Weight:

0.1 lb

The set includes:

100 adhesive gems
9 temporary tattoos
16 naughty stickers
40 emoticon stickers
52 adhesive letters and a 12" junk ruler

Personal comments:

Several of the stickers seem more appropriate for the female kit, as I can't imagine a girl doing a "motor boat" on a guy (according to the Urban Dictionary, this is the act of burying your face between a woman's large breasts and making boat sounds).

Experience:

Neither my husband or I could figure out what this kit really had to do with sexting. My guess is that some of the phrases and emoticons come up while playing around on the phone, and sexting does use letters, but we really weren't inclined to send photos of ourselves so adorned to each other via phone.

The tattoos were fun as I use temporary tattoos fairly frequently, and these were a small enough size to be used anywhere we wanted (I ended up using them, as my husband has enough tattoos that he doesn't need any fake ones). I did really like the gems – I've been wanting to try one of the vagazzing kits, and while these aren't as good a variety or color as many of those kits, they're also much less expensive and a fun way to test things out. The stickers we found to be more silly than sexy, and they were something that ended up on my body rather than his as I didn't have hair for them to get caught up in.