Hearst Love notes - Adult game from Hearst

Product Details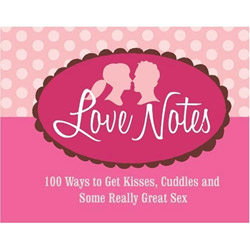 Summary:
Loves notes is like a coupon book, with 100 pages that you can tear out. Each note says something different and can either be a statement or a question like "guess my underwear."
Pros:
Cute, good construction and quality, fun to play around with.
Cons:
It could be more naughty.
Best use:
Purpose / Audience:

Love Notes is a book, very similar to a coupon book. Each page has a small perforated edge so that you can tear it out. The format of the notes is like a coupon book as well, making each individual note fun to tear out and put somewhere for your lover to see. Love Notes is basically designed for those simply wanting a fun and loving way to add some spice into their life. It comes with 100 pages, and as the book describes "100 ways to get kisses, cuddles and some really great sex."

The main con is that it could be a bit more playful and naughty. Also, some of the notes seemed to be kind of irrelevant. For example, one was for a "Girls night out," which didn't seem would lead to sex, cuddles or kisses. I though each note would be strictly couple-oriented, instead some of the notes are like coupons to redeem.

Rules / Content:

This is not actually a game. Love Notes is simply a book. One way that I like to use it is to tear out a note (choosing one that is specific to my mood) and place it in my husband's bag, along with his lunch. One day, I chose the one that said to guess the color of my underwear and put it in his bag to take to work. When he got home, he whispered the color in my ear (which was pink, the right answer). That was a fun surprise, since I had partially forgotten about it through my busy day being a mom. This "game" is a fun way to keep up foreplay during the day. You could also use it as a game during foreplay by having your partner pick a page and then you have to do what it says (or vice versa).

Here is an example of one of the pages (or notes):

Front: "Under Where?" with three separate drawers of a pair of women's underwear
Back: "Guess what color undies I'm wearing. If you get it right, I'll show them to you..." with one drawing of a pair of underwear.

Design:

The book is sturdy and the pages are really easy to tear out which is nice. I don't think they'd tear or rip when removing them. The pages are just basic card stock, easy to fold if necessary to stick in someone's pocket. The book and the pages are both pink-themed, so hopefully you like the color pink. The design is cute with a bit of spunk, but not really very kinky. The whole set is pretty mild.

Each note has a brief statement on the front, along with a drawing that details the note and then the back goes into more detail.

ISBN:

978-1-58816-799-6

Weight:

0.5 lb

Kit includes:

100 way to get kisses, cuddles and some really great sex