Sportsheets Vibrating doggie style strap - Position accessory from Sportsheets

Product Details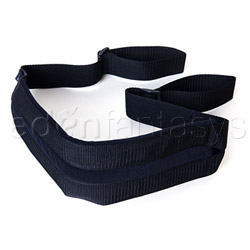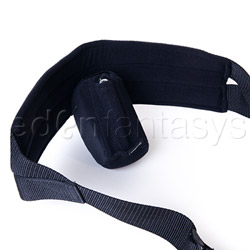 Summary:
An exciting new concept, the Sportsheets vibrating doggie style strap allows folks to penetrate their partner in a whole new way. With the strap wrapped around the penetratees hips, the penetrator can hold on to the thick, comfortable straps and fuck from further back than before. What's more, the strap comes with a vibrating pouch which can be adjusted to best stimulate the penetratee's tended bits while their g-spot is stimulated from behind.
Pros:
Comfortable, innovative, durable.
Cons:
Won't work for all body types.
Best use:
When I first was assigned the Sportsheets Vibrating Doggie Style Strap to review, I wasn't quite sure what to make of it. Here was a strap that seemed to perform a function that I already had down--holding on to a partner's hips as I fucked her from behind. So I tried to keep an open mind but, frankly, was skeptical.

I was wrong. This thing is totally cool. The general idea is that you've got a strap for me, the penetrator, to hold on to that then goes around the torso of the person being penetrated. Where normally I would have held on to my partner's hips, the strap allowed me to stabilize her while holding on further back than I normally would have. Head on down to the performance section of this review for more details on how it drove.
Design / Craftsmanship / Material:

I knew as soon as I opened it that the strap was going to last me for awhile. The portion that goes around the torso of the person being penetrated is heavy duty and thick but soft--no danger of tearing but also no danger of irritating sensitive skin. The straps that the person penetrating holds on to are likewise high quality and they're wide so they didn't cut into my hands at all.

The only thing I take some issue with is the size of the strap. This worked fine for me and my partner because my partner has fairly narrow hips. For larger folks, though, I can imagine that this strap wouldn't be as good, since it's just not wide enough. Hopefully Sportsheets will eventually come out with different sizes.

Material:

Foam

/

Nylon

Color:

Black

Length:

44"

Width:

4"

Strap width:

1 1/2"

Weight:

9.7 oz

Performance:

With this strap, rather than holding onto her hips themselves, I held on to the strap handles, which were six inches further back. Doesn't seem like much of a difference, right? Just six inches? But it is. With the extra six inches, I could pull my cock out further than before, allowing me to make larger strokes in and out of my partner. I also got a better view of my cock sinking into my partner's cunt, which, let me tell you, was a huge turn on.

But that's not all! The doggie style strap comes with a padded, vibrating compartment that can be velcroed onto the strap in the spot that feels best to the person being penetrated. This pouch then rests on that person's clit or cock and vibrates (via a bullet, included) as they're being fucked. It took a little bit of practice and trial-and-error to figure out where the best spot was for the bullet, but we were overall pleased with it. My partner particularly appreciated that it was in a padded pouch, so that when she rested her pelvis on it (as our sex got a little rougher and she sunk down into the bed), it was comfortable.

Sex sling and support special features:

Adjustable / Padded