California Exotic Adonis silicone rings atlas - Cock ring from California Exotic

Adonis silicone rings atlas videos
Product Details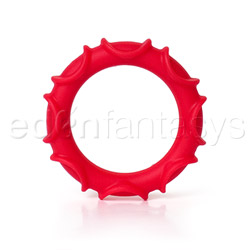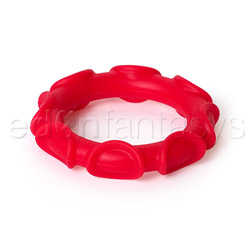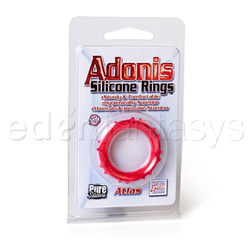 Summary:
Atlas is always shown holding up the world, well that strength carries over to your cock. Simple cock rings are a staple to many men and for good reason; they are easy to use, clean and there is no need to worry about them moving around. They can make you harder, last longer and the Atlas looks good too. Leave it to Cal Exotics to provide a great silicone ring at a affordable price.
Pros:
Silicone, sanitizeable, looks good.
Cons:
Might be to small for the well endowed.
Best use:
Atlas, one of new cock rings in the Adonis line from Cal Exotics, gives you the support you need while looking good all at the same time. Slip it on with some water-based lube while hard or soft, it has just enough stretch to make it easy, and watch you tool grow to god like proportion. By restricting the blood flow to the penis cock rings can allow you to last longer, get harder and thus better please your partner.

No batteries or fancy multi-functional vibes here, just a pure silicone ring. Wear it at the bottom of the shaft or around both the cock and balls if it will fit. Atlas will work for beginners and the advanced guys, just make sure you measure your tool first. The ring should fit snug but not cut off all circulation. If you feel any pain or numbness remove at once and look for a larger size. Also, C-rings should not be worn for longer than 30 minutes at a time with one to two hours in-between.
Material / Texture:

Since Atlas is made of 100% hypo-allergenic, Latex/Phthalates free, and non-porous silicone this ring will last for a good long time. There is no smell or taste to silicone which is a big plus. Adorning the ring is seven soft sucker like formations or rings that provide some visual appeal and possibly some extra stimulation for your partner. The material has a bit of drag when pulled across the skin so some lube is advised to put it on. Furthermore, C-rings tend to pull some hair so you may want to do some man-scaping before use.

You will find a small seam around the outer edge but it can not be felt during use.

Material:

Silicone

Material safety

Texture:

Studded

Safety features:

Food-grade material / Hypo-allergenic / Latex free / Non-porous / Phthalates free

Shape / Design / Size / Fit:

With an unstretched diameter of 1 1/8" it should fit all but the smallest guys and will stretch up to 1 3/4" fairly easily. Be aware that the more it stretches the more restriction it will provide. I am at the 1 3/4" diameter range - it is almost too small but I have had no problems with it.

You may find it easier to put it on once hard but you can just as easily put it on soft. If you are going for the cock and ball application you may want to put it on soft. As far as taking it off you can roll it off the shaft or, if you can get a couple fingers inside of it, you can stretch it and get it off that way.

Cock ring style:

Stretchy ring

Max stretched diam.:

1 3/4"

Unstretched diameter:

1 1/8"

Width:

1/4

Weight:

0.75 oz

Functions / Performance / Controls:

For those that are new to a cock ring and are wondering how they work, do this simple experiment. Grab you wrist and squeeze it tightly. Now flex you hand a few times, see how the veins in you hand pop out? Now release the pressure - notice how you hand tingles a bit? The same principle applies to the penis: the restriction grows the penis and the lack of circulation give a numbing effect. This is also the reason you do not want to wear one for longer than recommended. Damage to the veins and bruising could result.

Care and Maintenance:

There are many ways to clean your ring; boiling and bleach will sanitize if needed for multiple partners or anti-bacterial soap and water will work as well. After cleaning allow to dry and store in the packaging or a plastic bag. One of the only down sides of silicone is its ability to attract any and all dust bunnies and hair that may be around. The good side is a quick rinse with water will clean it off lickity split and it's good to go.

Packaging:

Inside a simple clam shell package you will find the Atlas. No naked bodies or COCK RING will be found so it is discreet. Out of the packaging it looks like a fancy O-ring so many will not know what it is. The clam shell is great for storage due to the small size plus it keeps the dust bunnies from the ring.

Personal comments:

Ya know, sometimes simple is the way to go. No batteries to replace, no vibe that does not stay put, yup every guy should have a plain ring. And why not? The price is right, the silicone will last forever and it does what it should, make your cock hard.

Atlas did not fail to provide the support of my world.