California Exotic Barracuda teaser - Cock ring from California Exotic

Product Details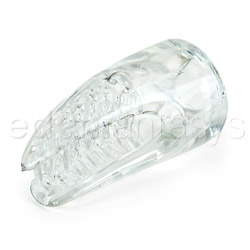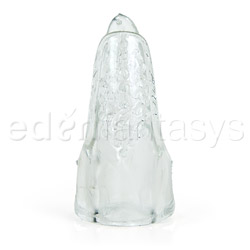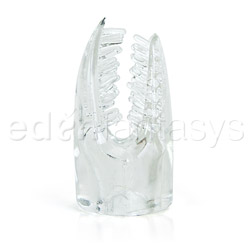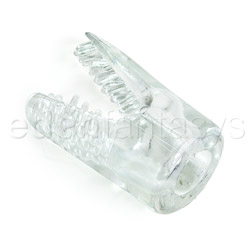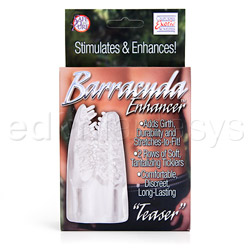 Summary:
This is a good, interesting, inexpensive, and fun cock ring that exhibits both form and function. I recommend it to anyone who does not specifically dislike stretchy cock rings.
Pros:
It works great, very interesting and fun, inexpensive.
Cons:
Unable to sterilize, may not last forever.
Best use:
This is very functional basic 'stretchy' cock ring. I would recommend this ring to beginners, and to anyone who enjoys this style of 'stretchy' cock rings. I would also highly recommend this ring to anyone who is looking for something a little different and/or fun. The Barracuda is way off the beaten path when it comes to cock rings, and may provide you with a pleasurable experience, a few fun laughs, and a couple of bad jokes.
Material / Texture:

The packaging for the Barracuda merely states its material construction to be "Superior, Soft, Stretchy TPR". According to the Eden Fantasys - Guide to Materials "TPR has an excellent flexural fatigue resistance and high impact strength".

It does have a very soft and smooth texture, with a minimal amount of grip; pretty much exactly what you would expect from "A polymer blend or compound that exhibits a thermoplastic character" or a pretty seemingly rubberized plastic material. It is recommended that you only use water-based lubes with this ring.

Also, not that it is that big of a deal, and not that I would prefer that bad rubber / latex smell, but this cock ring had a very strong almost perfume smell to it at first. This smell seemed to almost completely go away after the first time I washed it.

Material:

TPR

Material safety

Texture:

Nubbed

Safety features:

Hypo-allergenic / Latex free / Phthalates free

Shape / Design / Size / Fit:

The Barracuda is a fairly normal jelly-like/TPR style 'stretchy' cock ring, however the significant difference being it has two protruding jaws. Off of the ring base are two long triangular fish-like 'jaws', and on the inner-side of each jaw (or what would be the mouth of the fish) are rows of soft spiny teeth (as would be found in a Barracuda).

The design is very cool. This is definitely not your typical stretchy cock-ring. Yes it does resemble a Barracuda, and I think that is a great fit for the name of the product; however the actual design could pass for a number of other things.

This ring fit great and is stretchier and softer than it might appear at first glance. The base of the ring is about an average size not counting the jaws. Putting it on was a breeze. And what was an added bonus is that, since it was very stretching, it fit comfortably around both the base of the penis and the testicles. The ring was tight enough to perform its intended purpose, and was stretchy enough to remove afterward with one hand (though I do not recommend trying that).

Color:

Clear

Cock ring style:

Stretchy ring

Max stretched diam.:

2"

Unstretched diameter:

3/4"

Fits penis girth up to:

2"

Length:

3"

Weight:

0.1 lb

Care and Maintenance:

I cleaned this ring with warm water and soap, before and after usage, and that worked just fine. There is not really a logical way to cover this with a condom, and due to the material nature of it, it cannot be sterilized.

Packaging:

This ring was packaged in a thick plastic bag, which was inside of a small glossy printed box. There were no care instructions included. The box says "slip your tool into this soft and sturdy enhancer that increases your girth while providing maintain power". The box also say "-adds girth, durability, and stretches-to-fit", "-2 Rows of Soft Tantalizing Ticklers", "-Comfortable, Discreet, Long Lasting".

Personal comments:

It is a really fun, functional, and interesting cock ring. I am curious to see how long it will last. It seems like one those things that is fine until the smallest tear or rip occurs, and then it will all of the sudden just rip the whole rest of the way and become unusable. Now this is just a guess, and since this is a very inexpensive toy, I am still going to recommend it. I am sure that if it properly cared for it could last for some time.

Experience:

I had a great experience with this ring. I had previously tried out the Man Shark Enhancer Ring (both made by California Exotics), and was expecting this ring to be the exactly the same ring with a slightly different appearance. I am happy to say that this was not the case. The Barracuda has a similar appearance but is is pretty different in most ways. The Barracuda has surpassed all of the limitations of the Man Shark (stretchier, fits over the frank and beans, and is more comfortable to your partner).

To see a bunch of pictures that I took of The Barracuda, and a few side by side shots of the Barracuda and the Man Shark, please visit my bliggity blog and take a gander!