Icon Brands Cockring trio - Ring set from Icon Brands

Product Details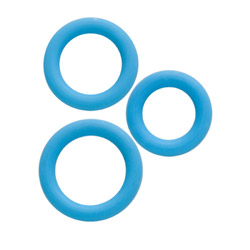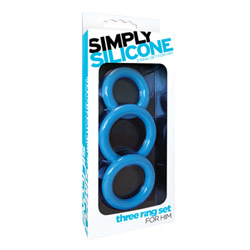 Summary:
If you are looking for a nice, quality set of cock rings, without emptying your wallet, The Cock Ring Trio may be the one for you. Three 100% body safe silicone rings of different sizes, stretch to fit a wide variety of users and with just the right fit at just the right moment, your penis will certainly be standing at attention.
Pros:
Silicone. Easily cleaned. Stretchy.
Cons:
Difficult to remove. Grabs pubic hair.
Best use:
The Cock Ring Trio is brought to you by Icon Brands. This is a pack of three stretchy 100% silicone cock rings designed to restrict blood flow from the penis, resulting in a harder, thicker, more engorged member. This versatile product can not only fit a variety of shaft sizes, but can also be used around both the shaft and the testicles or as "o" rings with your favorite strap-on harness.

Having a package containing three different sized rings means almost anyone can find the correct ring for their particular use in that particular moment. I found that the largest ring in this pack fit well around my husbands penis and testicles, while the middle sized ring fit best around his penis alone. The smallest ring we tried to place beneath the head of his penis but found it created a bit too much girth for my capabilities.
Material / Texture:

The Cock Ring Trio is 100% matte silicone product. It is completely smooth and seamless with no detectable odor. The non-porous silicone is completely waterproof and can be sanitized for those that may like to share. I was able to stretch each ring to almost twice its original size, though it did take some effort and the rings were contorted in too oblong of a shape to easily be slipped over the penis. The matte silicone does have some drag to it, however a touch of water-based lubricant can help prevent too much friction when putting it into place.

Material:

Silicone

Material safety

Texture:

Smooth

Safety features:

Food-grade material / Hypo-allergenic / Latex free / Non-porous / Phthalates free

Shape / Design / Size / Fit:

These rings are the typical "O" shape and made entirely of smooth, matte silicone. The rings are extra thick and measure in at almost 1/2". They are not adjustable and there is a slight learning curve to figuring out which ring will provide the most effective fit. I found that while these rings are quite stretchy, getting them to fit onto the base of the penis or around the testicles took a little more concentration than we wanted to spare. This may have been due to the fact that we usually put them in place while my husband is hard, rather than while he is soft. My husband said that he had no problem with wearing them, but suggests that you stretch the ring to fit rather than rolling it down the penis into place. If you find that you have a hard time stretching them to the proper size, some water-based lubrication can help ease it down the penis without catching and grabbing sensitive skin and pubes.

The smallest ring measures 1" in diameter out of the package but stretches up to 2", the middle ring is 1 1/4" and stretches to 2 1/2" while the largest measures 1 1/2" unstretched and about
3 1/4" fully stretched. I had no problem getting these rings to fit a variety of dildo sizes with anywhere from 1 1/2" all the way to 2" diameters, however, I think that men with girth measuring any larger than 2" may find these rings a bit tight for comfortable use.





Cock ring style:

Band

Max stretched diam.:

2 1/4" / 2 3/4" / 2"

Unstretched diameter:

1 1/2" / 1 1/4" / 1 3/4"

Diameter:

2 1/2" / 2 1/4" / 2"

Weight:

0.35 oz

Care and Maintenance:

These rings are made of 100% non-porous silicone, making them extremely easy to care for. Soap and water, commercial toy cleaner, boiling, a 10% bleach solution, and the dishwasher are all viable ways to keep your rings clean and healthy. Silicone has a tendency to attract lint and fuzz, so if this is a concern, I would suggest purchasing a small drawstring bag or keeping the packaging to store these rings in. Personally, I just rinse them off before use to remove any fibers. This is a silicone product, so silicone lubricants are not recommended. Any water-based lubricant should be safe with these rings.



Packaging:

The Cock Ring Trio is packaged in an open molded plastic case that is housed in a thin cardboard box. This packaging can be used for storage if you choose or it can be recycled. There were no instructions included.

These rings are available in both turquoise and blue.