California Exotic Crazy 8 - Cock ring from California Exotic

Product Details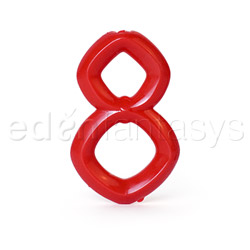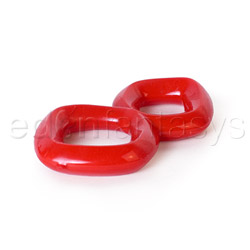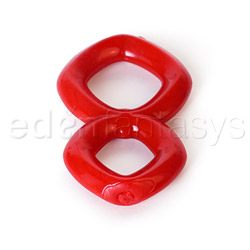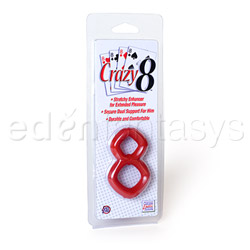 Summary:
This super-stretchy cock ring is a great choice for someone looking to try a ring for the first time. The stretch allows it to fit all sizes and it goes easily on or off. With a few different use configurations, an easy to clean material, and an attractive design, the Crazy 8 ranks high on my list of beginner cock rings.
Pros:
Easy fit, stretchy material, good first cock ring
Cons:
Material cannot be sterilized, TPR much softer than silicone
Best use:
The Crazy 8 from California Exotics is a beginner friendly double cock ring that is a great introduction to cock ring play or a nice change of pace from standard cock ring designs. The two rings allow this item to be worn in a couple different ways and give you more versatility than most cock rings. There are a lot of different cock rings out there made of a lot of different materials. Silicone, metal, TPR, Rubbber, and so on. It's hard to make a choice on a first ring when you are presented with so many options. Luckily, the Crazy 8 turns out to be an excellent choice for the discerning purchaser of their first cock ring.
Material / Texture:

The Crazy 8 is made of TPR, a material that is pthalates and latex free. While it is body safe, it cannot be sterilized the way silicone can. TPR is a bit too soft to be boiled clean so please use soap and water or an antibacterial toy cleaner. One advantage TPR has over silicone however, is that it is incredibly stretchy. This stretch makes it a breeze to put the ring on or take it off, even when the user is flaccid. Be warned however, this softness and stretchiness comes at a price. If you happen to roll this ring through untrimmed pubic hair, be prepared to lose some of it. Hair sticks to this ring like feces on Velcro and I recommend you take that into account before use.

Material:

TPR

Material safety

Texture:

Smooth

Safety features:

Hypo-allergenic / Latex free / Phthalates free

Shape / Design / Size / Fit:

The Crazy 8 has a double ring design that wraps around the penis and the scrotum, or the penis twice. Because it is extremely stretchy it can accommodate any size of penis. Unstretched, it's about an inch across. Stretched, who knows? I got it completely around my bicep which measures around 17 inches but created a visible dent in my flesh which was likely a smaller diameter. In any case, the Crazy 8 is very accommodating. I particularly liked the design, it was less ring-like and more angular. I can't say why exactly but this design appeals to me more than the standard "O" ring shape.

Cock ring style:

Stretchy ring

Max stretched diam.:

1 5/8" / 2"

Unstretched diameter:

1" / 3/4"

Length:

2 3/4"

Width:

1 3/4"

Weight:

0.25 oz

Functions / Performance / Controls:

The Crazy 8 can be stretched to absurd dimensions if you can call that a feature. Cock rings are passive devices so they tend to be a little light on features. The stretchiness of the TPR material made it very easy to put on and take off, even when I was not erect. After using a silicone cock ring that had very little give and was very difficult to put on, I'd say that was my favorite feature of the Crazy 8. It functioned perfectly well and did what it was supposed to do. I would say it was pretty much what I expected.

Care and Maintenance:

Being a TPR material, the Crazy 8 can be cleaned with warm (not boiling!) water and soap, or a dedicated toy cleaner. I use antibacterial wipes and they work just fine. TPR is compatible with both water and silicone based lubes but due to the latex content, I would advise against using any oil based lubricants. Those will cause all sorts of problems. I'm not worried about the TPR being damaged in my toybox since a cock ring is typically not a high-value item, but I don't want to run the risk of IT damaging my OTHER toys since a number of them cost no small amount of dollars. To protect my investments, I keep the Crazy 8 (and all my soft toys) in its own ziploc bag to prevent damage and keep it clean.

Packaging:

Like many California Exotics products, the Crazy 8 comes in a clear plastic package against a white insert. The ring is prominently displayed in the center and while nothing on the package comes right out and clearly says "THIS IS A SEX TOY", the wording hints at the intended use in a not-so-subtle manner with words such as "Enhancer" and "Pleasure". You will find no instructions here, simply a Cal Exotics logo in the corner. I suppose there are only so many ways you can use a cock ring but I was unfamiliar with the process and would have appreciated at least a diagram of suggested usage. I had to look up photos online to be sure I was using it correctly. Call me sheltered, but I wasn't clear on what to do with it right out of the package.