Sinclair Intimacy Institute Erection rings set - Ring set from Sinclair Intimacy Institute

Product Details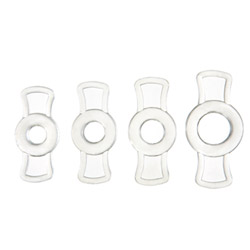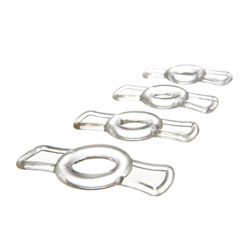 Summary:
These rings are fun, they are a bit stretchy, and they come in different sizes for the best experience possible. They are latex-free. They are easy to put on and take off with no sharp seams like some of other cock rings have. These are a great buy, and I would buy them over again any day.
Pros:
With 4 sizes, there should be one to fit most men
Stretchy
Easy to clean
Cons:
No place for a bullet
Hard for men with larger testicles to put around their cock and balls
Best use:
I was selected do review these cock rings, I had never thought about using them, but glad am I accepted the assignment. These are simple to use and great for beginners to the most advanced users. They are great for couples as well as singular play.

These cock rings have small handles on the sides to make them easy to slip on and off. The cock ring does not have a place for a bullet. These are best used for only a half hour no more than that, and they say to wait an hour before use of the rings again. The cock rings are supposed to be placed at the base of the penis to restrict the blood flow and make your erection last longer as well as make your orgasm more intense.

There are 4 sizes, so I'm sure there is a size to fit most sized cocks. These cock rings can be just stretched around the shaft only or balls and cock. It was a little bit harder for me and my husband to fit these around his cock and balls since he is thicker than most.
Material / Texture:

The 4 rings are made from TPR silicone; these are very smooth and soft to the touch. These rings rate a 7 on the safety scale. These rings are less porous then cyberskin but a bit more porous then silicone.

These rings have no drag at all. /they are smooth and very stretchy, even for the smallest of the rings. There are seams on these cock rings and they can't be felt at all. These will pull hairs if you don't use lube. These rings have no smell to them at all and I was kind of surprised that there was no smell since most TPR toys have a smell.

Material:

TPR

Material safety

Texture:

Smooth

Safety features:

Hypo-allergenic / Latex free / Phthalates free

Shape / Design / Size / Fit:

These cock rings are clear, and these particular cock rings come only in clear. The shape of these are a little different than the average cock ring since these have little tabs on either side of the ring that help with putting the cock ring on and taking it off. This really did work. The sizes of the rings are 1 1/2" / 1" / 2 3/4" / 2" stretched, so they stretch to fit a good sized cock. The diameter of these is 1/2" / 3/4".




Although I have read that a lot of men stretch the ring around their testicles before sliding their penis in, my husband could not get this to fit around his balls and cock at the same time. He might be able to in time but we will have to see. These rings are very stretchy and can be stretched around a can of soda with plenty of room for the first 3 rings, but the smallest would be really tight but does still fit around the can of soda. This material does hold up to the stretching very well. These would be great for anyone from beginners to advanced users.



Color:

Clear

Cock ring style:

Stretchy ring

Max stretched diam.:

1 1/2" / 1" / 2 3/4" / 2"

Unstretched diameter:

1/2" / 3/4"

Diameter:

1/2" / 3/4"

Width:

1"

Functions / Performance / Controls:

This ring worked great. This has to be the best cock ring around that is not rigid. It gives you an excellent grip, while still maintaining enough elasticity to be removed if needed. It is very comfortable to wear, and there are no imperfections that cause discomfort.

Care and Maintenance:

These rings are easy to clean; these are NOT to be boiled, but to be cleaned with a 10% bleach and water solution. If you are not sharing the cock rings you can use warm soapy water to clean these. The cock rings are not a lint magnet.

Since these rings are TPR silicone you can't use silicone based lube, but any other lube is okay to use. It is best to store these in a Ziploc bag to keep them clean, but you can keep these in the box they come in.

Packaging:

This toy came in a discreet, brown box. There was a lot of brown paper surrounding the toy making sure it got to me in once piece. No one would know what was in the box unless they opened it to find out.

The box that the erection rings came in is white with silver writing on the box. The front of the box has a clear area where you can see each one of the rings. The front says, "Erection rings," that these are healthy pleasure, and healthy play. The front of the box also says, "erection ring set." The back of the box has a lot of information, starting with that this is a set of 4 stretchy TPR erection rings in different sizes. It says that the erection rings help strengthen and maintain a weak erection to help restore ability for intercourse. Then it goes on talking about the Sinclair select penis pump to enhance the erection.

This also says not to use the erection rings for more than half an hour, and to wait at least an hour before use again. These rings are reusable, and best used with lube. These are to be cleaned with an antibacterial soap and water. Make sure to discontinue use if irritation or discomfort happens. This box can be gift wrapped and used as a great gift to be given. The box has no images on, it but you can see the cockrings through the front of the box.





Experience:

I have never used cock rings before but I'm going to have to say that I'm in love with them now; my husband can stay harder longer and last a little bit longer, as well. I was shocked at how well these worked. I do have to say I wish that these had a spot to insert a bullet, but since they don't I used a toy on my clit when my husband was inserting his cock inside of me. I would defiantly buy these again, but I would love to find a good set that a bullet can be used with them as well. I rated this toy a 4 because it did the job it was meant to, and that was to keep the cock harder and thicker longer. I would recommend these over and over again.