PHS International Groove stainless steel cock ring - Cock ring from PHS International

Product Details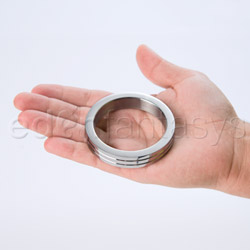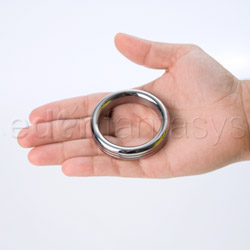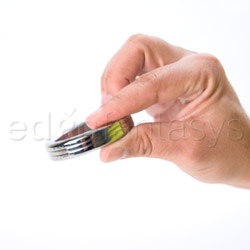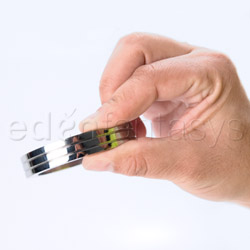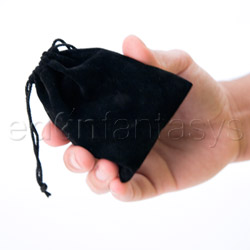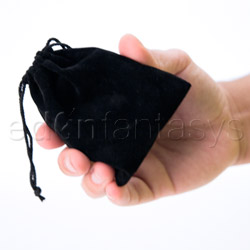 Summary:
The Groove is a massive stainless steel cock ring, solid and unyielding. It measures one-quarter inch high and a half inch wide, and weighs almost a quarter pound. The surface is highly polished stainless steel, with two grooves for decoration. It comes in two sizes, one with a 1-3/4" hole and the other with a 2" hole. Not only does the Groove serve to enhance your erection, it also is very decorative.
Pros:
Solid, comfortable, handsome.
Best use:
The Groove stainless steel cock ring is some serious steel jewelery. Half an inch wide, a quarter inch tall, and weighing almost a quarter pound the Groove is not a cock ring you can put on and forget about, but neither is it the kind of cock ring that gets in the way. A properly sized Groove will slide on, look nice, and keep you hard while staying out of the way.

The Groove cock ring is designed to sit up against your torso after you put your (soft) penis and balls through the ring. Not only does it tend to increase your erection, it also serves to visually set your package off from your body.

Another possible use of the Groove would be as a sturdy and stylish replacement for the O-ring in a harness, but before buying one check to make sure that your harness' O-ring holders can go around the Groove, as it requires one and a half inches of space between the snaps, and many harnesses only offer one inch.
Material / Texture:

The Groove is made out of a single hunk of stainless steel, polished on the outer surfaces and left matte on the inside. As befits the material that inspired the term "Ironman" this ring is solid. You can drive a bus over it with few ill effects, and I strongly suspect that even a bulldozer would be hard pressed to phase this ring. It's shiny, smooth and seamless, with just a bit of texture on the inside to help it grab. The outside has two grooves that visually divide the ring's half-inch width into three parts, but because of the way the Groove Cock Ring is worn none of the texture is easily felt. What is most noticeable about the Groove is the weight. During rapid or powerful thrusting the ring's weight does make it noticeable.

Note that the unyielding nature of the material makes it very important that you choose a size that fits you. Keep in mind the phrase "grip of steel" - while you probably don't want to have one on your privates, it's what a too-tight Groove can give you, resulting in a potentially embarrassing trip to the emergency room.

The Groove's size and material make this a cock ring that could be used for temperature play, either icing the ring or heating it up in warm water. It will hold the temperature for a while and be noticeable, but keep in mind that it's location at the base of the penis minimizes the effects.

Material:

Stainless steel

Material safety

Texture:

Smooth

Safety features:

Latex free / Non-porous / Phthalates free

Shape / Design / Size / Fit:

The design of the Groove cock ring is solid, tasteful and reserved, the sort of design that you can safely buy any man. Its solidity comes from the near quarter pound of stainless steel that it is made from, nearly half an inch wide (axial cross section) and a quarter inch high (radial cross section). The outside surfaces are all highly polished, with two grooves providing a bit of decoration. All of the edges are slightly rounded for comfort, but not enough to make the edges look rounded unless you look at the Groove closely.

The Groove comes in two sizes, one with a one and three quarter inch (diameter) hole and the other model with a two-inch diameter hole. While I was a bit worried that the Groove might slide off before I achieved a full erection I never had this problem during testing.

Color:

Steel

Cock ring style:

Band

Max stretched diam.:

1 3/4"

Width:

1/2"

Weight:

3 oz

Functions / Performance / Controls:

The Groove ring is easy to use, the only difficulties likely to be encountered are putting it on and taking it off. Heating up the Groove can help to put it on, as will doing it in a warm location so the scrotum is relaxed. Needless to say it is also much easier to put the Groove on if you do it well in advance of being sexually excited.

Taking the Groove off is also easy, provided that your Groove isn't too small for you. If it is and your erection isn't going down after several hours seek medical attention.

Care and Maintenance:

The Groove cock ring is made of solid stainless steel. Once you get this it will last you for the rest of your life with a bit of care. After use the Groove ring can be cleaned off with soap and water, and if you want to sanitize it you can use either a bleach solution or boiling (boiling is recommended, as bleach solutions can pit stainless steel if they are too strong or are allowed to stay on the surface). Storing it in the included storage bag will protect the surface from dents and gouges.

Packaging:

The Groove comes in a velour storage pouch contained in a plastic bag, with a heavy cardboard "key-ring" style tag attached to it identifying it as a stainless steel cock ring. The velour bag works very well for storage, and its use is encouraged because careless storage with hard objects can nick and ding the ring. If this happens you can grind and polish it smooth again, but using the storage bag is an easy way to ensure you won't have to fix your Groove.

Personal comments:

Sizing for steel cock rings is critical, because they don't stretch at all and there is no way to adjust them. I strongly encourage anyone interested in a steel cock ring such as the Groove to experiment with a Velcro or snap cock ring first to find the size that's right for them (note that a Velcro cock ring can be improvised from a large Velcro cable tie). Once you've found a size that works best for you measure the circumference and size your ring appropriately. A too-tight cock ring is uncomfortable and dangerous, and a too-loose cock ring doesn't help as much. Note that a cock ring doesn't need to be tight to help. I used the two-inch model and while it was a bit looser than ideal it did increase the width and texture of my erection.

I found putting the Groove on and removing it were much easier if I pulled enough of my scrotum through to allow my testicles some room on the far side. Care definitely is the order of the day here, and I haven't developed enough confidence with the Groove yet to let my wife put it on for me.