LB Trading Ltd iStim c-ring - Cock ring from LB Trading Ltd

Product Details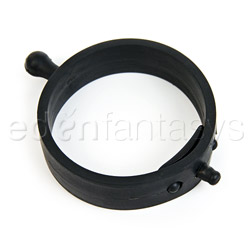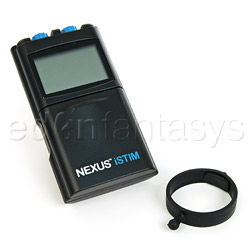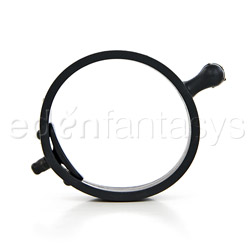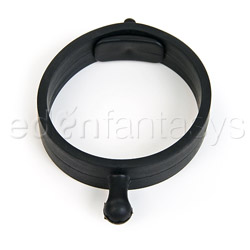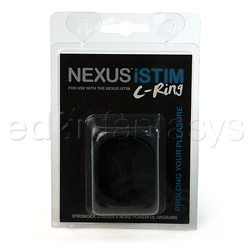 Summary:
The Nexus c-ring is a silicone cock ring that is girthy (so will fit most cocks adequately), stretchy, and allows for the attachment to an e-stim power box.
Pros:
A stretchy cock ring that attaches easily into e-stim play
Cons:
The ring is not conductive - just a the dime sized hard plastic portion of it.
Best use:
The Nexus iStim c-ring is a silicone cock ring that is made to attach to an e-stim power box such as the Nexus iStim. As a cock ring itself, the iStim c-ring is standard yet large (1 5/8" diameter), and as an e-stim accessory, the Nexus c-ring provides a convenient and easy to use electrified accessory for a willing male subject.
Material / Texture:

The c-ring is made of silicone and thus quite stretchy. The silicone ring itself features a nubbin (on what ends up being the backside of the ring) and also accommodates a small conductive composite plastic pad on the "underside of the cock" side of the ring. I believe the design of the ring (the nubbin) allows it to be stretched over an excited cock with ease - no matter the girth (well, within reason - anything below 2 inches diameter) or amount of slippery lubrication present. The silicone used is a matte silicone that is a bit 'grabbier' than one would expect to see in a high quality silicone dildo, and the conductive plastic is similarly matte (not smooth/slick). This matte texture helps the c-ring stay put (as in, not rotating) in place during play, even in the face of lots of lubrication.

Material:

Silicone

Material safety

Texture:

Smooth

Safety features:

Food-grade material / Hypo-allergenic / Latex free / Non-porous / Phthalates free

Shape / Design / Size / Fit:

The c-ring is 1 5/8" diameter when flaccid, easily 2" in diameter when stretched out comfortably. Now, this girth is on the larger size of all cocks, but is chosen (I think) to allow for the widest range of appropriate use, because even if the c-ring is not "holding in blood" tight it is sung enough to provide the required contact for the electricity to zap well. The conductive hard plastic pad is contoured nicely and placed on the c-ring to sit on the underside of the cock when in use, providing stimulation to an area the size of a dime at the base of the cock. Despite the stretchiness, however, the c-ring is designed to be worn in front of the balls, not behind.

Color:

Black

Cock ring style:

Stretchy ring

Max stretched diam.:

2"

Unstretched diameter:

1 5/8"

Diameter:

1 5/8"

Length:

2 3/4"

Weight:

0.1 lb

Functions / Performance / Controls:

The c-ring is attached to an e-stim power box via a "snap connection". Now, most power boxes - e-stim or TENS units (which are the same thing) come with lead wires that have a particular connection style. Generally, this is a pin connection, but some TENS units come with snap connectors. Moreover, there are adapters that one can get to go from a snap connection to a pin connection. I believe that the Nexus iStim comes with the appropriate attachment wires, but if you happen to have an alternate power box (perhaps a TENS unit), this c-ring will still work just fine provided you have the correct attachment wires.

E-stim 'works' when a pair of electrodes are placed somewhere on a body, such that a circuit is completed. Because the c-ring only connects to one electrode from a e-stim power box, a second accessory must be used. Generally, this will mean that a sticky pad is used (On the taint! On the balls!), but not necessarily (it could also be another electrosex accessory, or even a metal toy to which the other electrode has been affixed). Regardless of what is employed to complete the circuit, make sure to choose a fun spot.

Care and Maintenance:

Because e-stim involves the use of electricity (even though is just tweaking nerves in the skin), care must be taken to avoid directing electrical current across the chest cavity. This is very easy to avoid - simply play below the waist. If you happen to have medical stuff going on and you're not sure what's safe and what's not, check with your doc before playing with e-stim.

The c-ring itself is made of silicone and hard plastic (both of which are non-porous), so is exceedingly easy to clean and sanitize for sharing purposes. Do avoid using silicone or oily lube - material compatabilites aside, both are bad conductors) and go for a water based lube instead. Or hey, if you really want plenty of zing for your buck, use some conductive electrode gel instead of lube. Just don't try and mix oral sex in with using conductive gel - it tastes like a tire fire.

Packaging:

The c-ring comes in a clamshell, and is not the sort of packaging that one keeps around for storage. Better to toss this into your bedside small toys drawer, or hey - perhaps your box of e-stim goods.