Summary:
To provide firm erection support, and increase sensitivity without overwhelming the senses and bringing on premature ejaculation, you simply can't beat this set. The silicone is high quality and firm, but it does allow the blood to ebb and flow properly to prevent damage to the delicate structures of the penis. All in all, this is a great set for experienced players and rank amateurs.
Best use:
This sturdy set of silicone cock rings are thick and will definitely help keep your erection full and raring to go. This set of two rings is great for placing at the base of the penis and/or for placing around the penis and scrotum.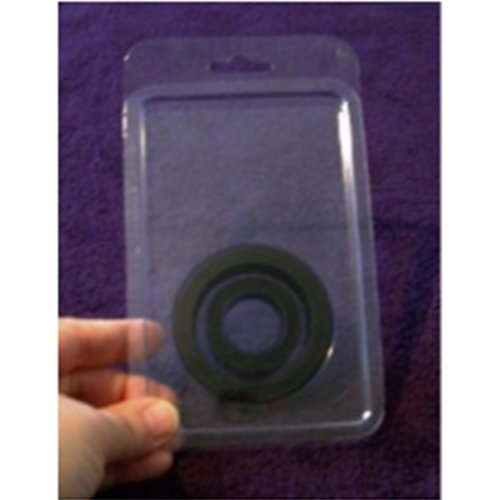 These rings will stretch to fit most men, though the very girthiest penises might experience a bit of discomfort from the smaller ring.
This isn't a toy that is easy to pigeonhole, as it is pretty darn user friendly and can stretch to fit just about any guy.
Material / Texture:

Both of these rings are made of 100% food-grade silicone, that is hypo-allergenic, latex free, non-porous, and phthalates free. The rings are seamless and very firm. These are not going to stretch out easily. The silicone is about a quarter inch thick, making them much harder to stretch out.

There is a light, but not unpleasant, smell to the rings. The rings will pick up lint, so rinsing the rings before use is recommended. They also pull hair, so you will want to use a touch of lube when sliding the ring onto the penis. There is some debate about the danger of sliding the ring onto the penis before the penis is fully erect. I won't speak on that debate, but I will say that the purpose of this ring is to trap blood in the penis, and it works better to slide it on an erect penis rather than forcing the blood into the penis while it is being restricted. If you want a cock cage, then it would be better to purchase a cock cage!

The firmness of the silicone does indeed keep Sigel's penis firm and did seem to prolong his staying power. We aren't really sure it was the cock ring or the fact that he can control whether he orgasms well enough to last as long as he wishes. He wasn't overly fond of placing the larger ring around his penis and scrotum but admitted it was an interesting sensation.

Material:

Silicone

Material safety

Texture:

Smooth

Safety features:

Food-grade material / Hypo-allergenic / Latex free / Non-porous / Phthalates free

Shape / Design / Size / Fit:

This was our first foray into the world of truly restricting cock rings. We had used stretchy ticklers and softer TPR rings, but they didn't do much but hold a small bullet for my pleasure, mostly. The smaller of the two rings starts out at about 1.5 inches unstretched and can stretch comfortably up to 2 inches. If your penis is larger than 2 inches around when fully erect, this is going to be uncomfortable or even impossible to wear.

The larger of the two rings is meant to be placed over the penis and tucked behind the scrotum. It measures 2.25 inches unstretched and 4 inches fully stretched. It does provide some firm, but not terribly painful, pressure, and can be used along with the smaller ring.
So long as the blood is able to move both out of and into the penis you will be fine, but this is a thick and highly restrictive ring set, so use common sense. This is not a set you can wear either singly or as a set to sleep in!

A cock ring is meant to provide support, but if your penis begins to go numb, swell profoundly, discolor, or you experience pain, slide, or even cut, the ring off. Being sure to use a good amount of lube will allow you to slide the ring off easily. This particular ring will roll off the penis quite easily if you go slow and don't panic. It won't roll off during sex, however. A good way to prevent problems is to measure your erect penis with a dressmaker's measuring tape, or a piece of string wrapped comfortably tight around the base of the penis, and a ruler. If your penis is less than 2 inches around, you should be fine to use the smaller ring!

Cock ring style:

Stretchy ring

Max stretched diam.:

2" / 4"

Unstretched diameter:

1 1/2" / 2 1/4"

Width:

1/2"

Weight:

0.2 lb

Functions / Performance / Controls:

The rings, used singly or as a set, do indeed restrict enough blood flow to maintain a firm erection, but are not tight enough to cause other complications. We found that a bit of "manscaping" will prevent the ring from pulling hair. A generous amount of lube will also do the trick!

Care and Maintenance:

These are silicone rings, so a good washing in hot water and soap will keep them clean. They can be boiled or washed in a 10% bleach and water solution. You could also use a commercial toy cleaner if you prefer.

We didn't notice any degrading or marring of the finish on the rings from using silicone lube, but if you are worried it is a good idea to spot test a small area. As always, water based lube is perfectly fine to use.

We actually store these in the original packaging with the paper insert removed. The paper insert has a fairly graphic picture of James Deen on it. While I have no problem with this, Sigel felt that it was best it not be left for our children to stumble across. They could be tossed in a bedside table drawer, but I would keep them away from other soft toys, just in case they should decide not to play nice.

Experience:

This was a great introduction to using more restrictive cock rings. Sigel did feel as though the cock ring (smaller one) was comfortable on his erect penis, and it seemed to make him more sensitive but less apt to orgasm. He didn't lose his erection easily, but could feel a bit of the ebb and flow that the penis is supposed to experience during sex.

He wasn't overly happy with the larger ring, but he could see why other men might like it. The restriction caused by the larger ring made him very aware of his taint area, and it wasn't as comfortable a feeling as just using the smaller ring. Now we did try using a small bullet vibe held against his taint by the ring, and this made PIV sex a whole lot more interesting for him...and for me, since it made him vibrate softly inside of me.

All in all we were pleased with this set and look forward to trying other types of rings in the future.