Evolved Marble enhancement set - Ring set from Evolved

Product Details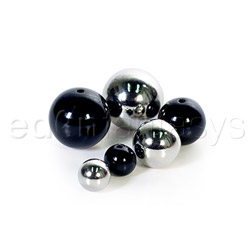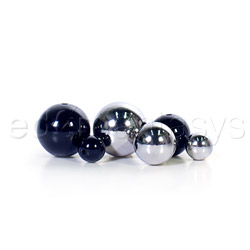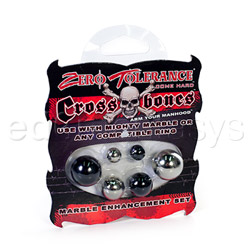 Summary:
The Marble Enhancement Set includes six balls that can be used with the Mighty Marble cock ring. The cock ring is not included with this product. There are three acrylic balls and three steel balls. They offer a range of weights and sizes that will make this product good for users at all levels. Do be careful when using the large balls, as they can potentially rip the material of the cock ring.
Pros:
Variety in sizes and weights, easy to get in and out of cock ring.
Cons:
Large ball can break soft material of cock ring.
Best use:
The Marble Enhancement Set is a set of steel and acrylic balls that are made to be used with a Mighty Marble cock ring. You could also use them with "any compatible ring", so if you have a ring that has a space for weighted balls, you should be able to use these. The cock rings made by Evolved, the same company that makes the Enhancement Set, are
The Mighty Marble
and
The Mighty Marble Double Bullet
.
The balls offer different sizes and weights from what comes with the Mighty Marble cock rings. This allows you to customize your experience with the ring. You can have lighter or heavier stimulation with larger or smaller balls. The ball is inserted into the opening at the bottom of the ring. The ring can then be put on either way to stimulate either the clit or anus. The various sizes mean that this will work well for beginners or advanced users. You could even start with the small balls and work your way up through them.
Please note that this product does not include the cock ring. That will need to be purchased separately. This product contains six different balls to be used with the ring.
Material / Texture:

Three of the balls are made of steel and three are made of acrylic. Acrylic has a safety rating of 9 and steel has a safety rating of 10.

Acrylic is a thermoplastic. It is said to simulate glass, but feels to me more like plastic. It has a glossy finish and is smooth to the touch. It is a hard material that does not squish or bend. It is lightweight; not at all heavy.

Steel is a ferrous alloy. It is also a hard material that will not give. Like the acrylic, it is smooth to the touch. It has a mirror finish that reflects its surroundings. Unlike the acrylic, the steel is heavy in weight.

Material:

Metal

Material safety

Texture:

Smooth

Safety features:

Food-grade material / Latex free / Non-porous / Phthalates free

Shape / Design / Size / Fit:

There are two of each size, one in acrylic and one in steel. The largest ball is .5" across and 2.5" in circumference. The middle ball is 3/6" across and1.75" in circumference. The smallest ball is .25" across and 1 1/8" in circumference.



The balls insert into the bottom of the cock ring in the long tube. The smaller balls are easy to get into this tube, while the larger balls require some work to get in. Both are easy to take out.

The steel balls are made to be a heavier version of the acrylic balls. This way you have three sizes but two different weights in each size. You can step up by starting with the small acrylic and then going to the small metal and so on. You could also go just through the acrylic sizes if you don't want the weight, or just through the metal sizes if you prefer weight.

Color:

Black / Silver

Cock ring style:

Stretchy ring

Max stretched diam.:

1 1/2"

Unstretched diameter:

1 1/2"

Diameter:

1 1/2" / 1" / 1/2"

Length:

1" / 2" / 3"

Weight:

0.2 lb

Functions / Performance / Controls:

The balls offer a great amount of variety to the cock ring. Instead of being stuck with a cock ring with only one weight option, you can change out depending on experience level or your mood that day. The small and medium balls are very easy to get in. The large balls do require pulling back the material of the tube to get them in.

How well the balls work is very dependent on how well the cock ring fits you and your partner's anatomy. If the cock ring fits in a such a way that allows the ball to hit the desired area, the balls will be an added benefit. If the ring doesn't fit in a way that lines up, then the balls will only add a weight difference for the wearer. There will be some benefit in either circumstance, but less so if the cock ring doesn't match up correctly.

Here you can see the larger ball placed into the Mighty Marble:



The only problem with the balls is that the larger steel ball ripped the material of the ring. Since the ring is made of a soft TPR material, it is easily torn. The weight and size of the larger steel ball was too much for the ring to bear. This then makes the ring unable to hold the small or medium balls without having them fall out. It didn't tear so much that it can't hold the large ball, however the rip continues to expand so this will likely be the case shortly.

Care and Maintenance:

The balls do not come with any storage, and the original packaging can not be used. The easiest way to store these is in a small plastic baggie. A snack sized bag will be ideal.

The balls can be washed with soap and water or toy cleaner. The steel balls can be boiled or placed in the dishwasher. The acrylic balls cannot.

All lubes are compatible with both steel and acrylic; however, you should pay attention to the material of the ring that's being used. The Mighty Marble is made of TPR which can be used with silicone or water based lubes. If you are using a different ring, make sure you check to see what lubes can be used with it.

Care and cleaning:

Soap and water

Packaging:

The Marble Enhancement Set comes in a small package meant for hanging. The front says "Zero Tolerance Come Hard Crossbones Arm Your Manhood" with "Use With Mighty Marble Or Any Compatible Ring" below it. The balls are placed in a clear section of the packaging and are visible. The back has a photo of the Mighty Marble cock ring and directions on how to use the Enhancement Set. It included information on the materials used and lube compatibility.

The package must be ripped in the back to open it. It's like a blister pack so there's no way to get to the marbles without popping at least some of the back. Since this contains the directions, it's a little inconvenient to have this part ripped.

The packaging is not very discreet given the wording and photos. It can not be used as storage.



Experience:

Since I use a clit vibe during sex, we used the Might Marble flipped around to stimulate the anus. Even with the larger balls, I didn't feel much. They didn't seem to line up correctly with our anatomies. My husband was able to feel the added weight of the balls when we used the steel ones, which he enjoyed.

I really like the idea of this set and it works well for my husband. It doesn't really do anything for me on the receiving end. My only problem is that the large ball broke the ring so fast. Within two uses of the large ball option, the ring had ripped. This has now rendered the ball set mostly useless (aside from the large balls) and ruined half of a cock ring.

I would suggest sticking to the medium and small balls. Since the medium ball is close in size to the ball that comes with the Mighty Marble, you're really only getting the two small balls and the acrylic medium one as an option with the set. If that's worth it to you depends on if you find the medium marble that comes with the cock ring to be too heavy or too large.

Other

Insertable length:

1" / 2" / 3"

Circumference:

1" / 2" / 3"

Special Features: