California Exotic Sapphire magnum ring - Cock ring from California Exotic

Product Details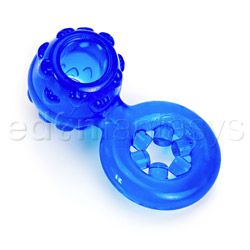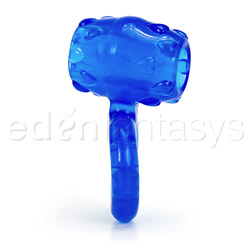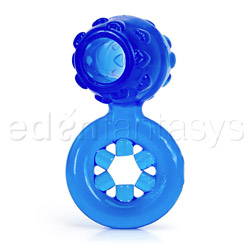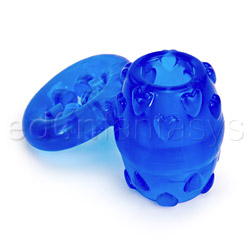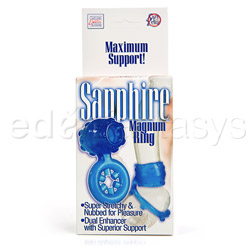 Summary:
A great cock ring that stands head and shoulders above many in the same price bracket. It does a great job strengthening and firming an erection, but doesn't interfere with sex itself. The only downside? It's a bit difficult to remove.
Pros:
A really solid cock-ring that works very well, is comfortable and practical.
Cons:
Blue TPE isn't all that hardcore, and it will pluck out pubes when you wrestle it off.
Material / Texture:

The TPE is spongy and stretchy, but has no discernible scent to it. It's solidly made, which means there's not as much stretch as one might imagine (but that means the grip is that much tighter.) Even the ball ring, which is considerably thinner than the cock ring part, doesn't feel like it would snap, even over an enormous pair of balls. All in all - solid and seamless.

The surface is smooth, although there is a ring of raised nubs on the cock ring part, which offers a little extra stimulation to a girl's labia on full penetration.

Material:

TPE

Material safety

Texture:

Smooth / Studded

Safety features:

Hypo-allergenic / Latex free / Phthalates free

Shape / Design / Size / Fit:

The two ring design - one for the balls and another for the shaft - works well and it's intuitive just how to put the ring on. There's less flexibility than with other designs (Over? Or under the balls?) but that means there's less opportunity to screw up.

The fit is snug on medium to large cocks - and the larger you are, the more benefit you'll get from the tightness.

The ring isn't all that easy to get on - you need to stretch it WIDE apart with your fingers and it has to go onto an already hard cock. Once it's on, though, it's ON. There's no slippage.

Getting it off is even more of a problem. It's difficult to dig one's fingers under the tight band of TPE and 'pulling' it off a cock doesn't work, because it can't slip over the bulge of the glans. One solution is to slather your cock in lube before putting the ring on, and lubing up your shaft afterward, as that helps make pulling the tight ring off easier.

Eden Fantasys suggests that both silicone and water-based lube are safe with this ring, but I only tested it with water-based lube.

Color:

Blue

Cock ring style:

Stretchy ring

Max stretched diam.:

1 3/4"

Unstretched diameter:

5/8"

Diameter:

1 1/8"

Length:

1 1/2"

Weight:

0.1 lb

Functions / Performance / Controls:

The ring works by tightening around the shaft of an erect cock and letting blood flow IN (strengthening and engorging an erection) but not letting it flow out (prolonging your hard on.)

It works VERY well, especially with a larger penis. The ring around the base of the cockshaft (as opposed to the base of the cock itself, below the balls) works best and has DRAMATIC results.

Care and Maintenance:

TPE is almost impossible to sterilize, so it's probably not a good idea to share this ring with your pals or partners. You can wash it with warm, soapy water, though.

Both silicone and water-based lube can be used according to EF, but water-based lube is the easiest to clean off and the best to use with condoms and other sex toys.

Packaging:

The ring comes in a large box, with no instructions. It also doesn't list the materials on the box - I had to find them by going to the EF website.

Personal comments:

I have traditionally used cock rings on the root of my cock - beneath the balls itself. This is the first ring that I used on the shaft, above the balls, and am now a convert! It gave me a REALLY firm erection and was much more comfortable than the 'below the balls' setup.

Experience:

My wife and I used this cock ring with GREAT results.

We lay side by side telling each other sexy stories until I was as hard as a rock (I think it was during her fantasizing about sucking some big, black stranger's cock.) Then I stretched the ring and 'snapped' it onto my cock. Almost immediately, my shaft stiffened and the veins bulged.

My wife liked that - 'wow, you look HUGE' - but did say that I didn't feel like 'me' any more and it was a bit like handling a rubbery dildo!

We tried missionary style sex first, followed by me pounding her from behind, with her on her side (one leg curled up to expose herself.) She REALLY felt the increased size and rigidity as I fucked her and she came after just a few minutes (and she very rarely comes from penetration alone.)

I liked it because it was slim enough not to cock-block me. Other rings are so thick, it's almost like having an inch or so of my cock that's 'out of bounds' because I can't thrust it inside my wife. This ring was perfectly suited and didn't cramp my style at all.

I didn't feel particularly uncomfortable wearing the ring and when I came, it was as delicious and intense as normal. The only drawback was trying to pull the ring off after we'd untangled. I eventually wrangled it off - but lost a few pubes in the process!