California Exotic Silicone support rings - Cock ring from California Exotic

Silicone support rings videos
Product Details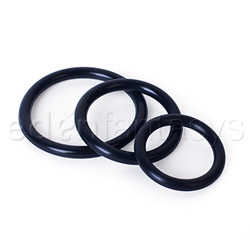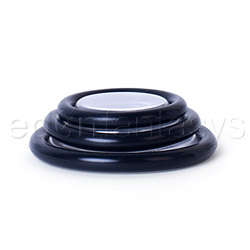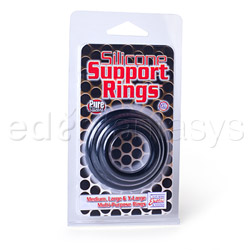 Summary:
I found my experience with this set to be like that of my first dildo: I was scared to try it at first because it didn't vibrate, but after I did I realized what I was missing out on! The different things you can do with these provide a nice twist in the bedroom, and the three sizes make up for their inability to stretch.
Pros:
Different sizes can be used in interesting combinations, silicone, easy to use.
Cons:
Small size makes them prone to getting lost, they don't stretch much.
Best use:
Cock Rings are designed to help enhance your sexual experiences. I have only tried 2 cock rings besides this set, and they were both vibrating for extra female stimulation.

I would not recommend these for anal because they can come off while thrusting and the anal canal has no end. These + anal= hospital.

They would make a great beginner set because they are made of varying sizes, however they do not stretch very well and are pretty unforgiving so those who are a bit more endowed may have a hard time with them.
Material / Texture:

These rings are made of 100% Silicone. Silicone is hypo allergenic, non porous and phthalate free. It can be sanitized and this makes it a 10/10 for safety here at Eden.

They are very smooth and have no taste or smell. There are no visible seams on the set I own. Despite this smoothness, the rings add quite a bit of texture through sex because they provide an almost ribbed type of stimulation while thrusting. Having one ring on the head and one on the shaft of the penis gives the female a wonderful feeling both at the G spot and the vaginal canal.

These left me feeling a bit sore afterward, however. I'm not sure if I'm just not used to that particular type of "added" texture or if they can be rough on one's body.

Material:

Silicone

Material safety

Texture:

Smooth

Safety features:

Food-grade material / Hypo-allergenic / Latex free / Non-porous / Phthalates free

Shape / Design / Size / Fit:

These rings come in 3 different sizes for various uses: small, medium and large.

The small ring which measures 1 1/4" diameter is intended to be used on the head of the penis (I think) and has a maximum stretch to about 1 1/2" diameter.

The medium ring measures just over 1 1/2" in diameter and is intended for use on the shaft. Its maximum stretch is about 2 1/2" in diameter.

The large ring measures 2" in diameter and is intended to go over the balls. Its maximum stretch is 3" in diameter.

These can be used one at a time, all together, or in combination with each other for your maximum pleasure.
They are also small and discreet enough that they can be traveled with, used/worn anywhere, and stimulate both partners during sex. I definitely assume that they can be an aid in masturbation as well.

Cock ring style:

Stretchy ring

Max stretched diam.:

1 3/8" / 1 5/8" / 2 1/8"

Unstretched diameter:

1 1/2" / 1 1/4" / 2"

Weight:

0.5 oz

Functions / Performance / Controls:

These worked great for me to add a different sensation to sex, but they didn't quite help SO's, ahem, performance. We have been looking for something to help extend our sessions a bit and I was hoping that having three rings on would help him accomplish that. Fail.

They are still great nonetheless, and he was able to last a *little* bit longer.

The search continues!

Care and Maintenance:

Silicone is very easy to clean and store. These should be kept in a small bag or somewhere safe like a storage container where they are together. Their small size makes them prone to get lost.

Silicone can be wiped off after use with a toy wipe or warm washcloth. It can be cleaned with soap and warm water, and can be boiled to sanitize. Since it is non porous and phthalate free it can be shared as well (just make sure you boil it first!).