PHS International Stripe stainless steel cock ring - Cock ring from PHS International

Stripe stainless steel cock ring videos
Product Details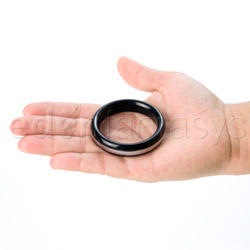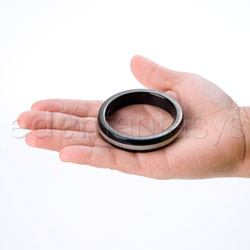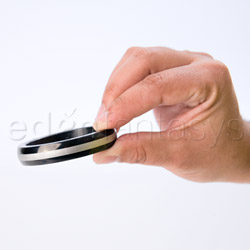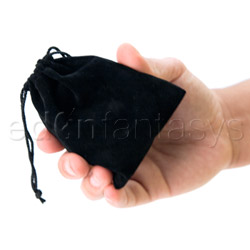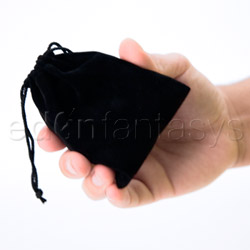 Summary:
The Stripe stainless steel cock ring is one of those rare items where style meets function flawlessly. The design of the ring is such that it wears comfortably around the cock and balls while still promoting harder erections. Top this off with a stylish look and it's a must have item for anyone in the market for a cock ring. What's not to love about it?
Pros:
Attractive design, stainless steel, comfortable fit.
Cons:
Requires careful sizing.
Best use:
Cock rings are generally worn to improve erections and prolong orgasm by restricting blood flow from the penis and preventing the testicles from retracting during ejaculation. They can be worn around the cock itself, the scrotum, or around both the cock and balls depending on preference. However, cock rings can also be worn as genital jewelry purely for their aesthetic value.

The Stripe stainless steel cock ring from PHS International is designed to be worn around both the cock and balls and offers the best of both worlds. It is made of a hard material which provides a snug fit when sized properly, but it is also a beautifully crafted piece of metal. Men can enjoy using it themselves during masturbation sessions or share it with a partner. I would even wear this out for a night on the town. Talk about accessorizing your formal wear!

While I think this ring could be appropriate for anyone interested in trying a metal cock ring, beginners should be absolutely confident in the appropriate size due to the hardness of stainless steel.
Material / Texture:

The Stripe cock ring is made of black stainless steel polished to a beautifully glossy finish. The ring has a nice weight to it so it doesn't feel at all like a cheap metal alloy. The edges of the ring are nicely rounded to allow for even distribution of pressure and prevent any uncomfortable pressure points. Stainless steel also allows you to play with temperature. You can cool the ring for an exhilarating chill or warm it up for some soothing heat. The polished finish should also prevent any snagging of pubic hairs when putting the ring on or taking it off.

Material:

Stainless steel

Material safety

Texture:

Smooth

Safety features:

Latex free / Non-porous / Phthalates free

Shape / Design / Size / Fit:

The Stripe stainless steel cock ring is a handsomely designed black ring adorned with a silver stripe. The black and silver color combination is classy and stylish. Because of the hardness of stainless steel, potential users should be sure to size themselves properly. With a full erection, take a length of string and wrap it snugly around the base of your cock while including the scrotum. This length equals the approximate circumference of an appropriately sized cock ring. I would recommend repeating this measurement more than once to be sure it is accurate. Once the circumference is determined, the appropriate cock ring diameter can be calculated by dividing the circumference by 3.14. The Stripe cock ring is available in a 1-3/4" and 2" diameter and both have a 1/2" width. That translates into 5.495" and 6.28" circumferences respectively.

Putting on the cock ring must be done in a non-erect state and can be facilitated by applying a small amount of lube to the inner surface of the ring. Since the ring is made of stainless steel, any type of lubricant can be used. Personally, I like to use a silicone based lube as only a drop is needed and it is less likely to dry out during use. Next, slide one testicle at a time through the ring followed by your penis. The ring should sit snugly at the base of your cock and balls but should not be uncomfortable. If you feel either numbness or pain, take the ring off immediately. Regardless, cock rings should not be worn for more than 20-30 minutes at a time. I would recommend taking the ring out for a few test drives solo before wearing it for the main event.

Color:

Black / Steel

Cock ring style:

Band

Max stretched diam.:

1 3/4"

Width:

1/2"

Weight:

3 oz

Care and Maintenance:

Stainless steel is extremely easy to care for and rates a 10 in material safety. Sterilization can be accomplished by boiling the ring in water, placing it in a dishwasher, or using a dilute bleach solution. Since cock rings are not penetrative devices, washing with a toy cleaner or with antibacterial soap and water should be sufficient for routine cleaning.

Packaging:

The Stripe cock ring comes packaged in a small draw string pouch made of a black velvety material. The pouch provides an excellent way to store the ring and keep it clean between uses. Some basic instructions on use would have been a welcome addition given the potential hazards associated with stainless steel cock rings. The ring itself is fairly discreet on first glance. However, most people will probably figure out its true use given the size and shape. The ring can easily be carried around in your pocket.

Experience:

I have previously tried several types of cock rings including silicone, rubber, and straps, but never before have I dared to try a metal one. Like most men, I've been intimidated by the potential risks involved with a ring made of such a hard material. However, I can easily say that this is now my favorite cock ring. I love the feel of the cool metal and the weight on my cock. Plus, I really love the way it looks. The black with silver is handsome and sophisticated looking, and it matches the rest of my rings. For me, it is both fashionable and functional. The fit is perhaps slightly large, but it still performs its intended function. My erections are definitely firmer. My wife also loves how the ring wraps up my entire package and brings both my cock and balls forward. And best of all, I finally got my cock bling!