Doc Johnson Titanmen cock ring set - Ring set from Doc Johnson

Product Details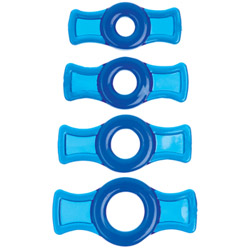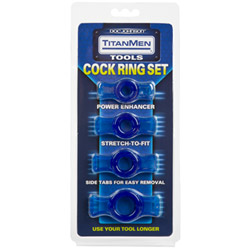 Summary:
This is a great set of cock rings. It has four ascending sizes, so it'll fit snugly on guys of all sizes. There are tabs on the side of each ring for easy removal. These can also add as a sex stimulant for women who are occupied with said cock as well.
Pros:
Stretchy, A size for everyone, Easy to clean, Fits snugly, Tabs for easy removal
Material / Texture:

These cock rings are made of TPR. They're very smooth, and the material almost looks like latex, because it's so shiny. They're very nice to look at. The only texture on these is around the edges of the tabs on the sides. There's a slightly raised edge along the tabs. Probably just so you can hold it easier. It's nothing that gets in the way during use though. These didn't have any issues with tugging or sticking either. There was no hair pulling for us.

The cock rings are very stretchy. The largest size should be able to fit most larger guys. I can stretch it out to wrap around four of my fingers while they're side by side. Even the smallest ring can fit around 3 of my fingers, even though it's pretty uncomfortable. Then there are two other sizes between those.

My husband says they work wonderfully for him, even the occasional times he uses them during masturbation. These could be for beginners or more advanced users, and people of all sizes.

Material:

TPR

Material safety

Texture:

Smooth

Safety features:

Hypo-allergenic / Latex free / Phthalates free

Shape / Design / Size / Fit:

These are just four cock rings of ascending sizes. Each ring has a tab on either side for easy removal of the ring. It's a simple, but effective design. The material is very smooth, and pretty nice to look at.

The largest ring has a diameter of an inch. They go down in size about 1/4th of an inch or so. It's not a huge change from one size to the one under it, but there's a definite difference between the smallest and size.

These are also pretty stretchy. The largest ring can fit pretty comfortably around four of my fingers side by side. The smallest ring can stretch around three of my fingers, but it's a tight fit, and pretty uncomfortable. No matter what size you are, one of these rings should be the perfect size for you.

Side by side...


Stacked...


Lightly stretching...



Cock ring style:

Stretchy ring

Max stretched diam.:

2 1/2" / 2" / 3 1/2" / 3"

Unstretched diameter:

1/2" / 3/8" / 5/8" / 7/8"

Weight:

2.2 oz

Functions / Performance / Controls:

Cock rings are great for prolonging erections. They can be a lot of fun if you want to have a really long sexual session. I think the kit was pretty fantastic! My husband usually has a hard time finding a ring to fit him comfortably. The largest one in the kit fit him pretty well, and there weren't any issues of it falling off. If you get it too lubed up though, there's a chance it could slip off.

If you turn it so the tabs are up and down on the guy, the tabs can add a little extra stimulation to the clit if you're riding him. It's nothing crazy, but it still feels nice.

Care and Maintenance:

You can clean these off with a wet wipe, or with toy cleaner. You can also just use warm water and soap. They can be stored in the case they came in, or in a drawer. They're really small, so they're easy to hide and keep out of the way. These do tend to attract a lot of lint, so should be washed before and after use.

You can use silicone or water based lubes on these rings.