Doc Johnson Tower of power - Ring set from Doc Johnson

Product Details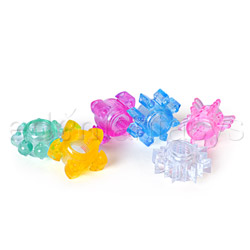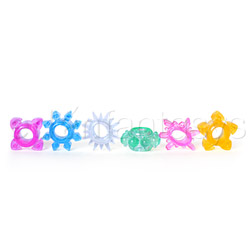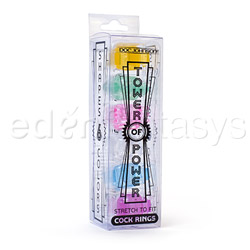 Summary:
This was a great toy! The cute colors make it very non-intimidating and as it is fun for both partners this is a wonderful introduction to the world of sex toys or a fun addition for a couple who already has a boxful! I wish there was more variety between the textures but my favorite one sure hit the spot - I'm sure there's something in there for just about everyone!
Pros:
Some really great textures, great fit, amazing price, non-intimidating, cute colors!
Cons:
Not a huge variety in textures, many felt very similiar.
Best use:
The tower of power - where to even begin?

That was what we pondered first when we dumped our candy-colored new best friends out on to the bed. There were six of them in all sorts of fun colors and textures, and we, being the dedicated reviewers that we are, knew we wanted to try them all, for, you know, accuracy's sake. What can I say - we're just that commited.

We started with what would end up being my favorite - the green one with the little bubbles on it - and put it around his cock. We experimented with it being wrapped around both his cock and his balls, which was fun and great for oral - it really lifted his package out from his body so I could use my tongue - but he preferred the rings around the base of his cock only for intercourse.

We were both very pleasantly surprised by the results. These are fantastic for anyone who would like a firmer, longer lasting erection in their bed. We managed to use all six in two sessions, by switching from one to another every time I climaxed. This also gave a chance for blood flow to return for him, which is very important - try not to leave these on for more than about twenty minutes!

He tested these out solo, as well - and said they really enhanced his masturbation sessions, letting him last a bit longer there, too, and increasing his sensation.
Material / Texture:

These are made of TPR - which is definitely a good thing! They're cleanable, for one - though not sanitizable, so it's best to avoid sharing these among other partners. The other great thing is how wide they stretch. My husband is on the larger side of average and these stretched without breaking, though it was a little tight when he put his balls in as well.

The textures are, for me, a mix of amazing and average (but still nice). The ones with the raised bubbles I enjoyed the most - the green one and the yellow one - as they really pushed me over the edge, and fast! The others were very nice indeed, but were definitely an addition to the fun and didn't really take "center stage" as the other two did. Depending on your mood and your needs this definitely has something for everyone.

The smell was almost non existent and the taste was neither pleasant nor unpleasant - just sort of like licking plastic.

Material:

TPE

Material safety

Texture:

Nubbed / Ribbed / Studded

Safety features:

Hypo-allergenic / Latex free / Phthalates free

Shape / Design / Size / Fit:

The rings are a pretty good size for most men, in my estimation. My husband is larger average, and they were pretty tight but not uncomfortably so. I would say that if you were at either extreme of endowment, you may not fit these so well. But remember if you are smaller you can slip your balls in as well, and if you are larger, try it just on your shaft, and that can help accommodate an even larger range of sizes.

Definitely put these on with lube - it's seriously a must - but they go on quite comfortably if you're lubricated and it was easy enough for either of us to put one on that it didn't break the mood to switch them out.

The nubs and ticklers definitely hit my clit with minor positional adjustments - I highly recommend missionary with these, particularly if you can drape your legs over your partner's shoulders. Amazing!

Color:

Multi-color

Cock ring style:

Stretchy ring

Max stretched diam.:

3"

Unstretched diameter:

5/8"

Weight:

2.5 oz

Functions / Performance / Controls:

These were overall great little workhorse toys! They fit well.

Care and Maintenance:

I suggest keeping these in the box they came in, or a zip bag, so that you can keep them all together. You can wash these but not sanitize them - so, again, no sharing. These will work with both water and silicone lube, so no worries about whether your favorite lube will be non compatible. As with any stretchy toy, take care to check it for cracking or stretch marks, and retire them when they begin to look obviously worn/stretched out. We've used one (the magic green one) six times now and it still looks good, with a very faint stretch line in one place, so don't worry about them wearing out too quickly.

Packaging:

These came in a clear plastic box with the name of the toy written on it, and the rings are nestled inside lined up on top of one another. The box is great for keeping them all together.