PHS International Tribal stainless steel cock ring - Cock ring from PHS International

Tribal stainless steel cock ring videos
Product Details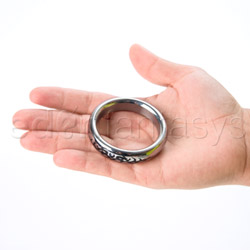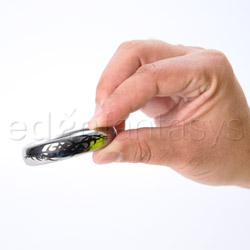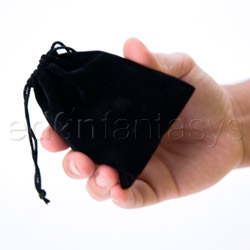 Summary:
Metal Cock rings are great when it comes to restricting the blood flow to the penis; this Stainless ring is no exception. Designed to go around your cock and balls this ring has nice weight and holds the temperature well. The Tribal design is highlighted by the polished Stainless Steel so you can have some serious Bling on you cock for your partner to enjoy.
Pros:
Good heft and the rounded edges are comfortable. Tribal design is like a tattoo for your penis
Cons:
Sizing is very important, might be hard to put on for less experienced.
Best use:
For those looking for maintaining and prolonging an erection, metal cock rings offer the best means to an end. There is no give and as long as you measure your package right, there should be no problems during its use.

This Tribal Stainless Steel cock ring by PHS International is a fine example of form and function. Made to wear over the shaft and balls to provide restriction of blood flow from the penis. It can make you last longer and provide some extra girth, which is sure to please your partner. Plus who does not like some Bling for some added visual stimuli.
Material / Texture:

This cock ring is made from solid Stainless Steel and is polished to perfection. The side and top edges are rounded for comfort while the inside it flat to provide better restriction over a larger area.

Stainless is great at holding temperatures for longer periods of time. You can heat it up by placing it in a bowl of warm water or place it in the fridge for a cool feeling as well. Some care should be used for extreme heat as this could burn you, test the temp by placing it in the inside of your elbow before play.

Material:

Stainless steel

Material safety

Texture:

Smooth

Safety features:

Latex free / Non-porous / Phthalates free

Shape / Design / Size / Fit:

The design is much like a ring for you finger, only five times as big. Along the top is a Tribal, tattoo design that has been Silk Screened onto the ring. The design covers one-third of the ring and is colored in flat black.

To put this ring on I found the best way is to take a hot bath, this allows your scrotum to relax. Place a generous amount of your favorite lube all over your scrotum and shaft. Insert one testicle through the ring and then the other. Now pull the scrotum and testicles down, to create some room and slide your flaccid penis through the ring. This may take some practice but the end result is well worth it. Once on, you are free to let you cock swell with Tribal pride. Some adjustment may be needed as your tool grows. When the fun is done, removing the ring is done by removing you penis and then the testicles one by one.

Before you order this ring, make sure to properly measure your total package for best results. This is done by achieving an erection and use a piece of string, wraps the string around your shaft and balls and mark where the string overlaps. I highly recommended doing this three or four times over a couple of days. Take your measurement and divide by 3.14, this will give you the diameter. It is safer to go larger than smaller but you might risk the ring being to loose to provide adequate restriction, by far the better of the two choices.

Color:

Steel

Cock ring style:

Band

Max stretched diam.:

1 3/4"

Diameter:

1 3/4"

Width:

1/2"

Weight:

3 oz

Care and Maintenance:

Stainless is super easy to clean and or sterilize. You can boil it for three to five minuets, place it on the top rack of your dishwasher or use you favorite toy cleaner.

Storage is made simple by PHS International providing a black storage pouch. This can them be stored in a drawer or even in your pocket for a night on the town.

Packaging:

Your new cock ring come packaged in the pouch wrapped in a plastic bag, as simple as the ring itself. Attached to the ring is a silver and black tag with "premium, cock ring, Stainless Steel and M2M" printed in silver.

There are no instructions provided, but really do you need them?

Personal comments:

I would not recommended this ring for beginners. Metal rings have to be measured correctly, as such a guy needs to know how to get his erection down in a hurry and be prepared for some pain if it is not the right size. "Measure four or five times and order once" is an old steel fabricators mantra, this applies here as well.

Experience:

For me this was my first metal C-ring, admittedly I was a bit nervous. I have seen and heard all the horror stories told about them getting stuck and the trips to the ER to get them removed. So I measured and remeasured just to make sure it was the right size, I mean really, I was not about to have some doctor break out the grinder with a cut off wheel to remove this ring.

The first time I wore it I did so by myself, if there was a problem I did not want the wife there to freak out, ya know? I was pleasantly surprised by how easy it was to place it on my shaft and boys. I used some Silicone lube and everything slipped right in. I did need to adjust it some as my tool grew but nothing to make me worry. When I was fully hard I found that all my measuring paid off, the fit was good if not a bit large. After my fun I left it on till the wife got home from work to show off mt Bling. After her initial reaction of "You got that thing on?" she thought the look of a shiny ring around my junk looked really erotic. Needless to say, she went right to work to see how the ring looked when I was ready for some play time.

During use she could not feel the ring itself but could feel the difference in girth and the texture of my penis. This ring performed as it should and we have a good time using it. I did decide that should I buy another metal ring I will go up to the next size, this should make it easier to put on (not that it was to hard) and I can wear it for longer periods of time. Kind of fun just to wear it around the house.