California Exotic Vibrating support plus 4-way arouser - Cock ring from California Exotic

Vibrating support plus 4-way arouser videos
Product Details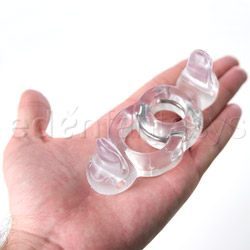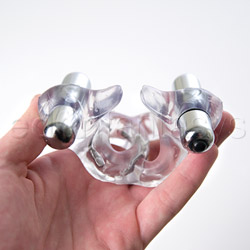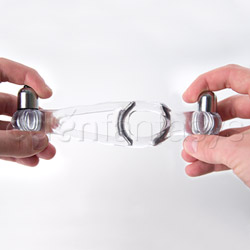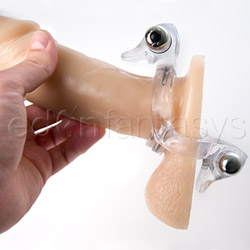 Summary:
California Exotics' Vibrating Support Plus 4-Way Arouser is more than your average stretchy cock ring. It is two attached rings with two bullets and two stimulators. It is made of TPR and the main ring has two pieces of a stainless steel ring embedded in it to provide additional support. The two bullets are wireless and have decent power for their size. The stimulators are placed horizontally but the one designed to hit your partner's clitoris could be positioned a bit better.
Pros:
Two bullets, two rings, stretchy material, good stimulation.
Cons:
Top bullet does not align well with the clitoris.
Best use:
I mean, come on, Vibrating Support Plus 4-Way Arouser is quite the mouthful and although it is more descriptive, it doesn't get down to what this toy really is, a vibrating, stretchy cock ring. Actually, it's quite a bit more than a run-of-the-mill standard cock ring though. This thing has a ring for your penis with a bullet vibe and duck bill clitoral stimulator above it and a second "auxiliary" ring for your testicles with a bullet vibe and duck bill testicle stimulator below it. That's right two bullet vibes and two duck bill stimulators. In addition to the two rings, I suppose that is where the '4-way Arouser' potion of the name comes from. Since this ring is made of Thermal Plastic Rubber (TPR) and is stretchy, it makes it simple to get in place even if one is already aroused. The rings are pretty thick, so it may take a little more effort than it does with some stretchy rings, but it is definitely doable.
Material / Texture:

As mentioned before, the material of the Vibrating Support Plus 4-Way Arouser is TPR. This is better than jelly because the material components are well defined (unlike jelly) and in this case, it is phthalates-free, hypoallergenic, and latex free, which is nice for those with allergies or sensitivities. This is also better than TPR silicone, in my opinion, because it is compatible with both water based and silicone based lubricants which is nice for fun in the shower where silicone based lubricants are able to last much longer. Petroleum based lubricants should not be used with this toy as a reaction with the material will result. The TPR is smooth with the two duck bills protruding out on either end. Encased within the main ring are two sections of stainless steel ring. These are designed to provide additional support to the toy, but their effectiveness is unclear to me. In fact, I was more worried about them damaging the TPR than anything else. The TPR seemed to stretch around the steel without issue, but it seems like, over time, that the area of greatest wear in the ring is probably going to be around the ends of the steel pieces. The material and texture are comfortable during use and the stretchiness of the TPR makes it easy to get on, but it can pull hair, so a little temporary discomfort may occur while getting it in place.

Material:

TPR

Material safety

Texture:

Smooth

Safety features:

Hypo-allergenic / Latex free / Phthalates free

Shape / Design / Size / Fit:

There aren't all that many ways to attach two bullets to two attached rings with the intent that they go on male genitals. In this case, the bullets are both attached horizontally which is the most common orientation. Even though this orientation is the most common, it really doesn't make it the best. This orientation isn't bad for the testicular stimulator, but where it really doesn't help much is on the clitoral stimulator end. This bullet would align with the clitoris better if it were mounted vertically. This might be more difficult to implement as the TPR loop that holds the bullet would be trickier to put together, but the results would be worth it.

Color:

Clear

Cock ring style:

Stretchy ring

Max stretched diam.:

2"

Unstretched diameter:

1"

Length:

4 1/4"

Weight:

4.8 oz

Functions / Performance / Controls:

The two bullets in the Vibrating Support Plus 4-Way Arouser are identical, single speed, wireless bullets that use three watch batteries each. The bullets come with batteries already loaded and an additional set of six batteries for when the first set wear out. They each have a rubber o-ring that should keep water from penetrating the battery compartment. We did test the toy in the shower and during clean up and did not have any trouble with water getting into the battery compartment so the o-rings seem to work adequately. The bullet vibration strength is pretty standard for bullets of this size but since there are two bullets the total amount of vibration is increased. The bullets are each controlled by a simple on/off push button on the end of the bullet which is also very standard.

Special features:

Double bullets
Removable bullet
Waterproof
Wireless
Double looped

Powered By:

6 watch batteries

Control type:

Power switch

Care and Maintenance:

Since the Vibrating Support Plus 4-Way Arouser is made from TPR (except the bullets) it is very easy to care for. Clean it with soap and water before and after use and it is good to go. The bullets can be removed for cleaning or left in (since they are waterproof). TPR can't be sterilized, so no sharing with friends, but who would want to do that any way?

Packaging:

Packaging for the Vibrating Support Plus 4-Way Arouser is a plastic bag within a hanging style box. The toy is not visible from outside the box but there are photos of it on three of the sides. There is also a lot of information on the box about the features of the toy including the materials used in its construction and normal usage information. In the fine print there is a warning about how long to use it in one session and how long to wait between sessions. It is nice that California Exotics provides this information.

Experience:

We used the Vibrating Support Plus 4-Way Arouser in a few different positions. In the shower it was a rear entry position, and my partner thought that the slight vibration on the exterior of her anus felt pretty good. In a more traditional missionary style position, things were not as positive. The bullet didn't contact her clit well and became somewhat of a nuisance. A cowgirl position was somewhat similar and getting vibration on the clitoris just wasn't very comfortable. The orientation of the upper bullet is really to blame here, in my opinion, and if that were improved, it would make this toy a home run.