Classic Erotica Max control prolong spray - Spray from Classic Erotica

Product Details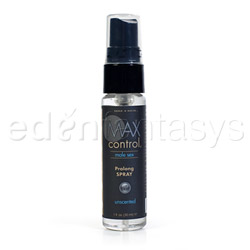 Summary:
Max control is great for users who only need a little bit of desensitizing. Max control is very mild, but does last a good while. Unfortunately, the spray can rub off onto your partner due to the fact that the spray takes a while to absorb into one's skin. All in all, Max control works well and will help some users prolong their sexual escapades.
Pros:
Great bottle, ingredients clearly marked, and good for users who only need to last a little longer.
Cons:
The strength may be to weak for some.
Best use:
Max control is made specifically to help men last longer during sex. Max Control sprays on as thin as water, and then can be rubbed onto the head of the penis. The special ingredients then will lightly desensitize the area. Although it will not take away full feeling, it will give you that needed umph to get over that hill - that very small hill.

Max control is designed for vaginal sex and will work with anal sex, but oral sex beware: the taste is atrocious.
Texture / Consistency / Thickness / Viscosity:

The spray goes on very thin, almost like water, but takes awhile to absorb even when rubbing it into the skin. Once sprayed, the liquid never really gets sticky or tacky. There is a slight warming sensation. The texture is very slippery, almost as slippery as many lubes, just a lot thinner; once sprayed on it leaves the skin very slippery. This lasts a few minutes until the product is absorbed into the skin.

The bottle is wonderful, the spray is evenly distributed to the skin, and it also lets out just the right amount. You will not find your self pressing the spray top more than three times.

The Ingredients are as follows:
Glycerin
Water (Eua)
Propylene Glycol
Lidocaine HCI


Base:

Water

Ingredients:

Glycerin, water, Propylene Glycol, Lidocaine HCI

Color:

Clear

Taste / Aroma:

While this desensitizing spray is thankfully odor free, it is unfortunately not tasteless. The taste is fairly bad. This product is not meant to be tasted but, while having sex with your partner, there are occasions when you or your partner may be exposed to the taste. The taste is indescribable in the literal sense; one may have a hard time putting his or her finger on it. Due to the spray not absorbing in as quickly as described by the packaging, your mouth may go a tad bit numb.

Performance:

Once rubbed into the skin, this product last a long time or until washed off. There is a good chance that this will rub off onto your partner, despite the claims on the bottle that read "less chance of product transference to partner."

The strength of the spray is very mild. This certainly does not numb you totally; it just allows you to last a little while longer. The feeling is reduced only slightly. The sensation easily lasts to the upwards of fifteen minutes; this may differ with others depending on the use (how much, and other variables). The product washes off very easily with soap and water. Once washed off there is no residue left over.

The best feature could be considered a con to others. Personally, the I found the best feature to be the light numbing sensation. It still allowed you to feel everything, just less intensely.


Packaging:

Volume:

1 fl.oz.

Weight:

0.1 lb

Personal comments:

If one can get past the taste as well as cope with the spray rubbing off on to your partner, which could damper a nice evening, perhaps it could add something to your evening. Fortunately, once the spray is applied you will not find yourself having to reapply it during sex, which would really damper the evening and make for an annoying wait.

This worked for me: it provided a little numbing to the area, and I feel it would help those who want to last just a few minutes longer. It may not help those who want to last 10 or 15 minutes longer.

I am giving this a three star rating. It will help a group of people, but it is not as powerful enough to be granted the name "Maximum Control". Perhaps "Better Control." However, it is a good product worth time for those who want to last only a little while longer.