Shunga Erotic Art Shunga energy herbal supplement for men - Sex supplement from Shunga Erotic Art

Product Details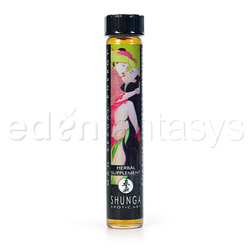 Summary:
If you're looking for a good boost for your weekend away, this is a good bet. It might cost more than your convenience store energy drink, but this is good for three boosts. If you're someone who could use a boost for the weekend away or even that over-night "study session" with the cutie from Bio, give this a try.
Pros:
Easy to carry, good energy boost without a crash.
Cons:
Not everyone will like the flavor, but it mixes in well with fruit juices.
Best use:
So, you've got a weekend away coming up. You've been dragging ass all week and could really use a boost. You're going to need a bunch of energy and today's only Wednesday. This is the supplement that could make it happen for you. It's full of natural ingredients that will give you a great energy boost that builds over the course of the three days.

If you're worried about reactions, you'll want to make sure you look over the ingredients before you start taking it and, of course, consult your doctor if you're unsure. I've got only a couple allergies (aspirin and cashews) and didn't have any problems with it.
Texture / Consistency / Thickness / Viscosity:

The Shunga energy supplement for men has a thick consistency, kind of like cough syrup. In one bottle you get three doses, not divided. You'll have to measure out each dose, preferably in a shot glass before adding it to your morning OJ.

Base:

Water

Ingredients:

Epidenium, Tribulus, Hard Wood Roots, Maca, Guarana, Water, Glycerine, Aroma (Natural Flavor), Sucralose, Citric Acid, Sodium Benzoate, Methyl Paraben

Taste / Aroma:

The taste is sort of hard to pin down. It definitely has a flavor. It kind of tastes like a mouthful of chewable vitamins in a non-menthol cough syrup base. It doesn't taste bad, just...supplementy. The only problem I had with the flavor was the aftertaste. When you take this, make sure you mix it with a fruity drink (alcoholic ones are ok according to the package).

The first time I tried it was with my normal cup of coffee for the day. DO NOT DRINK WITH COFFEE!!! It tasted horrible! Cafe mocha caramel fruity pebble curdled milk. I chugged it, like a trooper, but wouldn't suggest anyone try that!

Performance:

BUZZ TIME!

Ok, I know I mentioned I had this with coffee. But still, it was really weak coffee. I was buzzed for about 2 hours after the first dose kicked in (about 1/2 hr or so). Afterwards, I didn't have a crash and was able to keep going about my day.

The second dose went better that the first (see coffee comment above). I had a good energy buzz going that, again, faded away without crashing me out.

The third was the same way.

I didn't noticed any special tinglies down there, but I definitely had the energy to use! That's the real way this product worked for me: I had a LOT of energy for an hour or two. You can use that energy any way you'd like, it's up to you!

Packaging:

Volume:

0.75 fl.oz.

Weight:

0.8 oz

Personal comments:

The ingredient list on the product page is accurate to the packaging. The only mystery item in there was the "Hard wood roots". The other core ingredients all promoted energy; one or two focused on increasing sexual sensations/feelings/awareness.

Again, do the research on the ingredients ahead of time and, if you have any questions or concerns, talk to your PCP (Primary Care Provider).