California Exotic Dr. Joel Kaplan dual stacker - Penis girth extension from California Exotic

Product Details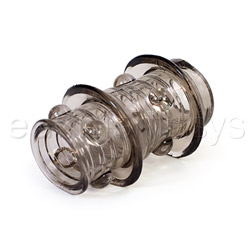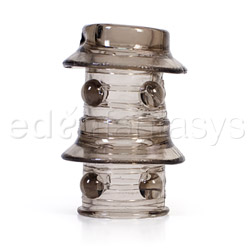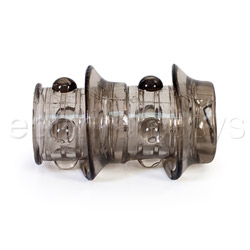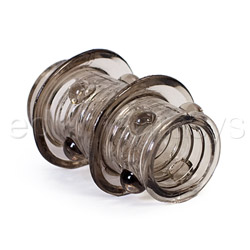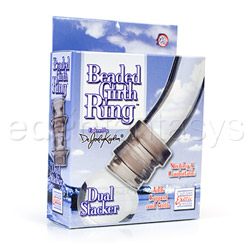 Summary:
Enhance and make your package look more impressive with the Beaded Girth Ring. The dual stacked rings are designed to give you extra support, and restriction to produce that rock hard feeling. Perfect for all sized men, it is easy to put on, and the memory is perfect to hold it in place tight. With its unique design, extra stimulation is also given to your partner during playtimes. No matter what your experience level, this cock ring is sure to rock your night.
Pros:
Dual rings, extra texture, excellent memory, stays in place, fits all sizes.
Best use:
The Beaded Girth Ring is designed to enhance and support your member. Cal Exotic's enhanced dual stacked cock ring is perfect for those who need a bit of extra help during playtimes. Likewise, those who enjoy the added stimulation of being restricted will find this ring works perfectly.

Perfectly created to provide equal stimulation to your partner, this ring is packed full of texture. Its beads and lips can be easily felt while thrusting. Your lover is sure to appreciate the erotic feeling produced by this ring.

If you are extra adventurous, this ring can also be used as a ball stretcher. With the ability to stretch for adjustment, it is easy to get in just the right spot. It can even be used, along your shaft, as a tickler for your partner.

No matter how you use this cock ring, it is sure to do more than enhance.
Material / Texture:

The Beaded Girth Ring is made from TPR. This material is made from a rubber polymer which allows it to have a large amount of stretch, while being strong and resilient. TPR is a porous material that cannot be sterilized; therefore, this ring should not be shared between partners without using a condom over it.

TPR is safe to use with your favorite water or silicone based lubricant.

Packed full of texture, this cock ring is ideal to stimulate your partner and yourself. With the nice addition of ridges along the inside of the ring, it stimulates your member as it is gripped with your lover's PC muscles. For your partner, the outside of the ring is covered with alternating rows of beads and lips. In all, there are two rows of each along the ring. The beads are protruded and firm. Equally as firm, the flexible lips provide the perfect amount of resistance.

Material:

TPR

Material safety

Texture:

Beaded

Safety features:

Hypo-allergenic / Latex free / Phthalates free

Shape / Design / Size / Fit:

Cal Exotic's uniquely designed cock ring is made up of two rings stacked together to make one sleeve. This sleeve is thin, with the exception of the lowest section, which is thicker to provide an extra firm grip.

The sleeve is 2 1/4 inches long and 3/4 of an inch in diameter when not stretched. With the ability to stretch to virtually any size, this ring is ideal for those men with a 3 inch girth, although men who are endowed with a larger member are sure to find that this ring fits snug without cutting into them.

The memory of the TPR allows this ring to fit snug and tight on any part of your manhood that you desire to wear it. When slipped on without lubrication, the ring will stay put.

The material and design of this ring makes it perfect for on the go. It can be easily folded and tucked away in your pocket or gym bag, in case the opportunity arises later.

Color:

Clear

Fits penis girth up to:

3"

Length:

2 1/4"

Material thickness:

1/4"

Weight:

0.1 lb

Care and Maintenance:

The Beaded Girth Ring can be washed with anti-bacterial soap and warm water or your favorite toy cleaner. Be sure to clean your ring on the inside and out and dry it completely prior to storing.

For storage, your ring comes with a piece of slick paper with a tube through the middle. Since TPR attracts hair and lint, it is suggested that you store your ring in a plastic bag or in a similar fashion.