Doc Johnson James Deen signature pump - Penis pump from Doc Johnson

Product Details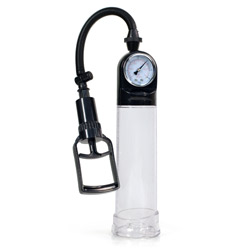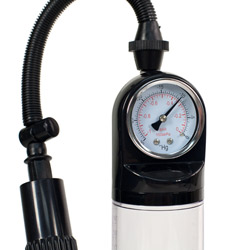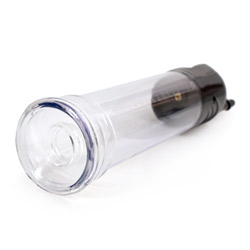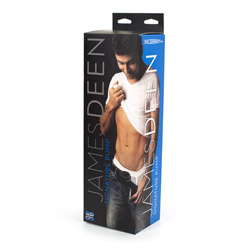 Summary:
While most of us can only dream of having a monster cock like James all the time, we can enjoy seeing our cock bigger than normal at least for a time. Court is still in session about the long term effectiveness of using a pump, but for the short term this may just help. Coupled with a good fitting cock ring, a penis pump is a sure fire way to gain some extra girth and length.
Pros:
Easy to use pump control, vacuum gauge, ruler on sides.
Cons:
Sealing ring could be firmer.
Best use:
Penis pumps are used to achieve an erection for those suffering from ED; for the rest of us, they are a fun way to see your cock bigger than life. To use, you simply apply some lube to the sealing ring and your cock, insert said cock into the sleeve, and pump away. Just don't overdo it: bursting blood vessels and damaging your cock will not be fun, eh?

Doc Johnson has added a one hand operated pump with release valve, a clear sleeve with measurements, a pressure gauge, and a soft sealing ring. All you need is some lube and a cock to put in it. Use it during solo time or with a partner: if you think it is great to see your cock grow bigger, just think how much your partner will enjoy it.
Material / Texture:

The sealing ring is made from soft, clear TPR: all the rest of the pump is plastic (the gauge has some metal parts). The TPR has a light smell when new, but fades with a few washings. Keep in mind that TPR is porous, so no sharing.

Safety features:

Food-grade material / Hypo-allergenic / Latex free / Phthalates free

Texture:

Smooth

Cylinder

Material:

Plastic

Sleeve

Material:

TPR

Shape / Design / Size / Fit:

The sleeve has a 2 1/2" diameter opening and has 8" of usable space; if you are bigger than that, you probably don't need a pump, eh? Along two sides there is a metric ruler so you can keep track of the length achieved during use. The vacuum gauge is easy to read and is a great way to keep things safe. When the vacuum becomes uncomfortable, you can just make note of the reading and keep it below that.

Vacuum is created via the hand pump; shaped like a hand exerciser, it is easy to use even with just a finger and thumb. Directly above the hand pump is the release valve: simply press the button to release the pressure. This is also helpful when removing the sleeve from your engorged cock.

About the only problem here is the sealing ring. It has a unstretched diameter of 1", which will fit most guys with no problem. The issue is that the suction will overcome the small diameter. This means that the sleeve must be seated firmly against the base of your cock to work. It also means that movement must be limited during use. A firmer sealing ring would have been much better here.

Length:

12"

Diameter:

3"

Inner diameter:

2 1/4"

Functions / Performance / Controls:

Special Features:

Pump mechanism:

Finger piston

Special features:

Care and Maintenance:

This pump, because of the gauge, requires a bit more care than most pumps. Care needs to be used when cleaning so as not to ruin the gauge; do not submerge the sleeve/gauge/pump. Your best bet is to use a toy wipe or toy cleaner on a wash cloth to clean the inside of the sleeve. The sealing ring can be washed with soap and water or a toy cleaner. Really, unless you come inside the sleeve, more intense cleaning is not required.

If you do happen to get water inside the tubing, pump, or gauge, make sure to allow it to air dry as much as possible before storing.

Store wherever it may fit. If storing next to other materials, take off the sealing ring and place inside the sleeve. You can remove the tubing from the top of the sleeve, which makes it easier to store.

Experience:

This is the first pump I have used with this style of pump control; all the rest of them have had the bulb style pump. I must say that I like this kind better: it is much easier to control the pumping action.

Aside from the "too soft" sealing ring, my only other complaint is the weight of the sleeve. The addition of the gauge and extra plastic to house it makes it pretty top heavy. I almost have to hold the sleeve in place if I move any, otherwise the suction is lost. Not a big deal really, but still noteworthy.

Other

Max stretched diam.:

2 1/4"