BMS Enterprises Lux male stimulator LX-2 - Prostate massager from BMS Enterprises

Lux male stimulator LX-2 videos
Product Details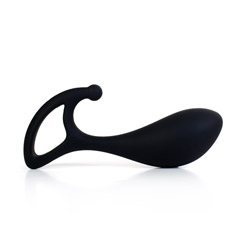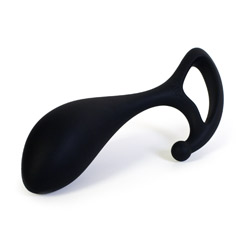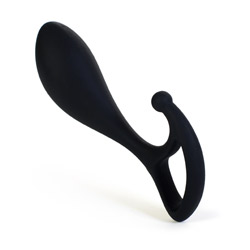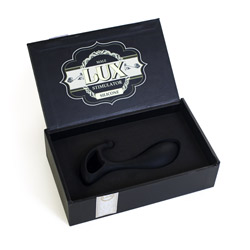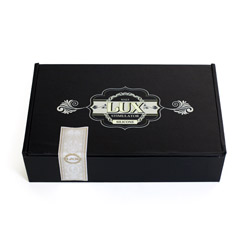 Summary:
The LX-2 from BMS Enterprises is a butt plug designed for excellent prostate stimulation. The insertable portion is teardrop shaped and peaks at a diameter of 1.5" before tapering down to a thin neck. The base is a thin open wedge that sits easily between the cheeks but keeps the LX-2 from sliding in too far. The open handle design makes the LX-2 easy to rock against the prostate and a ball at one tip provides stimulation to the perineum. The whole package makes for a great prostate experience.
Pros:
100% silicone
Perfect angle for prostate stimulation
Open handle for rocking
Cons:
Size might be a little big for beginners
Best use:
The LX-2 is not the first toy I have reviewed from BMS Enterprises, but with the LX line they have ventured into silicone products and this is my first experience with this material from them. The first impression of the LX-2 is certainly first rate. It is packaged very nicely and the silicone seems to be high quality. It is essentially a prostate stimulating butt plug, but the design is somewhat unusual. The insertable portion is teardrop shaped peaking at a diameter of about 1.5" and then narrowing considerably to provide a much smaller neck. The uniqueness is in the handle which is an open wedge shape one end of which comes to a ball at the end. This lack of symmetry makes it easy to determine which way the LX-2 is facing once it is inside. If you have a prostate, the stimulation helps you know that as well. A vibrator (not included) could also be held in the handle to add vibration to the prostate stimulation experience.
Material / Texture:

The LX series of toys from BMS Enterprises are made from 100% silicone. The quality appears to be as high as high end silicone manufacturers like Tantus, Vixen Creations, Rocks Off, etc. The surface is a matte texture like Rocks Off toys, not glossy like some others. Although the matte finish may cause a little more drag than a glossy finish, my experience has been that lube is necessary for anal play for silicone toys in either case. A little less lube might be used for toys with a glossy finish, but it isn't all that noticeable in my opinion.

Material:

Silicone

Material safety

Texture:

Smooth

Safety features:

Hypo-allergenic / Latex free / Non-porous / Phthalates free

Design / Shape / Size:

The teardrop shape of the insertable portion of the LX-2 swells quickly to 1.5" which is about average for a butt plug. Anal beginners might have a little difficulty, but any one with butt plug experience should be able to have it inserted pretty quickly. The shape is great for prostate stimulation as it naturally slides in past the large bulge and stays in place well on the narrow neck. The hollow wedge at the bottom is thin, side to side, so it rests easily between the cheeks but reliably keeps the toy from going too far in. The total insertable length is 4" which is far enough to hit the prostate but not so far as to cause discomfort. Once I have it completely inserted, it is positioned to stimulate the prostate well. The ball is designed to stimulate the perineum (similar to many of the Nexus toys), but I felt like it was the key piece in angling the LX-2 against my prostate since it reaches back up toward the tip of the toy. The hole in the base is able to provide a place to insert your finger to rock the toy and provide additional prostate stimulation.
Although my partner has not tried it out yet, I see no reason that the LX-2 could not be used as a g-spot toy as well. It might not be firm enough to provide the firm stimulation some g-spots require, but I think that the geometry holds promise. I will provide a follow up review as we give this a shot.

Color:

Black

Length:

5 1/2"

Insertable length:

4"

Circumference:

4 1/2"

Diameter:

1 1/4"

Weight:

0.3 lb

Performance:

With a non-vibrating prostate stimulator, I think the performance boils down to whether or not it stimulates the prostate. The way the LX-2 is designed, it certainly stimulates my prostate. The angle is great for pressing against the prostate. The handle is excellent for moving it in and out a little or rocking it back and forth to provide additional prostate stimulation as well. It doesn't take much experimentation to feel it where it was supposed to be felt. I think it would even work well for a beginner to prostate stimulation to help them recognize when they are contacting the prostate and provide decent pressure without being overwhelming.

Care and Maintenance:

One of the best things about using 100% silicone for anal toys is clean up. It ranks with glass and metal for material safety but isn't as stiff as those materials. General maintenance is a cleaning with soap and hot water before and after use. If the LX-2 is going to be shared with some one else or between orifices, then a more thorough cleaning should be undertaken. Silicone can be sterilized by boiling it for three minutes or wiping it down with a 10% bleach solution. It can also be cleaned by throwing it in the dishwasher (top rack, no soap) but if you're like us and you've got the prying eyes of little ones around your house, you don't use that method much to avoid uncomfortable questions.

Care and cleaning:

Boilable / Dishwasher safe / Soap and water

Packaging:

BMS Enterprises packages the LX-2 in a nice box with a form fitted foam insert covered with a silky fabric where the LX-2 nestles very nicely. It could certainly be used for storage if you don't mind the additional space it takes up. This presentation of the LX-2 is one of luxury and certainly adds a little something extra to the experience. One really gets the feeling that they have purchased a high quality product when it is presented this way. It is very discreet with no naked people any where on the packaging. There is also a little booklet included for informational purposes.

Experience:

So after receiving the LX-2 I didn't find myself with a convenient opportunity to try it out. One Saturday afternoon I just got out of the shower and figured it would be as good a time as any. I was in the bathroom and lubed it up and inserted it without issue. I found that once it was inserted completely I could definitely feel the pressure against my prostate. If I would move the handle backward to increase the pressure on my prostate and then flex my kegel muscles that I could get prostatic fluid to ooze out of my penis. My partner came into the room and wanted to use the bathroom, so I took the opportunity to show her my new trick. She thought is was cool and commenced sucking me off. It wasn't long before I had an orgasm and she commented on how quickly it had happened since my prostate had already been/was being stimulated. It made for a nice Saturday afternoon.

Other